The second part of Lottie's Gothic Rose Festival in Animal Crossing: Pocket Camp is here! Hopefully your quest for bats and potted versions of the event's flowers is a bit easier this time around. With the second half active, we now have access to acquire the rest of the Gothic Rose line of clothing and furniture. Get ready to get dirty again as there are new rewards and tasks associated with the Gothic Fusion Rose Seeds.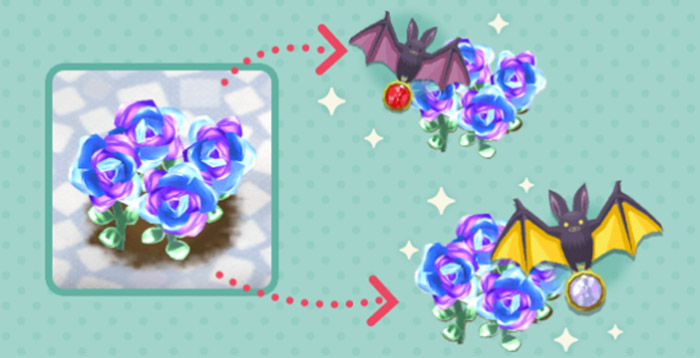 To help kickstart your journey into fulfilling Ruby and Diamond Gothic Bat requests, Lottie has 20 Gothic Fusion Rose seeds for you! A good buffer while you drop off bats at friends' gardens, you can complete tasks for your animal visitors, or even trade in grown Red Gothic Roses for bags of the Fusion Gothic Rose seeds.
Ready to plot out your garden and your quest to complete the event? Here's a handy guide so that you can conquer each task before the deadline!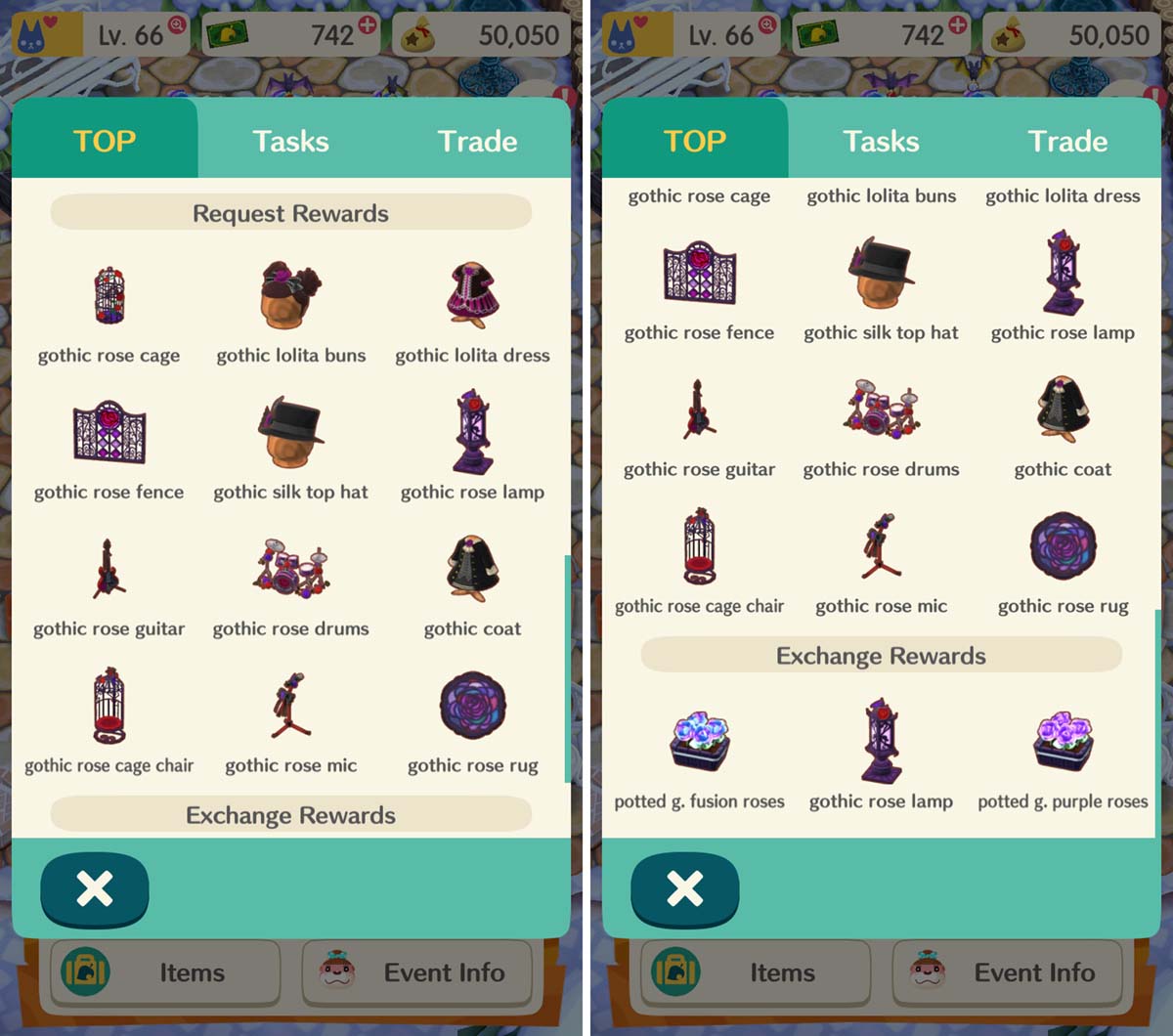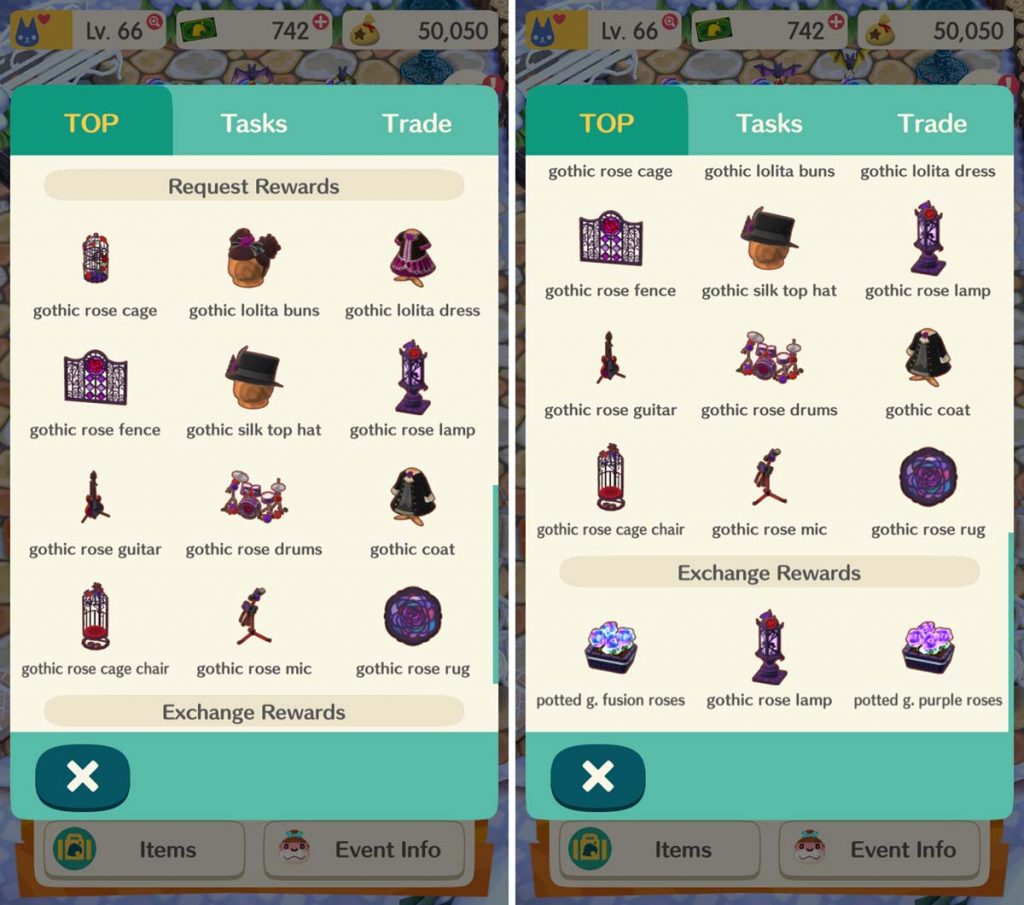 Ruby Gothic Bat
| | | |
| --- | --- | --- |
| Task | Ruby Gothic Bats Caught | Reward |
| 3-1 | 3 | Gothic Coat |
| 3-2 | 6 | 10 Cute Essence |
| 3-3 | 9 | 10 Sporty Essence |
| 3-4 | 12 | Gothic Rose Fence |
| 3-5 | 15 | 60 Flower Food |
| 3-6 | 20 | Gothic Rose Cage Chair |
| 3-7 | 25 | 25 Leaf Tickets |
Diamond Gothic Bat
| | | |
| --- | --- | --- |
| Task | Diamond Gothic Bats Caught | Reward |
| 4-1 | 2 | Gothic Rose Mic |
| 4-2 | 6 | 10 Rustic Essence |
| 4-3 | 9 | 15 Leaf Tickets |
| 4-4 | 12 | 60 Flower Food |
| 4-5 | 15 | Gothic Rose Fence |
| 4-6 | 20 | Gothic Rose Rug |
| 4-7 | 25 | 1 Sparkle Stones |
Gothic Rose trade-in
| | | |
| --- | --- | --- |
| Gothic Fusion Roses Needed | Item | Redeem Limit? |
| 10 | 3 Sporty Essence | Yes. Three times. |
| 10 | Natural Essence | Yes. Three times. |
| 10 | 3 Cute Essence | Yes. Three times. |
| 10 | 3 Cool Essence | Yes. Three times. |
| 10 | 3 Rustic Essence | Yes. Three times. |
| 10 | 3 Hip Essence | Yes. Three times. |
| 20 | Potted Gothic Fusion Roses | No. Unlimited. |
| 20 | Gothic Rose Lamp | Yes. Ten times. |
| | | |
| --- | --- | --- |
| Gothic Red Roses Needed | Item | Redeem Limit? |
| 5 | 3 Gothic Fusion Rose Seeds | No. Unlimited. |
Leave a Comment