Attention all Trainers! We've got two Pokémon related events starting up this weekend that you'll want to check out.
Toys"R"Us
All Toys"R"Us locations will be hosting an in-store Pokémon "Trade and Collect" event this coming Saturday, February 3rd, from 12 p.m. – 2 p.m. to promote the new Pokémon Trading Card Game: Sun & Moon-Ultra Prism expansion.
The event will be an opportunity for players of the Pokémon Trading Card Game to meet up and trade cards with each other. What's that? You're a fully grown adult with children and are worried your kids will be unimpressed with desire to catch 'em all? Don't worry about it! The event will also have a Pokémon coloring activity for younger children.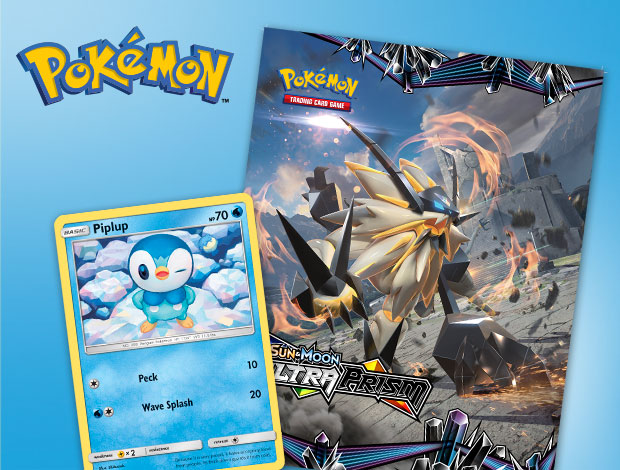 If you participate, you have the chance of receiving a free Piplup foil card and/or a Pokémon Trading Card Game poster!
The event at Toys"R"Us is open to kids ages six and up, along with adult collectors.
GameStop
GameStop stores are offering a Legendary Pokémon code from February 2-28 that will unlock either Dialga or Palkia in Ultra Sun or Ultra Moon. To receive your code see a GameStop Associate in-store.
Along with giving you a free Pokémon, on February 2nd Gamestop is having a one day only 20% off sale on select Pokémon plush, toys, drinkware, and houseware! Early Valentine's Day gifts, anyone?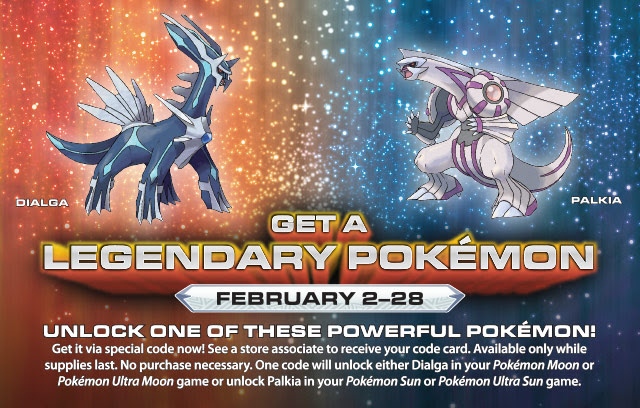 Additionally, new boxes, decks, and booster packs will be available to purchase at GameStop on February 2nd for the Pokémon Trading Card Game.
That sure is a lot of Pokémon! Happy trading!
Leave a Comment