Another event concerning growing flowers and catching flying creatures has started in Pocket Camp! Rover's Garden Safari might have caused some frustration for some, but take heart: changes have been made to the RNG formula as Lottie enters our campgrounds with a gothic lolita task.
From Wednesday, January 31st, at 10:00 p.m. PT to Friday, February 9th, at 9:59 p.m. PT, Lottie's Gothic Rose Festival will be active. The first half of the event will introduce two bat types: Gothic Bat and Golden Gothic Bat. These two bats have flower preferences: Gothic Purple Roses and Gothic Red Roses, respectively. Ten tasks are associated with each, calling 60 Gothic Bats and 50 Golden Gothic Bats.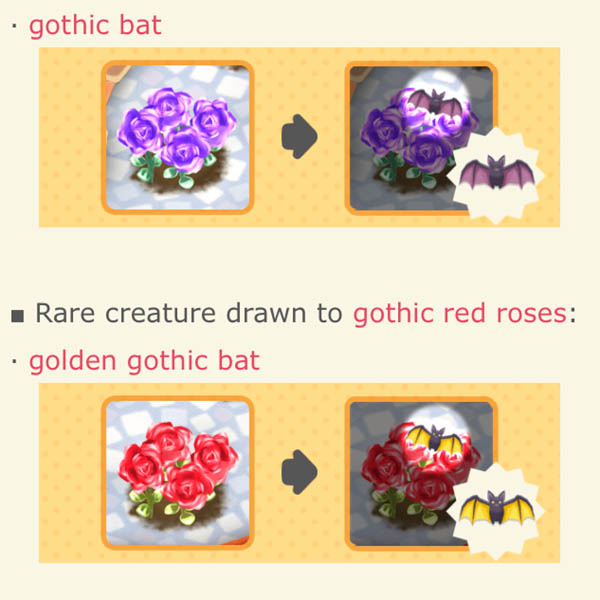 The second half of the event will start on Monday, February 5th, at 10:00 p.m. PT. Similar to Rover's challenges, a new flower type is introduced called Gothic Fusion Roses. This flower species will attract both Ruby Gothic and Diamond Gothic Bats. When it comes to the Gothic and Golden Gothic Bats, these two new types will have tasks and rewards associated with them.
As before, you can share bats at friends' gardens, provided they have the necessary grown flowers. Even by checking your friend's profile, you'll notice a status of whether or not they can accept shared critters. This is next to the new "Watering" signifier that's been added to the game recently.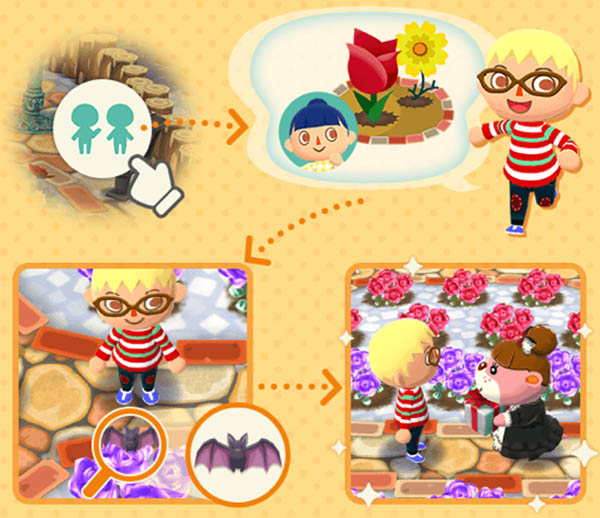 For those already worrying about how to complete the event, increased RNG rates have been discovered thanks to bluesun on r/ACPocketCamp's Discord channel. Catch rates have improved, going up from 5 to 15%. Combine this with lowered numbers of bats needed and it'll be less stressed-filled compared to a certain cat's visit.
Curious about what you'll need to complete the event? We've compiled a small guide with what goals, tasks, and trading rewards will be active. Good luck catching those bats!
Event Goals
| | |
| --- | --- |
| Event Challenge Goal | Reward |
| Plant seeds 10 times. | 5 Steel |
| Plant seeds 20 times. | Black Tights |
| Plant seeds 30 times. | 15 Cotton |
| Plant seeds 40 times. | 20 Wood |
| Plant seeds 50 times. | 25 Paper |
| Plant seeds 100 times. | 3,000 Bell |
| Plant seeds 150 times. | 10 Sporty Essence |
| Plant seeds 200 times. | 10 Leaf Tickets |
| Plant seeds 250 times. | 10 Rustic Essence |
| Catch 5 rare creatures. | 5 Paper |
| Catch 10 rare creatures. | Steel-toed Boots |
| Catch 20 rare creatures. | 15 Wood |
| Catch 30 rare creatures. | 20 Cotton |
| Catch 40 rare creatures. | 25 Steel |
| Catch 50 rare creatures. | 2,500 Bell |
| Catch 70 rare creatures. | 10 Natural Essence |
| Catch 100 rare creatures. | 10 Leaf Tickets |
| Catch 150 rare creatures. | 10 Cute Essence |
| Harvest flowers 10 times. | 10 Gothic Red Rose seeds |
| Harvest flowers 20 times. | 1,000 Bell |
| Harvest flowers 30 times. | 20 Paper |
| Harvest flowers 50 times. | 20 Cotton |
| Harvest flowers 100 times. | 3,000 Bell |
| Harvest flowers 150 times. | 10 Cool Essence |
| Harvest flowers 200 times. | 5,000 Bell |
| Harvest flowers 250 times. | 20 Leaf Tickets |
Gothic Bat
| | | |
| --- | --- | --- |
| Task | Gothic Bats Caught | Reward |
| 1-1 | 3 | Gothic Rose Cage |
| 1-2 | 6 | 20 Flower Food |
| 1-3 | 9 | 10 Cool Essence |
| 1-4 | 12 | 5 Leaf Tickets |
| 1-5 | 15 | Gothic Lolita Buns |
| 1-6 | 20 | 10 Hip Essence |
| 1-7 | 25 | 60 Flower Food |
| 1-8 | 30 | 15 Natural Essence |
| 1-9 | 40 | Gothic Lolita Dress |
| 1-10 | 60 | Gothic Rose Fence |
Golden Gothic Bat
| | | |
| --- | --- | --- |
| Task | Golden Gothic Bats Caught | Reward |
| 2-1 | 3 | 20 Flower Food |
| 2-2 | 6 | Gothic Silk Top Hat |
| 2-3 | 9 | Gothic Rose Lamp |
| 2-4 | 12 | 10 Cute Essence |
| 2-5 | 15 | Gothic Rose Guitar |
| 2-6 | 20 | 10 Hip Essence |
| 2-7 | 25 | 60 Flower Food |
| 2-8 | 30 | Gothic Rose Fence |
| 2-9 | 40 | Gothic Rose Drums |
| 2-10 | 50 | 15 Leaf Tickets |
Gothic Rose trade-in
| | | |
| --- | --- | --- |
| Gothic Purple Roses Needed | Item | Redeem Limit? |
| 5 | 10 Steel | Yes. Five times. |
| 5 | 10 Wood | Yes. Five times. |
| 5 | 10 Cotton | Yes. Five times. |
| 5 | 10 Preserves | Yes. Five times. |
| 5 | 10 Paper | Yes. Five times. |
| 10 | 10 Flower Food | Yes. Five times. |
| 20 | Potted Gothic Purple Roses | No. Unlimited. |
| | | |
| --- | --- | --- |
| Gothic Red Roses Needed | Item | Redeem Limit? |
| 10 | 3 Sporty Essence | Yes. Two times. |
| 10 | 3 Natural Essence | Yes. Two times. |
| 10 | 3 Cute Essence | Yes. Two times. |
| 10 | 3 Cool Essence | Yes. Two times. |
| 10 | 3 Rustic Essence | Yes. Two times. |
| 10 | 3 Hip Essence | Yes. Two times. |
| 10 | 20 Flower Food | Yes. Ten times. |
| 20 | Potted Gothic Red Roses | No. Unlimited. |
Leave a Comment