Pocket Camp's latest update has arrived and on the surface, there's one obvious new feature. Selecting a friend's profile will now have a watering status listed under their name and how many hours it has been since they last logged in. Broken into two parts, the "Watering" feature will either list "Needs Water" or "Not Now" next to the topic.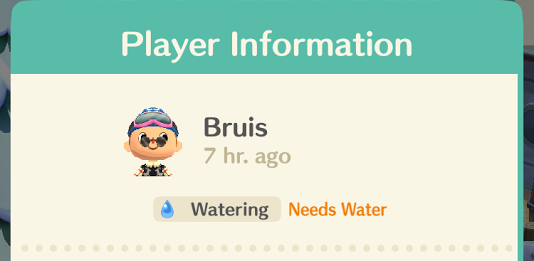 Yet once you go behind the scenes, bluesun and SenorDeeebs from the ACPocketCamp subreddit break down what you can expect to see in the near future. Curious about a teaser tweet published by the official Japanese Animal Crossing: Pocket Camp account and UK's Animal Crossing account? Then check out the spoilers after the tweet down below:

Well, this is an interesting scene! I've never seen clothing quite like that before… Or flowers like that, for that matter… #PocketCamp pic.twitter.com/iMBuM5myba

— Animal Crossing UK (@AC_Isabelle) January 27, 2018
WANNA START A GOTHIC LOLITA BAND?
More items are on the way! Those teased in the tweet are tied to an event – Lottie's Gothic Rose Festival. Hold on though, as this is another gardening event – akin to Rover's Garden Safari. For those who are already getting flashbacks as to how that event was handled, keep this in mind:

[News: Thanks to everyone who participated in the Rover's Garden Safari event. We've heard your feedback and will take it into account for future events. We hope that you continue to enjoy Animal Crossing #PocketCamp.]

— Animal Crossing UK (@AC_Isabelle) January 24, 2018


We will definitely see changes on how this event will run. What we do know is that Gothic Red, Purple, and Fusion Roses will be active during the event. In turn these can be traded in for items, such as the potted plant versions of the flowers. No butterflies have been found in the update, but bats have!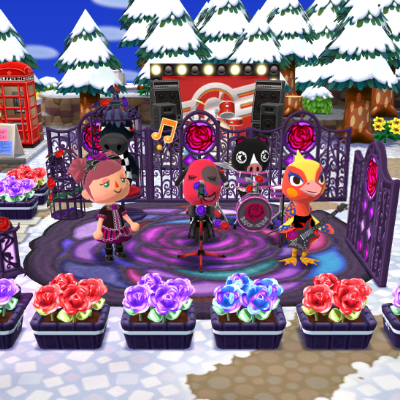 With four different bat types (Gothic, Gothic Golden, Ruby Gothic, and Diamond Gothic), they may function similarly to butterflies, but hopefully with a better capture rate or eliminating that RNG factor altogether.
As for items associated with the event that you can collect, here they are:
Gothic Silk Top Hat
Gothic Lolita Buns
Gothic Coat
Gothic Lolita Dress
Gothic Rose Rug
Gothic Rose Cage
Gothic Rose Cage Chair
Gothic Rose Drums
Gothic Rose Guitar
Gothic Rose Mic
Gothic Rose Lamp
Gothic Rose Fence
Lastly, special Leaf Ticket and Flower Food packs will be available in the shop. Simply called Gothic Rose Pack S and Gothic Rose Pack L, these will make the Gothic Bat hunt a tad easier and faster for those who want to complete the event ASAP.
HIPPITY HIP HIP
A new essence, new amenities, and new villagers?! Already maxed out all the amenities in game and looking for something else to tackle? It looks like within the next month or so that the Hip essence will be active. With that the following amenities associated with this are: Mush Tent, Patchwork Ghost Sofa, and Bouncy Cake.
As for the incoming villagers we have the pleasure of persuading Twiggy, Stitches, Francine, Merengue, Pietro, and Bob to join our camps!
FURNITURE, CLOTHING, AND MORE
With any new essence and villagers, new items to the catalogue aren't far behind. Here's a full list of what you can craft and receive from villagers:
Furniture
Balloon Bed
Balloon Chair
Balloon Lamp
Balloon-Poodle Lamp
Balloon Table
Balloon TV
Boot Sculpture
Candy Machine
Capsule-toy Machine
Cookie Rug
Dessert Case
Kiddie Bed
Kiddie Bureau
Kiddie Clock
Kiddie Couch
Kiddie Dresser
Kiddie Table
Matryoshka
Mush Hanger
Mush Lamp
Mush Table
Mush TV
Mush Wide Stool
Polka-dot Bed
Polka-dot Chair
Polka-dot Closet
Polka-dot Rug
Polka-dot Table
Popcorn Machine
Pop-up Book
Soft-serve Lamp
Snake Plant
Sweets Sofa
Sweets Table
Teacup Ride
Flooring and Wallpaper
Balloon Floor
Balloon Wall
Cabin Floor
Cabin Wall
Dotted Wall
Modern Wood Floor
Panel Carpet Flooring
Clothing
Barber Tee
Black Tights
Blossom Tee
Chef's Outfit
Dawn Tee
Dark Polka Tee
Steel-toed Boots
A NEW COAT OF PAINT
Want a few more options for your camper? Three new designs will be joining the game altogether, thanks to a banner featuring them all and Giovanni. There aren't any names associated with them yet, but you can see them here and start saving up Leaf Tickets or Bells for when they debut.

HAPPY VALENTINE'S DAY
And finally, it looks like all players will be getting a chocolatey treat on February 14th. Upon logging in that day, all camp managers will receive a Valentine Chocolate box. Besides that, there isn't an event (yet) associated with the holiday.

Are you still playing Animal Crossing: Pocket Camp? Excited for any of the new villagers?
Leave a Comment