UPDATE (1/24/18, 6:13 p.m. PST): Additional information added about "Miitomo Final Thank You Festival!" and primary source replaced with English version.
Nintendo has announced that its first mobile outing, Miitomo, will end functionality on May 9th.
The company's experimental social media game will cease to work at 12 a.m. PST that day.
The news was announced via a notice on the Miitomo website, as well as a tweet published by the official Japanese Nintendo Twitter account.
[任天堂HP]スマートフォン向けアプリ『Miitomo』サービス終了のお知らせを掲載しました。https://t.co/m9pEZ15T1D

— 任天堂株式会社 (@Nintendo) January 25, 2018
Additionally, players will no longer be able to purchase in-game coins starting tomorrow, January 25th.
According to Nintendo's notice on its Japanese website, refunds will be provided for any unused coins purchased by players following the app's termination.
To commemorate the end of the app, the in-game "Miitomo Final Thank You Festival!" will run until Miitomo's closure.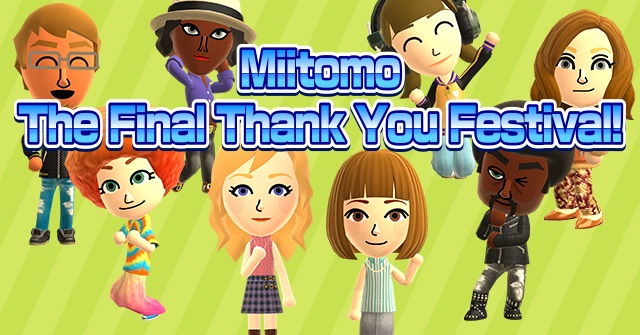 2,000 coins and five game tickets will be given out as daily log-in bonuses during the event.
In addition, a final Miifoto event has gone live, encouraging users to tweet their favorite Miifotos.
Lastly, all questions in Answer Central, as well as all daily questions, will be about memories of Miitomo.
Miitomo was the first of several mobile games released by Nintendo in partnership with mobile portal and game developer DeNA, released worldwide on March 17th, 2016.
Players of the game are able to communicate with friends and other contacts by answering questions about a variety of topics, as well as customize their Mii characters and play mini-games for in-game prizes.
With the app ending this May, Miitomo's lifespan will come in at just over two years.
No reason was provided for Miitomo's demise, but the official Japanese notice does include an apology to those who enjoyed the game.
What are your thoughts on the end of Miitomo? Let us know in the comments below!
Leave a Comment