Hard to believe I've been devoting time to a mobile game daily for nearly a year, but here we are. With only two weeks to go til the game's second year begins, more than a handful of events, specials and new content have just been announced by an in app notification. Take a look at the calendar below.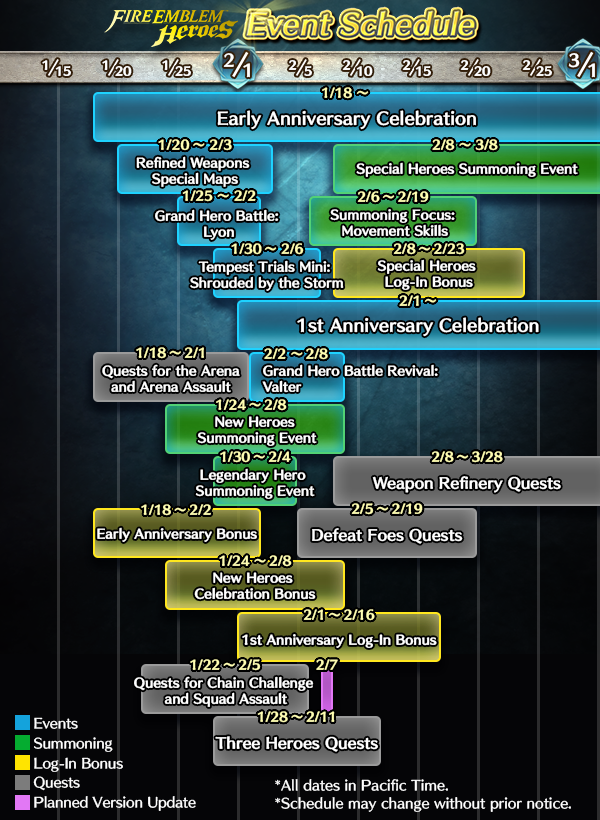 The tail end of January has some further events to look forward to, like another Tempest Trial Mini (seriously, another one) and a Grand Hero Battle featuring Lyon from Fire Emblem: The Sacred Stones. There'll also be missions, maps and more to help raise that orb count, and believe me you'll want to get every single one you can.
In a week's time we'll see some brand new heroes enter the game (perhaps the long expected debut of Leif from Thracia 776? More Sacred Stones characters?), and days after that it'll be another Legendary Hero Event. The multiple log in bonuses won't save you from your own gacha greed, though, because this all happens before the true anniversary.
Once February begins we'll see a Special Hero Summoning Event and version update both land on about the 8th. This usually means seasonal, with it currently being a toss up between a self referential anniversary and an overly indulgent Valentine's Day.
These won't be the only means of celebrating Fire Emblem, with the second Choose Your Legends campaign beginning in just a few days on the 22nd. Hopefully past winners will be excluded, giving the likes of Hector and Tharja a chance to step up and get even more love.
It's a great time to be playing Fire Emblem Heroes, though a dangerous one. For all you bleeding orbs left and right, summon responsibly and keep your eye on this calendar to know when and how to best spend these babies. Woe be to you if you gotta have it all, but as always: good luck.
Leave a Comment