Once again, without fail, the North American Pokémon Center has come to the rescue for anyone who's been in dire need of a little Poké pick-me-up now that the holiday season is behind us all. Poké Doll plushes, Poké plushes and various trading card game items can all be found within this new batch of products.
Without further ado, here's our roundup of our favorites from the newest offerings!
Plushes galore
Personally speaking, one of the items I get most excited to see appear over at the Pokémon Center is a new Poké Doll plush — that's why I'm ecstatic to find that three new ones are available there now. Lapras and Wobbuffet can easily win you over with their charming designs, but it's Mimikyu who's really won my heart this time around. Crafted to adorable perfection, each one of these will only cost you $12.99, plus shipping.

A nice range of other Poké plushes have also made their way to the North American store, with super soft and fluffy Altaria leading the pack at the price of $22.99. Following it are Treecko, Torchic, Plusle, Minun and Mudkip who all fall at the $12.99 price point. Each plush looks to represent the Pokémon beautifully, with all the details crafted in a loving fashion to wholly showcase cuteness and personality — making us want each and every one for our own collections.
Trading card game additions
A Pokémon Center update wouldn't truly be complete without a little love in the trading card game category. Whether you're looking for a big or small set, there might just be something you'll find yourself pining for here.
Up first is the Pokémon TCG: Alolan Raichu Figure Collection for $19.99, which contains an all new foil promo card featuring none other than Alolan Raichu, an Alolan Raichu figure, four TCG booster packs and a code card for the online trading game.

Following that set is the Pokémon TCG: Guzzlord-GX Box coming in at $19.99. Included are a Guzzlord-GX foil promo card, and oversize card of Guzzlord-GX, four TCG packs (each containing ten cards) and a code card for the online TCG game.

And lastly we have the Pokémon TCG: Alolan Muk, Alolan Dugtrio & Alolan Golem Promo Cards with 2 Booster Packs & Coin set, which contains a Pokémon coin, two TCG booster packs and three foil promo cards featuring Alolan Muk, Alolan Dugtrio and Alolan Golem. This set will only cost you $9.99, plus shipping.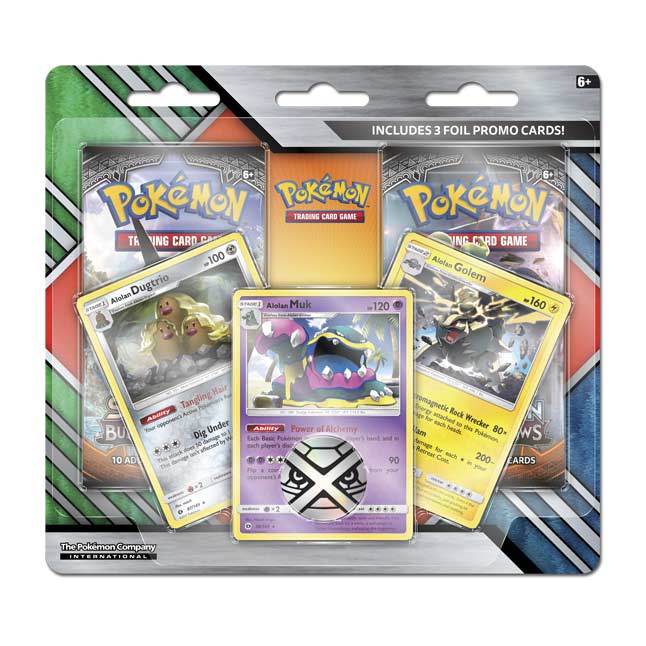 Any particular items catch your fancy this time? If you decide to give in to all your Poké desires, make sure to share photos of your treasures with us on Twitter when they arrive!
Leave a Comment