Over on the resetera forums, Shiggy has posted a new tidbit about the Nintendo 3DS family — or the lack thereof.
"The marketing over the past few months made this evident already as only the 2DS and 2DS XL showed up in ads. But I just got hold of the latest Nintendo product list (i.e. a list of products retailers and distributors can purchase from Nintendo of Europe or affiliated companies) and the last two Nintendo 3DS XL products (Samus and SNES LEs) have vanished. Only 2DS bundles and the 4 New Nintendo 2DS XL bundles are available now.

If you still want a New Nintendo 3DS XL, then you may want to get one now. The standard editions are already gone on major online shops. This is pretty much the same way the New Nintendo 3DS disappeared."
Shiggy goes on to post a graphic showing the progression of Nintendo 3DS and 2DS models being shipped over to Europe since 2010. The last quarter in particular shows a big shift with the New Nintendo 2DS XL model appearing in droves while the New Nintendo 3DS XL is quietly disappearing.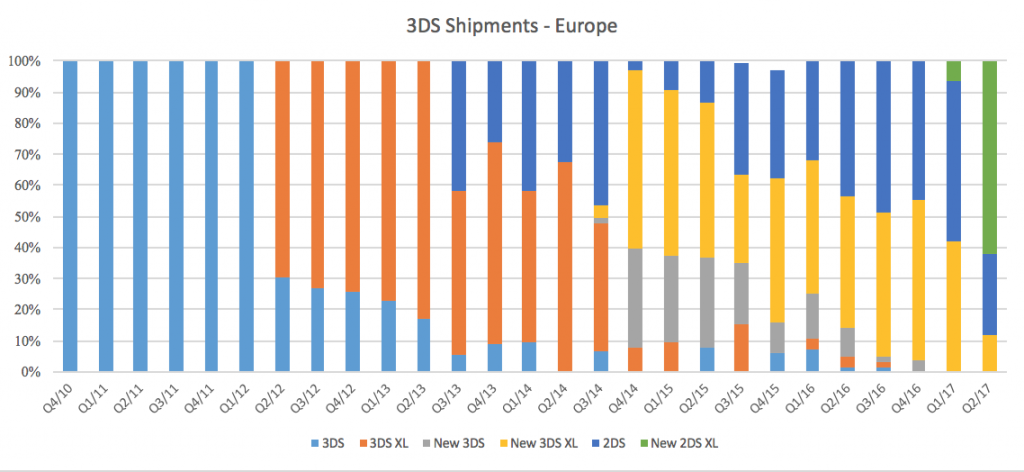 The reasons behind why this change is taking place now are based on purely speculation. Various users in the thread are taking a guess that it's due to the higher cost of producing the glassless 3D experience, as well as 3D itself not being seen as a "must-have" feature.
We've reached out to Nintendo for a comment or confirmation about this report, but as of this publication we've yet to hear back. Stay tuned for more details.
Leave a Comment