If you've been looking for a good reason to stay inside, away from the freezing cold, so you can snuggle up with some cuddly cuties, you're in luck: the Pokémon Center has announced a variety of new, wintry products in its Joyous Winter Tree Holiday Collection.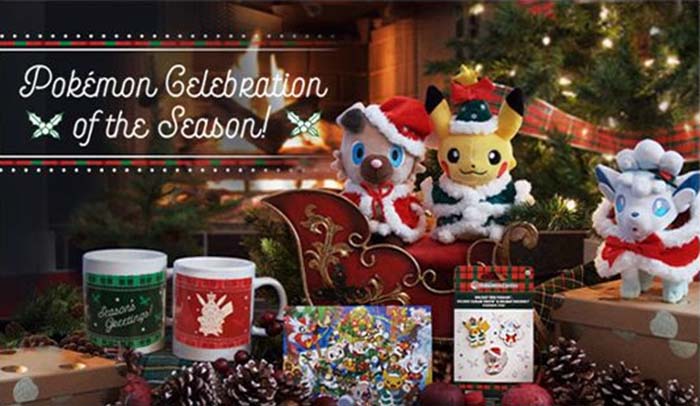 Included in the assortment are three plushes in the forms of Holiday Tree Pikachu, Holiday Rockruff and Holiday Alolan Vulpix, all decked out in beautifully decorated winter-wear. If costumes like a Christmas tree and cute Santa outfits don't melt your heart, I'm not sure what will!

A cute sub-collection focuses specifically on both the male and female versions of "Pikachu Holiday Snowman" — available in both full size plush versions (approximately 7.5″ tall) and smaller plush keychains (approximately 4.5″ tall). These are so cute that you might need to add them to your own wish list.

Other items include a holiday pin 3-pack (also sporting Pikachu, Rockruff and Alolan Vulpix), two sets of greeting cards (with seals and envelopes), a charm 3-pack and a mug. All these products will give you fun ways to send some holiday Poké cheer to friends and family!

The two red and green mugs featured in the promotional image above don't appear to be listed on the Pokémon Center site at the moment, but we'll make sure to update this page if/when they become available!
Not surprisingly, Japan's Pokémon Center locations are stocked up with an even larger holiday collection this year. Notebooks, plushes, bags/purses, towels, mugs and more are all available overseas — and once again, we're a bit jealous of the wider variety over there! Still, if you have your favorites, you can always hop on over to eBay in search of your favorite wintry Poké products.
Leave a Comment