While waiting for Odyssey to land, why not look at this year's other Mario game? After seeing it briefly appear in the Nintendo World Championships 2017 earlier this month, it's nice to get a closer look at the title on the full official website for Mario Party: The Top 100.
MINIGAMES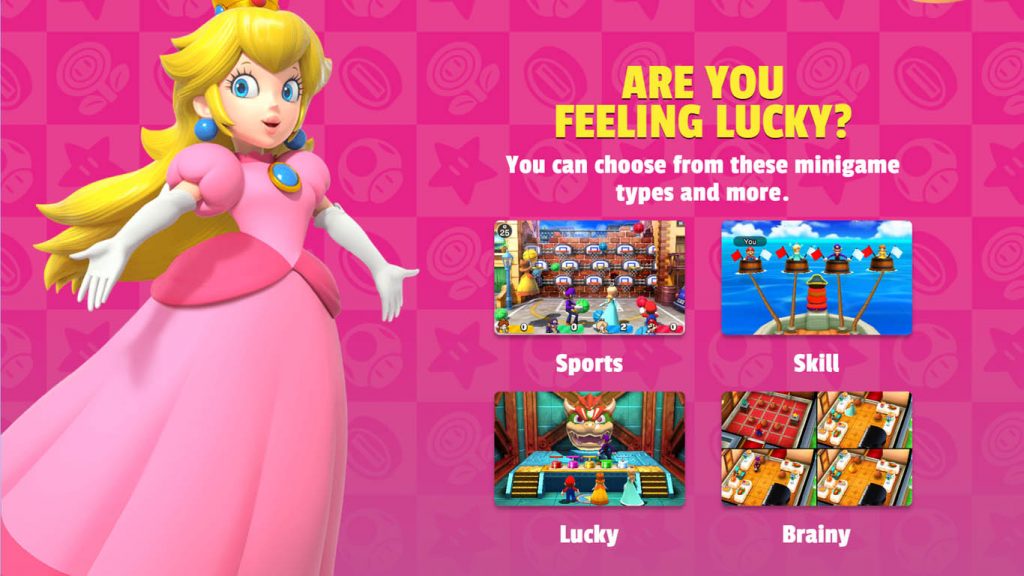 The best part of the Mario Party franchise is, of course, the minigames. Thanks to the newly updated site, we know that the following dozen minigames have made the cut:
Three Throw
Shy Guy Says
Bowser's Big Blast
Hotel Goomba
Bumper Balls
Hide and Go Boom!
Eatsa Pizza
Shy Guy Showdown
Speeding Bullets
Face Lift
Dart Attack
Pushy Penguins
On top of that, this page also details the following modes:
100 Minigames is where all 100 minigames can be found, once you unlock them. From single-player to four-player mode, this is the section you'll be calling home once you've added each minigame into this encyclopedia.
Where do you unlock these minigames? Why at Minigame Island, of course! This single-player mode will have you traversing four worlds and unlocking all 100 minigames.
Championship Battles is where friends and enemies will battle for the best three out of five. Simply pick a minigame pack and get ready for rumble!
Lastly, the Decathlon will have you playing the best out of five or ten minigames. The minigames are already selected via a preset, so this is quite similar to Super Mario Maker course challenge. Think you can make a new personal best here?
CHARACTERS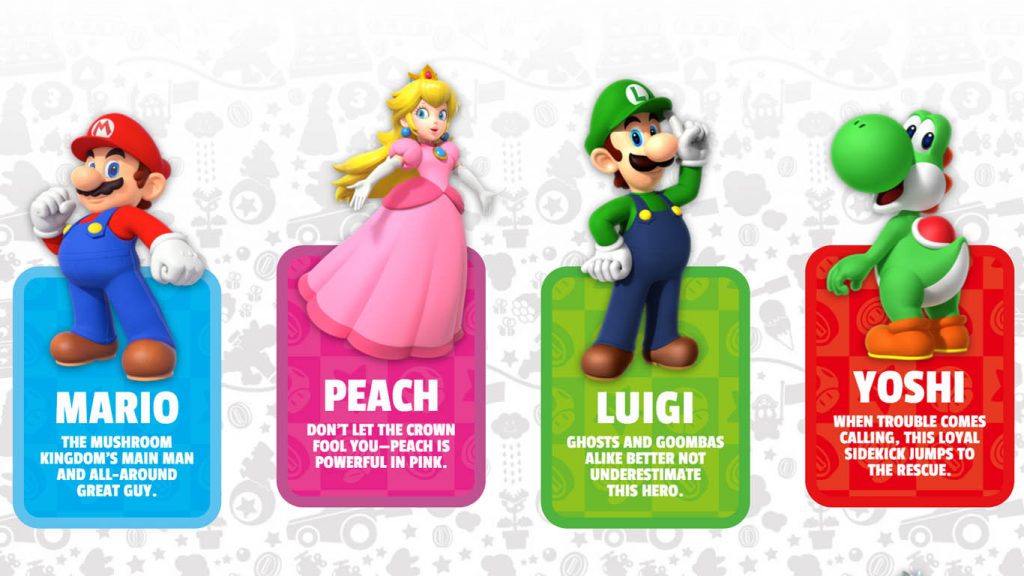 The playable roster is here! Currently, you only have eight characters to pick from: Mario, Peach, Luigi, Yoshi, Waluigi, Daisy, Wario and Rosalina. There's no word whether or not any others can be unlocked as you play through the game, but this selection is a great start. Plus, Daisy could always use some more love — and she's having a fantastic year so far!
Fans of Toad and Toadette? They do appear, but as NPCs of sorts whoh will guide you, the player, through Mario Party: The Top 100's various modes. Who knows, maybe Toadette will be better at demonstrating certain minigames than Toad.
While Waluigi and Wario are in the character selection menu, Bowser and Donkey Kong haven't been left out. This time around, Bowser isn't the only big baddie of Minigame Island. Donkey Kong is joining the evil side, or is at least considered a "fierce contender," so you'll have to watch out for twice the trouble when trying to unlock the top 100 minigames.
Oddly enough, all of these characters (save for Toadette) have amiibo counterparts. You might want to have those at the ready!
MULTIPLAYER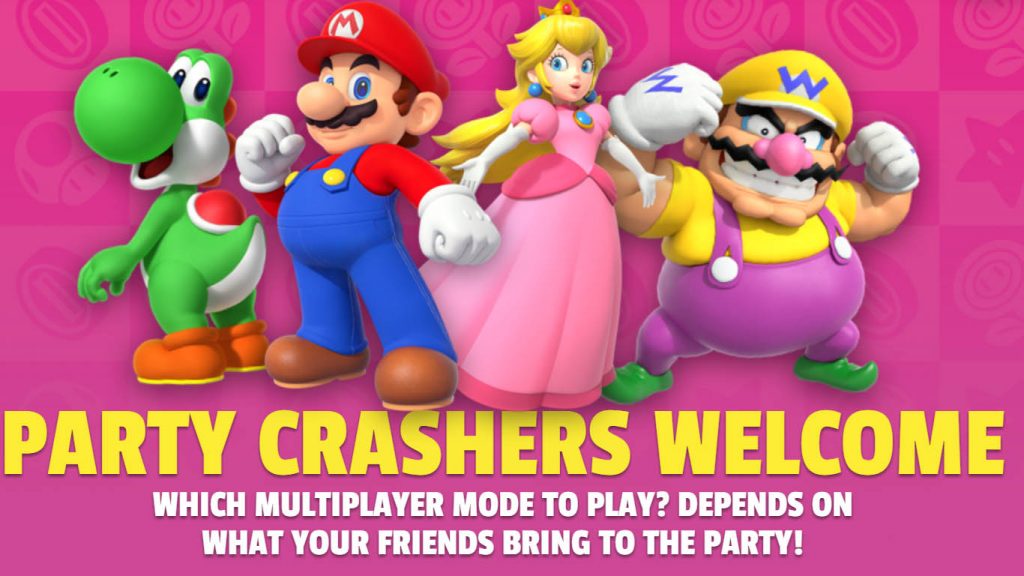 Local wireless play or Download Play, these four modes are available to both methods: 100 Minigames, Minigame Match, Championship Battles and Decathlon. The only catch involves Minigame choices — the host of Download Play will have the honors of picking out the minigame pack that will be used for the duration of the mode.
The site explains Minigame Match. Sounding like the Mario Party games of old, Minigame Match consists of a board game where the number of turns can be established before throwing the dice and collecting coins. With each turn ending, a minigame commences. You and up to three friends can play this mode on the go!
AMIIBO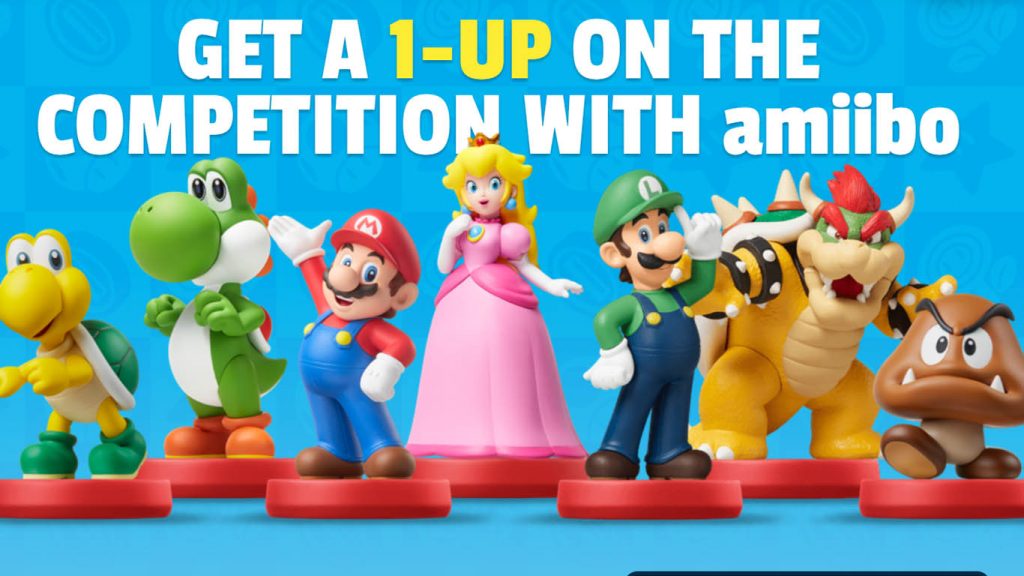 Mario, friends and enemies are here to work with Mario Party: The Top 100. Other than the short video that Nintendo posted last week about what amiibo can do in-game, the company also breaks down everything on the site.
Hit a dreaded "Game Over"? Grab an amiibo and give yourself a 1-Up to keep on playing. Think that you'll go through the game without needing that feature? How about some free coins instead? Any of the Super Mario Bros. amiibo will grant you ten coins when landing on a special amiibo-marked spot. To up the ante, scan in Goomba or Koopa Troopa when they're nearby with an amiibo bubble over their head and you'll get a whopping 50 coins instead.
As an incentive to pick up the latest additions to the Super Mario Bros. amiibo line, Goomba and Koopa Troopa will provide the best advantages. Similar to the Shadow Mewtwo amiibo card for the original Pokkén Tournament, Goomba and Koopa Troopa will unlock minigame packs from the get-go. No word as to what and how many minigames are tied to each pack, but if you want to start playing minigames right away, then this is your best option.
It won't be too long before November is here and Mario Party: The Top 100 will be available for Nintendo 3DS and 2DS systems.
Ready to take a trip to nostalgia as well as playing some of the best minigames in Mario Party history? I know I am! See you at the starting point on November 10th!
Leave a Comment