In probably the weirdest news we've seen concerning Pokémon GO to date, it has come to light that the mobile AR game played a role in last year's lead-up to the U.S. political election.
Yes. Laugh or say it isn't so, but Alphabet (the parent company of Google, YouTube and Niantic Labs) will be one of many companies testifying about its product's involvement before the Senate and House Intelligence Committees on November 1st of this year.
According to Donie O'Sullivan and Dylan Byer via CNN Money, Pokémon GO was used by a Russian group that concocted a group/movement called "Don't Shoot Us."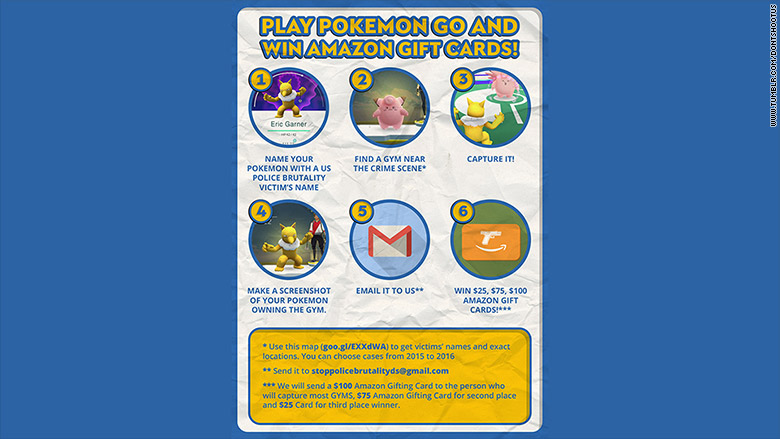 From the CNN article directly:
The donotshoot.us website in turn links to a Tumblr account. In July 2016, this Tumblr account announced a contest encouraging readers to play Pokémon Go, the augmented reality game in which users go out into the real world and use their phones to find and "train" Pokémon characters.

Specifically, the Don't Shoot Us contest directed readers to go to find and train Pokémon near locations where alleged incidents of police brutality had taken place. Users were instructed to give their Pokémon names corresponding with those of the victims. A post promoting the contest showed a Pokémon named "Eric Garner," for the African-American man who died after being put in a chokehold by a New York Police Department officer.

Winners of the contest would receive Amazon gift cards, the announcement said.
It's unclear what the people behind the contest hoped to accomplish, though it may have been to remind people living near places where these incidents had taken place of what had happened and to upset or anger them.

CNN has not found any evidence that any Pokémon Go users attempted to enter the contest, or whether any of the Amazon Gift Cards that were promised were ever awarded — or, indeed, whether the people who designed the contest ever had any intention of awarding the prizes.

"It's clear from the images shared with us by CNN that our game assets were appropriated and misused in promotions by third parties without our permission," Niantic, the makers of Pokémon Go, said in a statement provided to CNN.

"It is important to note that Pokémon GO, as a platform, was not and cannot be used to share information between users in the app so our platform was in no way being used. This 'contest' required people to take screen shots from their phone and share over other social networks, not within our game. Niantic will consider our response as we learn more."
The contest was probably crafted in response due to the surge in popularity of Pokémon GO and to recreate the success of the "LoveIsLove the Clefairy" that reigned in a Gym that happened to be at the Westboro Baptist Church. Banking on recreating that viral sensation didn't seem to pan out as well as organizers had hoped. If any more details are released to the public, it'll be next month and hopefully we won't be holding our heads like a Psyduck's over this story.
Leave a Comment