Last summer a few orchestra concerts were held to celebrate the ongoing 25th Anniversary of that cute, pink puff that just can't eat enough – Kirby. I just missed the mark as far as timing goes on being able to attend one of these dream come true concerts, but soon I and other fans will get the chance to revisit those melodies and festivities any time they like.
The Kirby 25th Anniversary Orchestra album will be available in three formats: CD, DVD and Blu-Ray. As is usual for soundtracks like these, they may strike you as a little pricey at over $30 for the CD only set, though it does come with both the formatted and mastered orchestra concert audio on one disc and a commemorative arrangement of Kirby songs on the other.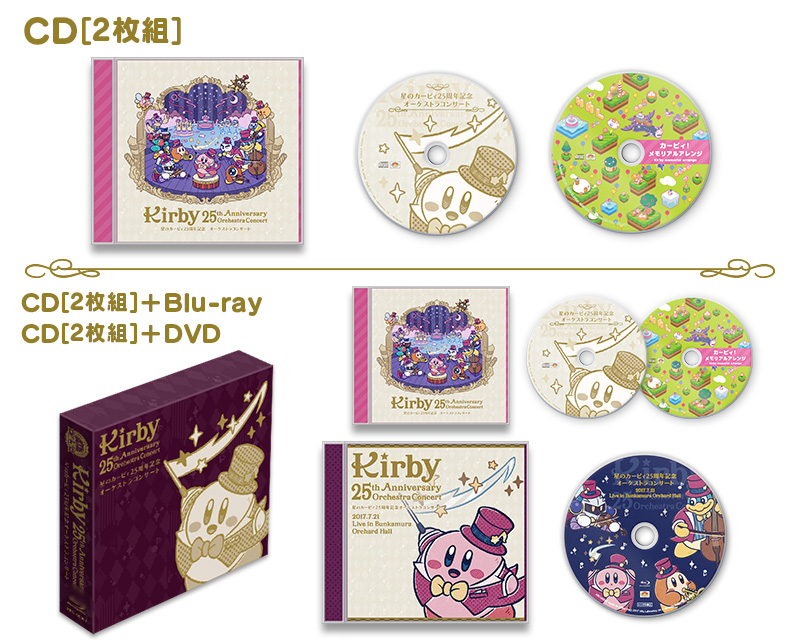 The DVD and Blu-Ray options raise the price to over $70 and $80 respectively but feature everything from the CD set as well as the "live", untouched audio on the video portion, intermission presentations from those involved with the series and game visuals to go along with the songs.
Right now these are only listed for order within Japan, though they'll likely find their way to other, international friendly shops and secondhand markets in due time. Pre-orders will open on November 8th and close December 3rd, and they'll be produced to meet that demand before releasing later on December 20th. In the meantime you can listen in on short previews of the orchestra audio, covering the majority of the series' games and key character themes. Fingers crossed that stars will align and let me get a copy.
Leave a Comment