That was fast. First teased in yesterday's Japanese trailer for Pokémon Ultra Sun & Moon, the YouTube channels for The Pokémon Company in North America and the UK have just today posted new videos showcasing what's to come in our next journey across Alola.
Our customizable protagonist's adventure is beefed up with new worlds to explore. From what's shown, we can gather that we'll be traveling to different worlds where Ultra Beasts reside. How will we get there though? Taking a page from Pokémon Alpha Sapphire & Omega Ruby, we'll travel through Ultra Wormholes with the help of Solgaleo and Lunala.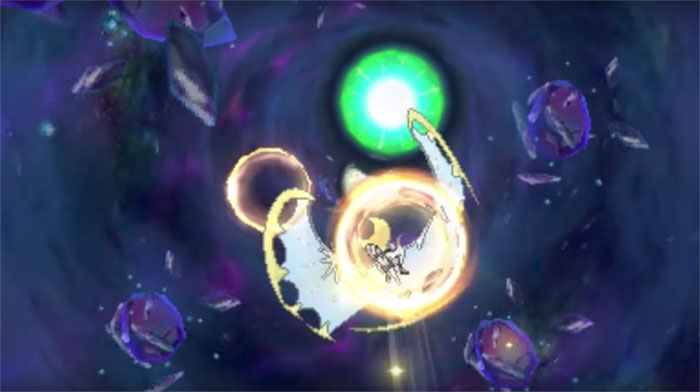 These areas just aren't a tacked on bonus for the "end game" though. Tied to the storyline, there's a world tucked away in an Ultra Wormhole — dubbed "Ultra Megalopolis." (Oddly enough, this land is something straight out of the Tron and Blade Runner franchises.) With new areas come new friends or foes, along with a recon team that's out to track down Necrozma.
It seems that the Ultra Beast has wreaked havoc with stealing this world's light. Depending on which version you play, you'll come across certain members of The Ultra Recon Squad. Dulse and Zossie are in Pokémon Ultra Sun, whereas Phyco and Soliera are in Ultra Moon.
UB Adhesive, considered a Poison Pin Pokémon, is a Poison-type with the ability of Beast Boost. This little guy is only about two feet tall and weighs four pounds. From the information on the site for the game, UB Adhesive has a potential Pokédex entry that reads: "UB Adhesive displays many emotions, and it's said to be able to understand human speech if it spends enough time together with them." This makes us wonder if UB Adhesive is the Mew or Mewtwo in the Ultra Beast family.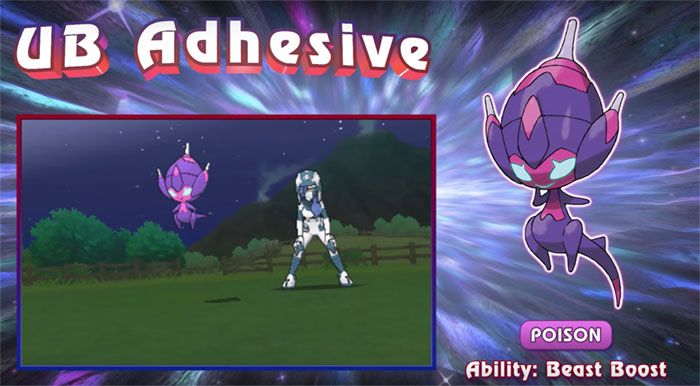 Ending the video we see UB Burst and UB Assembly again. Both get a quick rundown of their types, abilities and even moves. UB Burst, a Fire-ghost type that also has the ability Beast Boost, gets the new move. Its official name for having its dandelion-like head explode is called Mind Blown. From what's shown, it appears there's a tradeoff for half of the Ultra Beast's HP in favor of a massive stat boost.
As for UB Assembly, the only information shared is that it's a Rock-steel-type that joins the Ultra Beast family of having Beast Boost as an ability.
We're less than six weeks away from Pokémon Ultra Sun and Moon's release. What version will you be taking you on your next Pokémon journey?
Leave a Comment