It's all about pins, plushies and binders in this newest batch of merchandise from the Pokémon Center. The Alolan starters' final evolution forms are getting some serious love. And of course, Pikachu has joined part of this week's lineup — but not in ways you'd expect!
YOUR POKÉMON IS EVOLVING?!
Decidueye, Incineroar and Primarina are the newest plushes to be available online. Priced at $32.99 each, these plushies are definitely worth it. Decidueye, in particular, has some sort of plastic, bendable and interlocking components in his wings, making a number of poses possible. Fanboys and fangirls alike, you'll definitely want these guys to join you on your journey when Pokémon Ultra Sun & Ultra Moon release.

On a more personal note, I had hands-on time with all three of these plushes during the Pokémon World Championships. (Bless you, pop-up Pokémon Center shop and all your goodies!) I can vouch for their cuteness.
I CHOOSE YOU
The anniversary movie for the Pokémon anime is making its way to the United States. Earlier this year, we couldn't help but to "ooo" and "ahh" over all the movie themed goodies that Pokémon Centers in Japan had to offer. Most likely knowing all us fans were doubting that any of the merch would make its way over here, the Pokémon Center decided to surprise us. This next plush is big and fluffy — and he comes with Ash's hat! This huggable and lovable Pikachu is 38 inches tall and is priced at $49.99.
Making this purchase even more enticing is the fact that the hat is removable. He would definitely make a fantastic buddy to take along to see Pokémon: I Choose You when it hits theaters this November!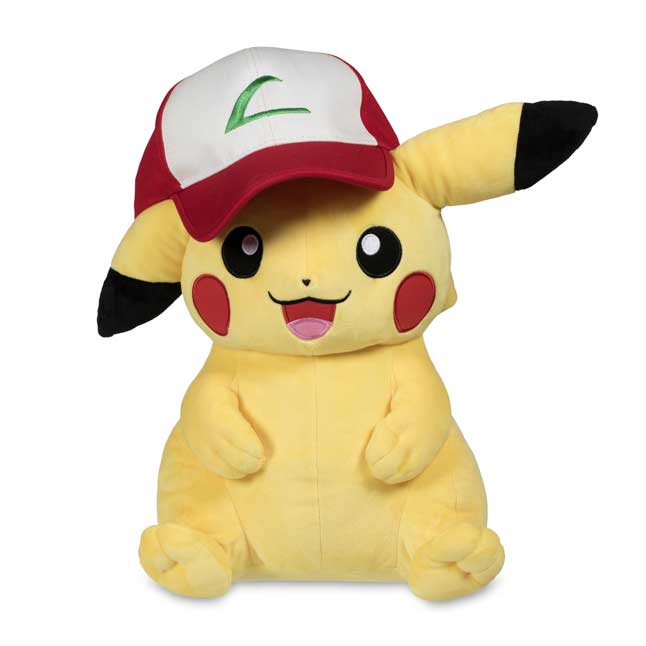 WELCOME TO KALOPINS AND ALOAPIN
Pin collectors, rejoice… though your wallets might start weeping. Three new pin sets are available! Chespin, Fennekin and Froakie's full evolution lineups are now complete in pin form. Quilladin, Braixen and Frogadier make up one set, leaving Chesnaught, Delphox and Geninja grouped in another. Then it's off to Alola with Dartrix, Torracta and Brionne strutting their stuff.
FUN FOR BACK TO SCHOOL OR TCG COLLECTIONS
More Pika power is here! With two binders to choose from, you can be subtle or go all out with some Pikachu love. The first one displays a whole bunch of Pikachus on the front and lots of Mimikyus on the back (with one of each straying to the other side). Ever since Mimikyu's introduction into the wide world of Pokémon, the interactions between him and Pikachu have been amazing. This binder certainly shows off the love for both.
As for the second binder, matching the Scroll Painting Playmat, the entire Pikachu Scroll painting design has been transferred onto a binder. This wonderfully fluid imagery has Pikachu surfing to Zapdos who's soaring the skies.

Both binders are $16.95 each.

That's all for now! Will you be making a digital trip to the Pokémon Center this week?
Leave a Comment