Atlus had a bevy of JRPG-related news to give during the Nintendo Direct, and while a decent amount was just reminders of news we had heard before, there were some useful tidbits of information.
First was the announcement of Alliance Alive releasing in the West. The spiritual successor to the Legend of Lecacy (which was itself a spiritual successor to the SaGa series and other JRPGs of yore) will be releasing in early 2018 in the Americas. Not much else was revealed about the game during the presentation, but it seems like more info will be revealed soon.



Nothing was really shown for Shin Megami Tensei Strange Journey Redux, other than confirmation that it would be releasing in early 2018. Radiant Historia: Perfect Chronology, on the other hand, had its launch day edition shown off, which includes an art book and a decal sheet. Atlus is no stranger to launch day editions, and if it's like their previous practices in the field it'll likely be marked up at around $50.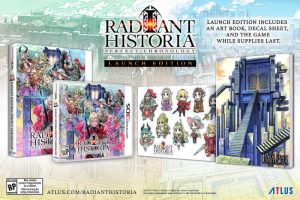 We also have a fresh trailer for Radiant Historia: Perfect Chronology's English version. Check it out:



Last was Etrian Odyssey V – while no release date for the game was confirmed, Atlus did announce that the demo for the game is available today in the eShop. So if you're into dungeon crawling and or map making, be sure to check it out – it's still apparently planned for release sometime this fall.
Which Atlus games are you excited for? What do you want to see more of? Let us know in the comments.
Leave a Comment