Joining the Metroid: Samus Returns 3DS theme (costing 20 Gold Points) that popped up on My Nintendo rewards a few days ago, Nintendo has added a few more goodies in anticipation of the game's release in less than two weeks.
Three new discounts are now availble. The original Metroid that can be downloaded on the Wii U and/or 3DS is 50% off after spending 250 Platinum Points. Metroid II: Return of Samus, the original that Metroid: Samus Returns is paying homage to, is available for the 3DS and 10 Gold Points will get you a 30% discount. The last to round out the trio is Metroid: Other M, a game that has somewhat split the fandom — 80 Gold Points will secure a 50% off discount for the Wii U version of the game.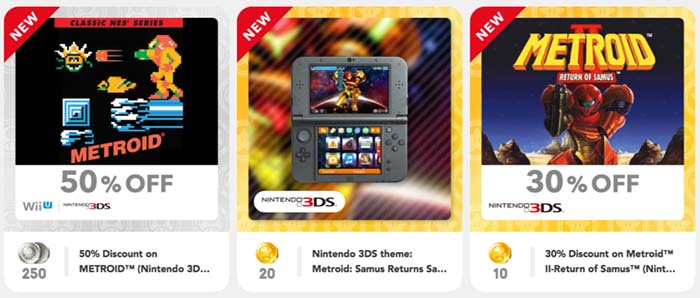 On the newer side, there are two wallpapers to choose from that are based off the upcoming Metroid: Samus Returns game. Just named Wallpaper A and Wallpaper B, both cost 50 Platinum Points and come in a variety sizes for mobile and desktop.
Will you be running, jumping, rolling or crawling your way over to My Nintendo's rewards section today?
Leave a Comment