A successor of sorts to last year's Pokémon TCG: Super-Premium Collection — Mew and Mewtwo box set, Shining Legends is getting its own take on this beast of a box. Themed with the up-and-coming Shining Legends expansion, Ho-Oh graces our presence with cards, a figure and more: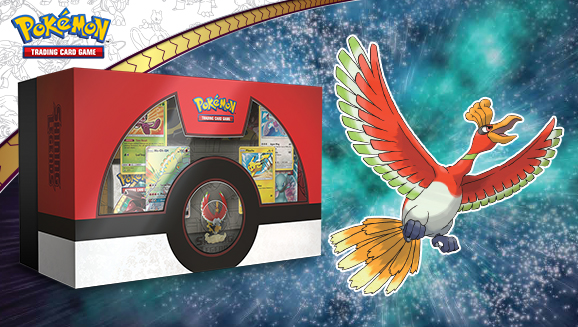 "The Pokémon TCG: Shining Legends Super-Premium Collection Featuring Ho-Oh Includes:

An amazing sculpted figure of the Legendary Pokémon Ho-Oh
A full-art rainbow promo card featuring Ho-Oh-GX
2 never-before-seen foil promo cards featuring Shining Lugia and Shining Celebi
A foil promo card featuring Pikachu
10 Pokémon TCG: Shining Legends booster packs
A playmat featuring 9 Shining Pokémon
A special booklet with a behind-the-scenes look at the art of Shining Legends
3 collector's boxes to hold everything, with 12 dividers to keep them organized
A code card for the Pokémon Trading Card Game Online"
Unlike last year's box that celebrated the 20th anniversary of the franchise, there's no retailer exclusive from the start. Yes, PokémonCenter.com will have the box released on October 6th, a two week head start from its official release date of October 20th. Though when October 20th hits, all retailers that carry Pokémon TCG products will have the collection in stock on shelves and online.
Pokémon card collectors, will this mega box of goodies become part of your collection this year?
Leave a Comment