GameStop's distribution of Salazzle codes for Pokémon Sun & Moon began this Monday, and as an extra incentive, select stores will be holding a Pokémon event this Saturday, August 19th, from 12:00 p.m. to 3:00 p.m. local time.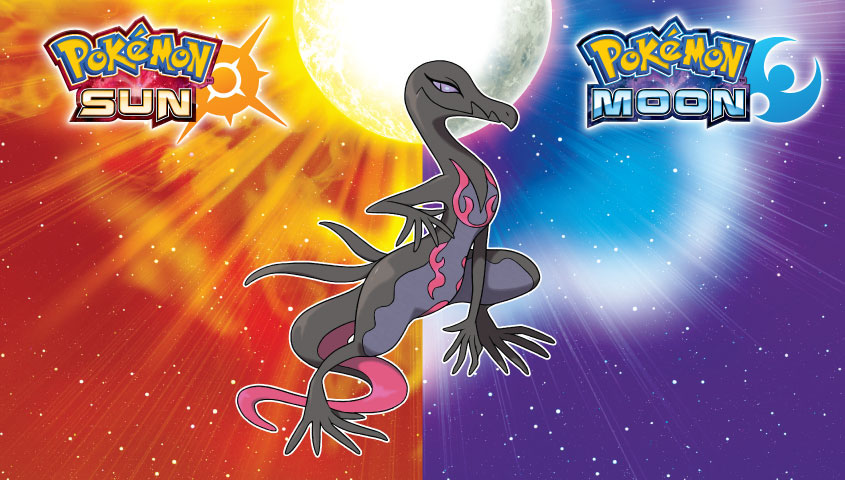 Come and pick up your code card for Salazzle, as well as a poster of Tapu Bulu if you're one of the first 100 attendees. Other swag items might be on hand and demos of Pokémon Sun & Moon will be available if you haven't played the game yet. No word if GameStop will have any sales on Pokémon goods, including the new Burning Shadows expansion for the Pokémon TCG: Sun & Moon line, but there are already some markdowns of certain items online.
For the full list of locations, check down below!
| | | | |
| --- | --- | --- | --- |
| Address | City | State/ Province | Postal Code |
| 5964 CHALKVILLE MOUNTAIN RD | BIRMINGHAM | AL | 35235 |
| 6275 UNIVERSITY DR NW, STE 28A | HUNTSVILLE | AL | 35806 |
| 3511 E RACE AVE, STE 100 | SEARCY | AR | 72143 |
| 13070 W RANCHO SANTA FE BLVD, STE C5 | AVONDALE | AZ | 85392 |
| 1766 S. GREENFIELD ROAD, SUITE 105 | MESA | AZ | 85206 |
| 2620 TUSCANY ST, STE 105 | CORONA | CA | 92881 |
| 3030 PLAZA BONITA RD, STE 2024 | NATIONAL CITY | CA | 91950 |
| 1 MILLS CIRCLE, SP 324 | ONTARIO | CA | 91764 |
| 24919 PICO CANYON RD | STEVENSON RANCH | CA | 91381 |
| 7100 SANTA MONICA BLVD, STE 117 | WEST HOLLYWOOD | CA | 90046 |
| 15524 WHITTIER BLVD, BLDG 8 | WHITTIER | CA | 90603 |
| 960 S. COLORADO BLVD | DENVER | CO | 80246 |
| 4345 KIRKWOOD HWY, SUITE #100 | WILMINGTON | DE | 19808 |
| 11025 CAUSEWAY BLVD | BRANDON | FL | 33511 |
| 3200 N FEDERAL HYW, STE 210 | FORT LAUDERDALE | FL | 33306 |
| 10021 GULF CENTER DR, STE 220 | FORT MYERS | FL | 33913 |
| 4668 TOWN CROSSING DR, STE 131 | JACKSONVILLE | FL | 32246 |
| TREASURE COAST SQUARE, 3086 NW FEDERAL HWY | JENSEN BEACH | FL | 34957 |
| 4610A MOBILE HWY | PENSACOLA | FL | 32506 |
| 3720 PARK BLVD. | PINELLAS PARK | FL | 33781 |
| 3119 DANIELS RD, SPC #104 | WINTER GARDEN | FL | 34787 |
| 3385 WOODWARD CROSSING BLVD, STE 300 | BUFORD | GA | 30519 |
| 7804 OGLETHORPE MALL, STE 271 | SAVANNAH | GA | 31406 |
| 550 36TH AVENUE S.W., UNIT M | ALTOONA | IA | 50009 |
| 6451 W DIVERSEY AVE, STE G-9 | CHICAGO | IL | 60707 |
| 5579 NORTHWEST HWY | CRYSTAL LAKE | IL | 60014 |
| 3022 S STATE ROUTE 159 | GLEN CARBON | IL | 62034 |
| 1026 S ELMHURST RD | MOUNT PROSPECT | IL | 60056 |
| 3432 VETERANS DRIVE | PEKIN | IL | 61554 |
| 14405 CLAY TERRACE BLVD, STE 135 | CARMEL | IN | 46032 |
| 2291 NORTH OAK ROAD | PLYMOUTH | IN | 46563 |
| 2413 N MAIZE RD, STE 103 | WICHITA | KS | 67205 |
| 2160 SIR BARTON WAY | LEXINGTON | KY | 40509 |
| 10524 FISCHER PARK DRIVE | LOUISVILLE | KY | 40241 |
| 6725 SIEGEN LANE, SUITE M | BATON ROUGE | LA | 70809 |
| 819 W ESPLANADE AVE, STE H | KENNER | LA | 70065 |
| 40 WINTER ST | BOSTON | MA | 2108 |
| 26 ORCHARD HILL PARK DRIVE | LEOMINSTER | MA | 1453 |
| 179 ANNAPOLIS MALL | ANNAPOLIS | MD | 21401 |
| 7820 WORMANS MILL RD | LEWISTOWN | MD | 21701 |
| 1238 PUTTY HILL AVE, STE 80 | TOWSON | MD | 21286 |
| 378 MAINE MALL RD | SOUTH PORTLAND | ME | 4106 |
| 3192 SOUTH LINDEN ROAD, SPACE B-112 | FLINT | MI | 48507 |
| 2781 S ROCHESTER ROAD | ROCHESTER HILLS | MI | 48307 |
| 378 NORTH GARDEN | BLOOMINGTON | MN | 55425 |
| 7106 NW 86TH TERRACE | KANSAS CITY | MO | 64153 |
| 14248 MANCHESTER RD, STE B | MANCHESTER | MO | 63011 |
| 2825 S GLENSTONE AVE | SPRINGFIELD | MO | 65804 |
| 1011 HAMPSTEAD BLVD | CLINTON | MS | 39056 |
| 2065 SKIBO RD, STE 3 | FAYETTEVILLE | NC | 28314 |
| 6858 MAIN ST | WILMINGTON | NC | 28405 |
| 3320 SILAS CREEK PKWY, SPACE DL400 | WINSTON-SALEM | NC | 27103 |
| 8540 S 71ST PLZ, STE B | PAPILLION | NE | 68133 |
| 44 FORT EDDY RD | CONCORD | NH | 3301 |
| 6501 MENAUL NE | ALBUQUERQUE | NM | 87110 |
| 2370 EAST SERENE AVE, SUITE 240 5 | LAS VEGAS | NV | 89123 |
| 1 CROSSGATES MALL ROAD, SPACE C-202 | ALBANY | NY | 12203 |
| 3701 MCKINLEY PKWY | BLASDELL | NY | 14219 |
| 9598 DESTINY USA DRIVE | SYRACUSE | NY | 13204 |
| 2727 FAIRFIELD COMMONS BLVD, STE E273 | DAYTON | OH | 45431 |
| 3100 MAIN STREET, SUITE 1125 | MAUMEE | OH | 43537 |
| 5102 GREAT NORTHERN PLZ S | NORTH OLMSTED | OH | 44070 |
| 1154 HINKLE DR, UNIT F | WADSWORTH | OH | 44281 |
| 7680 VOICE OF AMERICA DR | WEST CHESTER | OH | 45069 |
| 12401 E. 96TH STREET NORTH | OWASSO | OK | 74055 |
| 12000 SE 82ND AVE, STE 2020 | HAPPY VALLEY | OR | 97086 |
| 101 CLEARVIEW CIR. | BUTLER | PA | 16001 |
| 127 PARK CITY CENTER | LANCASTER | PA | 17601 |
| 11A MONROEVILLE MALL | MONROEVILLE | PA | 15146 |
| 3530 WILKESBARRE/TOWNSHIP CMNS | WILKES BARRE | PA | 18702 |
| 45 PROVIDENCE PL, STE A305 | PROVIDENCE | RI | 2903 |
| 2150 NORTHWOODS BLVD, UNIT B22 | CHARLESTON | SC | 29406 |
| 6080-B GARNERS FERRY RD, SPC #120 | COLUMBIA | SC | 29209 |
| 1511 WOODRUFF RD, STE F | GREENVILLE | SC | 29607 |
| 545 COOL SPRINGS BLVD., SUITE 185 | FRANKLIN | TN | 37067 |
| 4259 SAM WALTON WAY | KNOXVILLE | TN | 37938 |
| 8507 US HIGHWAY 51 N, STE 105 | MILLINGTON | TN | 38053 |
| 10000 RESEARCH BLVD., STE 564 | AUSTIN | TX | 78759 |
| 4650 WOODROW BEAN SUITE D1 | EL PASO | TX | 79924 |
| 5085 WESTHEIMER, SUITE 3555 | HOUSTON | TX | 77056 |
| 22545 STATE HWY 249, STE 110 | HOUSTON | TX | 77070 |
| 3300 W EXPRESSWAY 83, STE G-03 | MCALLEN | TX | 78501 |
| 11200 BROADWAY ST, STE 1300 | PEARLAND | TX | 77584 |
| 8336 AGORA PARKWAY, SUITE 120 | SELMA | TX | 78154 |
| 1251 E SOUTHLAKE BLVD, SPC 351 | SOUTHLAKE | TX | 76092 |
| 6739 S BROADWAY AVE, STE 1 | TYLER | TX | 75703 |
| 621 WEST MARKET PLACE DRIVE | CENTERVILLE | UT | 84014 |
| 3170 LINDEN DR. | BRISTOL | VA | 24202 |
| 129 COMMUNITY STREET | CHARLOTTESVILLE | VA | 22911 |
| 768 HILLTOP NORTH CENTER | VIRGINIA BEACH | VA | 23451 |
| 155 DORSET ST, STE H-2 | SOUTH BURLINGTON | VT | 5403 |
| 300 ANDOVER PARK WEST, STE 100 | TUKWILA | WA | 98188 |
| 1001 MUTUAL WAY | APPLETON | WI | 54913 |
| 7420 W. HOLMES AVE | GREENFIELD | WI | 53220 |
| 8118 MINERAL POINT ROAD | MADISON | WI | 53719 |
| 250 GRAND CENTRAL MALL, 6025 | VIENNA | WV | 26105 |
Leave a Comment