PAX West will be returning to Seattle at the start of next month, bringing all sorts of video game demos, announcements and industry panels. Seeing as it's Nintendo of America's hometurf the company typically has a presence, but rarely holds panels.
A listing has popped up on this year's schedule, though, promising a "special Nintendo panel" on Saturday September 2nd, at 10 a.m. PST.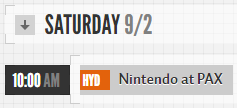 We know very little at this point, but previous Nintendo panels at PAX events have included focused looks at The Wonderful 101 and Xenoblade Chronicles X. We could see this new panel also revolve around a single game.
We'll be sure to bring more news as we approach the convention.
Leave a Comment