First being distributed at Pokémon GO Fest last month, Sprint is bringing this swag filled promotion to stores across the US. Badges that resemble the level up "medal" are available for free in level 10, 20, 30 and 40 increments. Courtesy of The Silph Road subreddit, redditor black_widow_natasha initially posted the screenshot of the Sprint PokéStop advertising the badges. From there they tried their luck at a few Sprint stores and was successful in getting a level 30 badge! Bring your phone with you as you do need to show off your trainer profile with your level to get a badge.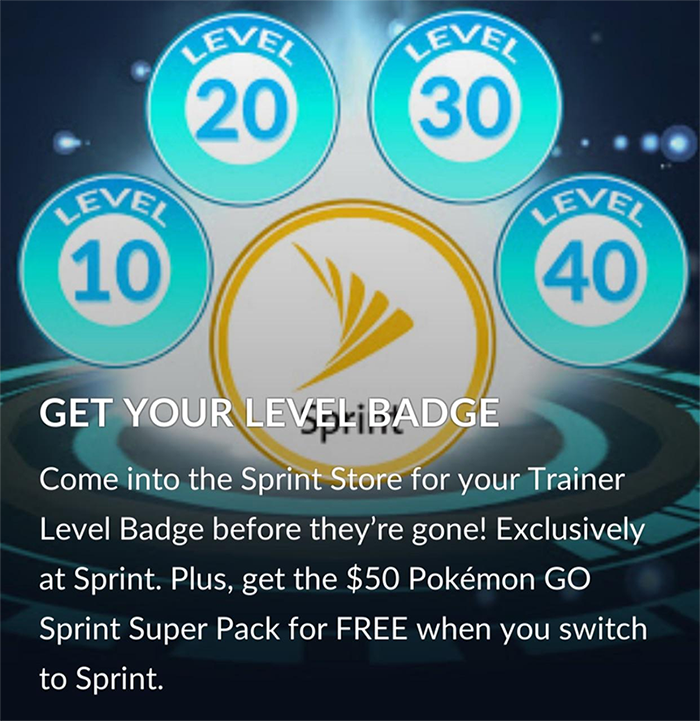 Yes, a few Sprint stores. As of right now it'll be a bit of a "your mileage may vary" situation with tracking a badge down. Checking out the comments at both threads it's a bit of an unorganized mess. Sprint hasn't formally announced this promotion at all, just through the image on PokéStops being changed. In addition to that not all stores have received their shipments yet. Some employees aren't familiar with the promotion and have been lumping it in with Sprint's $50 incentive to switch over or claiming that you need to be a Sprint customer. Basically it's the equivalent of a legendary raid battle – lots of luck is needed.
Definitely call ahead if you want to get a badge. Also, if you're worried about not getting a level 40 badge when you're hovering around that number as a level 39, you might be able to get that badge anyway.
Good luck Trainers!
Leave a Comment