So much for celebratory ramen — I mean hamburgers — after winning a case. Ace Attorney fans, you'll have to dig deep into couch cushions or see if Larry Butz has a money making operation going if you want to get the ultimate Ace Attorney Collector's Edition. Dubbed the Premium edition and available on Capcom's Japanese online store, the collection contains all six 3DS games in the mainline series, plus some physical goodies. The total? 150,000 yen. In US dollars, that's $1,375.75 (at the time of writing this article). Ouch. Maybe it'll just be top ramen for awhile?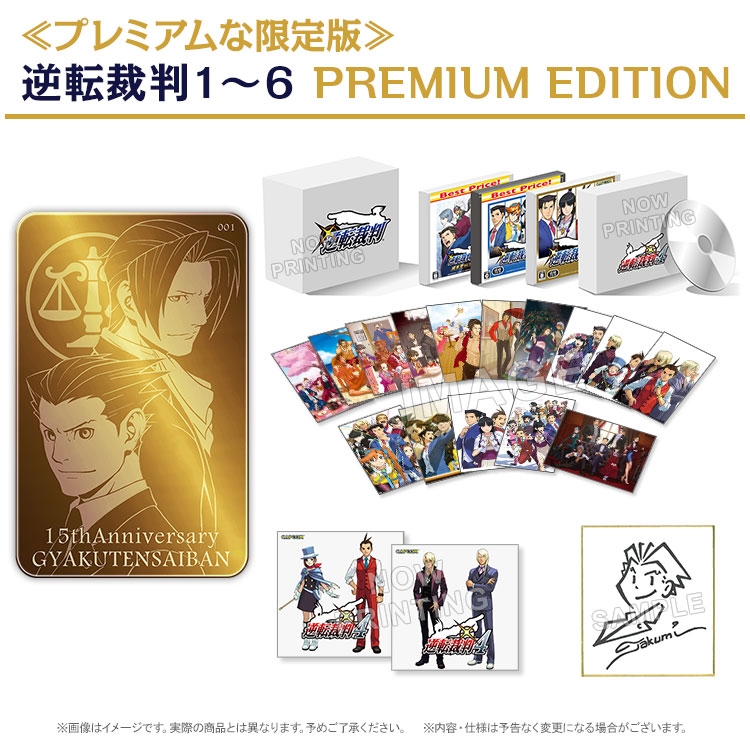 The pièce de résistance of the set is a gold plate celebrating the 15th anniversary of the series, featuring Phoenix and Edgeworth. When you do the math, 24k gold is selling for at least $39 by the gram, and with seven grams per plate you're already looking at a starting cost of $273, if not more. In addition to that there's an autograph from Shu Takumi (designer of the series), a signed box by Takuro Fuse (art director of the series), postcards featuring various characters from the series to go into that box, a sound selection CD for Apollo Justice, physical copies of all six games in the main series and a box for all these items to go into. Phew!
Luckily, there are five other bundles available that are below $1,000. Ranging from having all the games to just selling the postcard set (which is fantastic and only 2,800 yen to boot), there's something for every Ace Attorney fan.
Would you throw down $1,375.75 (plus tax) for what could be one of the most expensive game bundles outside of a Kickstarter project? Time to yell "Objection!", "Hold it!" or "Take this!"
Leave a Comment