Lady Layton is here! Out today worldwide via iOS and Android phones and tablets is the next adventure in the Professor Layton series. Layton's Mystery Journey: Katrielle and the Millionaires' Conspiracy (what a mouthful) will eventually make its way to the 3DS this year — unless you live in Japan, as it's available today there.
Professor Layton seems to be missing — replacing him is Professor Layton's daughter, Katrielle "Kat" Layton, who's here to save the day. It seems there will be plenty of puzzles to experience and friends to meet as Kat unravels Level-5's latest mystery penned just for her.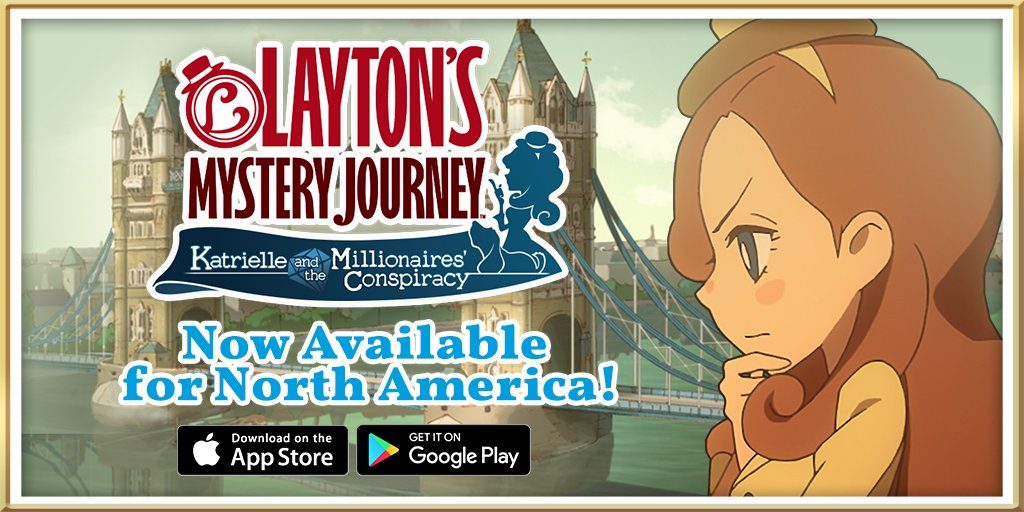 The app can be purchased for $15.99 on Apple's iTunes or on Google Play. If you're waiting for the 3DS version, it'll be out sometime during or after October (no concrete date yet).
Need something to pass the time? Then you can check out Layton World, a real-time puzzle game that started a few weeks ago in anticipation for the release of Layton's Mystery Journey. It really does take place all over the world, making fans far and wide across the globe solve puzzles together! The game is still ongoing, and even better, you can acquire items that will transfer over to Layton's Mystery Journey: Katrielle and the Millionaires' Conspiracy.
This seventh main entry in the Professor Layton lineup is also celebrating the series' ten year anniversary, so why not celebrate by adventuring around with Katrielle? And while we wait for the Nintendo handheld release, maybe we can get the custom amiibo community to make some charming amiibo in time for the 3DS debut!
---
Via: Press release on Business Wire
Leave a Comment