Niantic has shared some more news concerning this summer's Pokémon GO events. We're less than two weeks away from Chicago's Pokémon GO Fest and whether you secured tickets to go or not, you can start planning on how you want to play GO that day.
For starters, soon Sprint and Boost Mobile customers will have the opportunity for early entry, letting them in at 9 a.m. CDT.
Scheduled to take place from 10 a.m. to 7 p.m. CDT, the day will be broken up into three phases. The first will occur in half hour chunks at the Chicago event (11 a.m. – 11:30 a.m., 12:00 p.m. – 12:30 p.m., and 3 p.m. – 3:30 p.m.). At Grant Park, attendees will have to work together and catch certain types of Pokémon to unlock perks. Want a candy bonus? Then you'll have to find every fire Pokémon that appears on your radar.
Trainers elsewhere are responsible for catching as many Pokémon as possible to extend these bonuses to 24 or 48 hours. If enough Pokémon are caught, a mystery challenge for Pokémon GO Fest will become available at 6 p.m. With each team's leaders shown off in the graphic that Niantic has provided, it wouldn't be a long shot to guess that Articuno, Zapdos and Moltres would appear in some massive Gym Raids. For whatever worldwide bonuses that were unlocked during that day, they'll start up on July 23rd.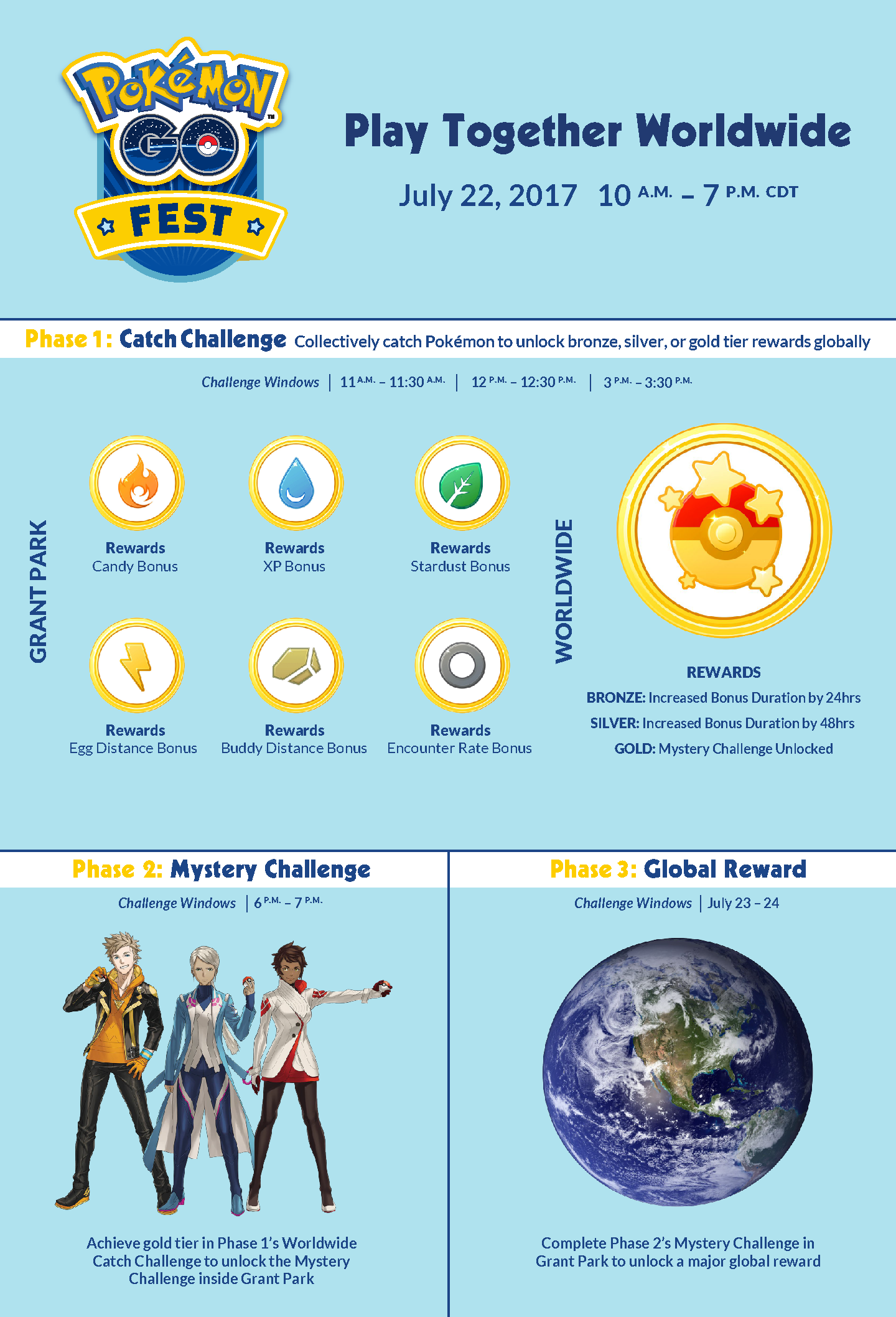 There's also some news for events in Europe and Japan. Check out the full rundown:
Pokémon GO Safari Zone Events in Europe
We're excited to announce that a variety of Pokémon GO Safari Zone events will be taking place at select Unibail-Rodamco shopping centers during August and September!
 

August 5, 2017

 Fisketorvet—Copenhagen, Denmark
 Centrum Cerny Most—Prague, Czech Republic

 August 12, 2017

 Mall of Scandinavia—Stockholm, Sweden
 Stadshart Amstelveen—Amstelveen, The Netherlands

 September 16, 2017

 CentrO—Oberhausen, Germany
 Les Quatre Temps—Paris, France
 La Maquinista—Barcelona, Spain

All seven Pokémon GO Safari Zone events will give Trainers the opportunity to catch a wide variety of Pokémon in special zones featuring Pokémon originally encountered in the Kanto and Johto regions, including some Pokémon never before encountered in Europe! Additionally, Trainers in attendance will join forces to take on unique and powerful Raid Bosses that will be making appearances at these events.

Pikachu Outbreak in Japan

The Pokémon Company will be hosting its annual Pikachu Outbreak event in Yokohama, Japan, from August 9–15, where a special Pokémon GO experience is taking place. More information about Pikachu Outbreak will be unveiled by The Pokémon Company in the coming days, so stay tuned for all the exciting details!
And for keeping everything in order, we now officially have an Events page to check back on. Let's hope it's continued to be filled during the rest of 2017.
Leave a Comment