Online retailer Entertainment Earth has been uploading placeholders for future World of Nintendo items by Jakks Pacific. The company will be holding a panel at San Diego Comic Con next month, and from what we've seen teased so far online, the following items may be announced. Fans of the toyline, you might want to see what's in store for 2017 and 2018.
Nintendo plush with sound
Slated for a December 2017 and March 2018 release, Wave 4 and Wave 5 of the plush with sound line may make our kid dreams come true. While tentative, each page lists what plushies are planned. This holiday season Navi, DK Barrel and Fire Flower will become a reality. Yes, that's right: Navi. The little fairy yelling "Hey, listen!" will be a licensed reality. If you're hankering for something Legend of Zelda, then perhaps the game's iconic Treasure Chest along with a Blue Shell and Goomba from Super Mario will be your pick in March.
A Kingdom for a Villain or Princess
The perfect toy for any Bowser Jr., the Mushroom Kingdom Castle playset has been teased before. Here though, we have a clearer image… unfortunately, without Princess Peach. In addition to Peach's castle and Bowser, the set also includes a brick block, question mark block and a flag goal. Kid or not, this set will be fantastic to play with and will be the perfect subject matter for little photoshoots. Entertainment Earth is listing the set for $26.99 with an estimated release date of August 2017.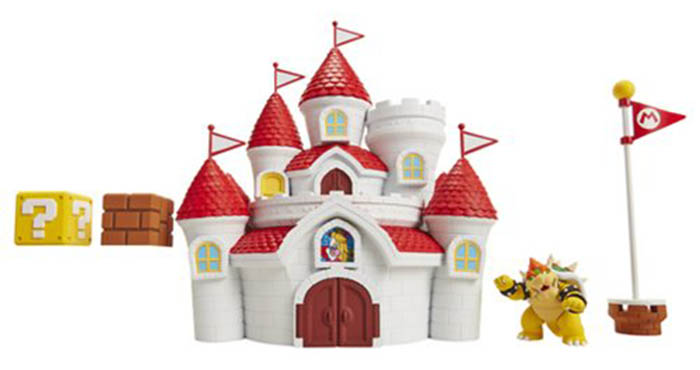 May your bow never break
If you've been wanting to decorate your home with weapons from The Legend of Zelda: Breath of the Wild, then here's a good place to start. Completely functional, this Bow and Arrow Role Play Set will add some adventure to playtime. That, and for kids it'll make a great addition to a Link Halloween costume. Currently available on Toy"R"Us' site, ship-to-home only and at $19.99, Entertainment Earth lists the product's shipment as available this August. It's priced at $21.99.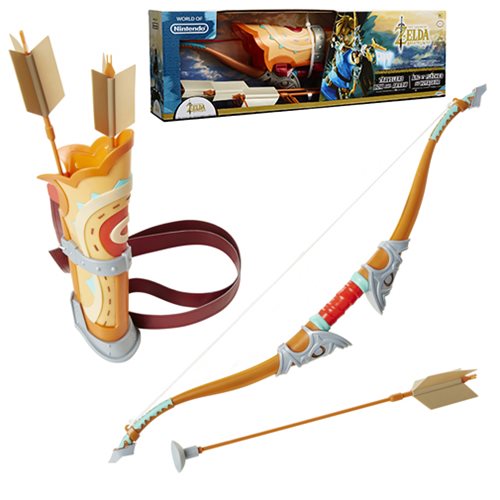 Nintendo Tape Racers
More Tape Racers will be available this summer. While Wave 2 has been spotted in stores, Entertainment Earth is listing a case of these to be shipped out next month. Wave 3 will follow suit in August and will have Mario, Luigi, Yoshi and a Blue Shell added to the lineup.
San Diego Comic Con 2017 Exclusive
While we're still weeks away from SDCC, Entertainment Earth decided to share some of its exclusives a bit early. If you've been a fan of the pixel toys that Jakks Pacific has made, then you'll love this new set which is called the World of Nintendo Super Mario and Princess Peach 8-Bit Mini-Figures 2-Pack. Don't fret though — you can order Mario and Peach from the comfort of your home for $14.99. There's no Toad here to tell you your item is at a Dealers Hall only.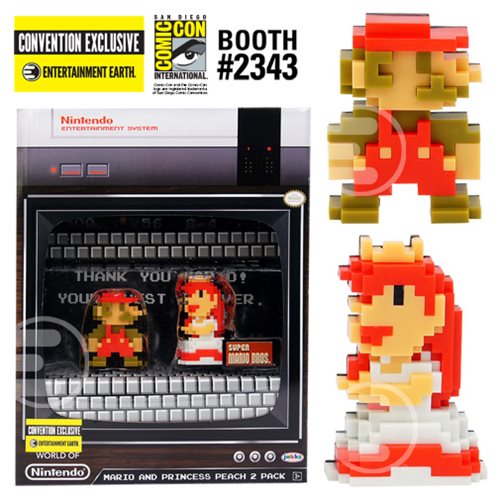 Figures, plush and more
The rest of Entertainment Earth's listings are vague. On top of listing various waves for plushies, different figure sizes and more, the site provides pricing for them by the case. To make things easy, here's a quick rundown of what else we can expect:
World of Nintendo 2.5 inch Mini Figures
Wave 12 launching August 2017
Wave 13 launching August 2017
Wave 14 launching October 2017
Wave 15 launching December 2017
World of Nintendo 4 inch Mini Figures
Wave 11 available October 2017
Wave 12 available November 2017
Plushes
Wave 13 arriving November 2017
Wave 2 of Hangers (keychains) arriving November 2017
Diorama Sets
Mushroom Kingdom Diorama Playset 3-Pack debuting February 2018
Mario vs. Bowser Wave 1 Diorama Set debuting February 2018

We can't wait for Jakks Pacific to share photos and more information for these items. Is there something you hope to see listed in those mini figure waves?
Leave a Comment