If you're a Super Mario Bros. fan and also happen to be a board game aficionado, you're in luck! Hasbro has just announced that its historically popular game, Monopoly, will be joining forces with Nintendo to bring you an all new game experience called Monopoly Gamer this fall.
The usual Monopoly tokens are swapped out so you can instead use beloved Super Mario characters, with each one featuring its own special power throughout gameplay. You have your choice to play has Mario, Yoshi, Princess Peach or Donkey Kong, and you play your way through the game with the ultimate goal of defeating Bowser at the very end. This unique twist offers you the chance to focus on gaining points by buying Properties, collecting Coins (which is replacing the standard money) and beating Bosses.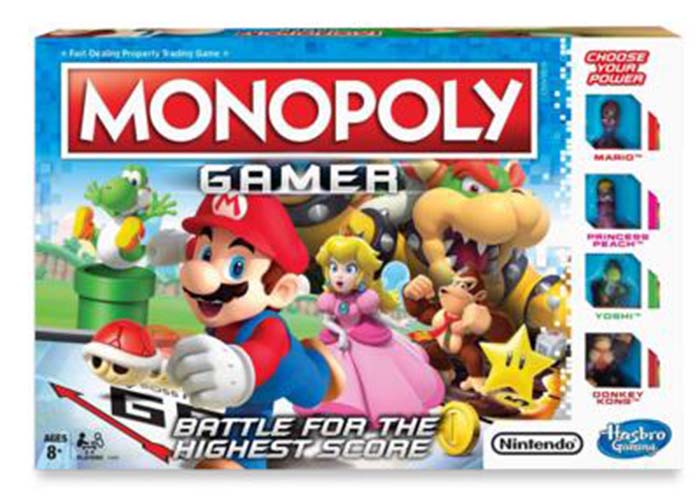 The following items are included with Monopoly Gamer:
Gameboard
4 Nintendo Character tokens (Mario, Yoshi, Princess Peach and Donkey Kong)
4 Character cards
4 Reminder cards,
8 Boss cards
16 Title Deed cards
1 Numbered die
1 Power-up die
90 Coins
Game Guide
Monopoly Gamer is priced at $25 and is available at select retailers.
The Monopoly Gamer Collector's Edition is also an option for all you video game and board game collectors out there. Exclusive to GameStop, this version includes a different version of the outer box, a Bowser token, and a Bowser Jr. Character card with unique Monopoly game abilities. You can pre-order this edition online or in-store for $39.99.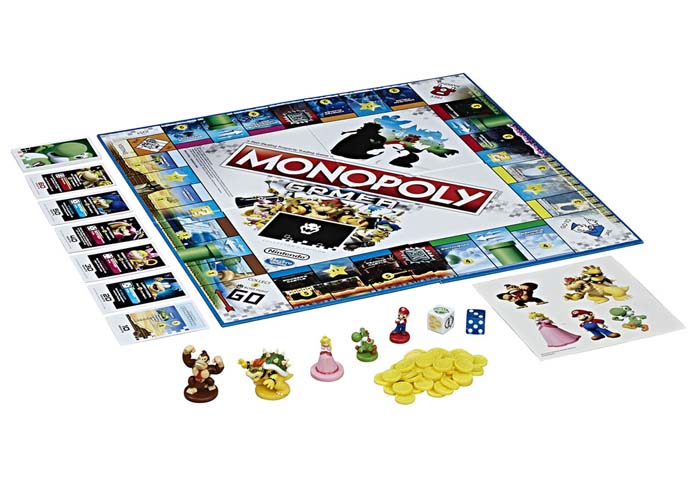 Even more exciting, Hasbro is offering you a chance to enhance your board game experience with the newly announced Nintendo themed Monopoly Gamer Figure Packs called Monopoly Gamer Power Packs. Each pack is sold separately and features new character tokens that "grant unique powers to optimize your Monopoly Gamer gameplay experience." Beyond the four characters listed above, the following characters are available in the packs: Wario, Luigi, Toad, Boo, Rosalina, Diddy Kong, Fire Mario and Tanooki Mario. Each pack contains a Character token, Character card and a Character sticker.
Monopoly Gamer Figure Packs will cost you $4 a piece.

Looking for a closer look at all this board game goodness? Watch the Monopoly Gamer Rules video below to see it in action!
Leave a Comment