Nintendo's Japanese Poochy & Yoshi's Woolly World site is available for viewing, and boy, is it chock full of cute and colorful imagery! (Keep in mind that, due to the language barrier, we're basing our understanding of site navigation on purely visuals.)
Upon entering, you'll have the option to choose whether or not you'd like to view the version of the site with or without sound. If you have the opportunity to do so though, we highly recommend that you choose the option with sound, as having it playing in the background totally adds to the browsing experience. You'll then be directed to a new page that displays the gorgeous promo art for the new title. It's decked out in stunning visuals from top to bottom.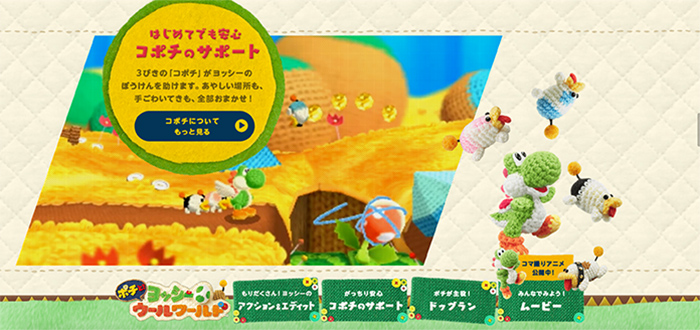 The rest of the site contains a lot more adorable Yoshi and Poochyfied images, videos and small tidbits of information (like amiibo support) regarding the game. There's so much yarn-filled goodness sprawled out over the site that the only way to really let it all sink in is by exploring every inch of it. Definitely check it out if you have a couple minutes to spare!
Leave a Comment