If you're an owner of a standard New 3DS, you might just be as addicted to collecting cover plates as we are. And hey, that's not a bad thing at all! In fact, there's nothing quite as fun as decorating our favorite handheld with plates decked out in beloved characters, patterns and colors (in our humble opinion). Whether you've amassed a large collection of cover plates already, or you're looking to grow your current assortment, we think you might enjoy this fun tool the Australian Nintendo site has created.
Heading over to the page displaying the tool will allow you to view a large variety of cover plates currently available. You can even choose which color system – black or white – you want to test out the designs with by clicking the respective option underneath the 3DS. Both the top and bottom plates are viewable, with arrows located on each side of the system that allow you to browse through designs at your leisure. To make keeping track of your favorite plates and combinations easier, the site also displays the designated plate numbers next to each cover.
And no worries if you're a bit overwhelmed with all the possibilities! Simply click that green button with the arrows on it in the bottom-left corner, and a random combination of plates will pop up right before your eyes.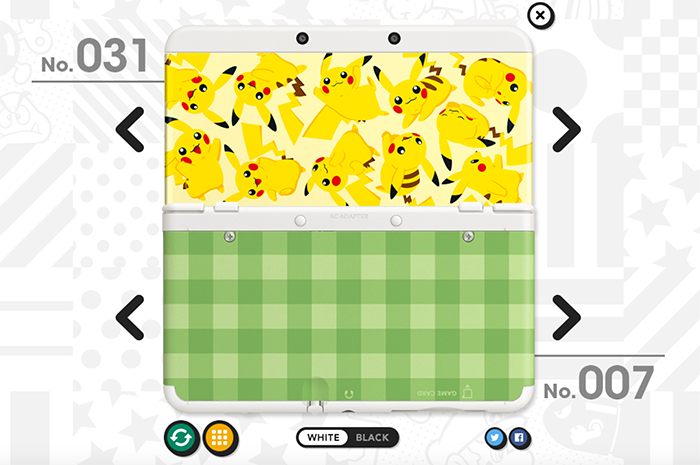 44 cover plates are displayed through the tool, along with plain white and plain black plates that are bundled with systems in certain regions. While not all the designs produced are shown on the page, plenty are there to give you an idea of just how many combinations containing top and bottom plates there are when it comes to designing your New 3DS. Check out this handy tool on Nintendo's Australian site now and create to your heart's desire!
If you'd like a look at a full comprehensive visual list of all the cover plates released to date, we highly recommend you check out our very own New 3DS Cover Plates Database. Altogether, there are actually over 100 pairs of plates!
Leave a Comment