One thing I love about owning Nintendo handhelds is having the option to acquire accessories that complement my very large, forever-growing collections. From cute and quirky character styluses to fun keychains that can adorn my 3DS, Nintendo almost never fails to let me personalize my systems in stylish ways.
That's why even seemingly small product additions to stores like GameStop catch my eye. This time around, the retailer's given us a couple Pokémon themed options. Decorating this new batch of 3DS travel cases are Zapdos, Moltres and Articuno, the three Legendary birds of Kanto most recently famous for their representative roles as the symbols for the teams in Pokémon GO.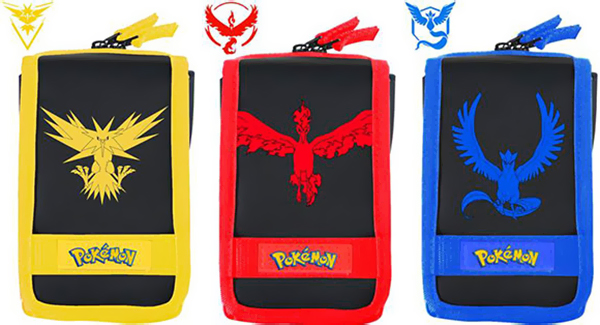 Carry your 3DS XL system along with your mobile phone, charger, and other accessories in this high-quality travel pouch featuring Legendary Pokémon artwork and colors. Attach to your belt, clip on your bag, or carry with the matching shoulder strap. Perfect for gamers on the go! Officially Licensed by Pokémon and Nintendo.
Even though the descriptions advertise the cases for the 3DS XL, standard 3DS systems should also fit nicely inside each of them.
The arrival of these travel cases comes to no surprise with Sun & Moon both releasing next week on Friday, November 18th. Both new and old fans of the franchise have been waiting for the titles for some time. And with Pokémon GO so readily available on smartphones, it makes sense that we see a product tie-in with all the excitement expressed for the 3DS games and the stream of GO players hyped for Pokémon right now.
Show your pride for Team Mystic with this Articuno 3DS case!
Show your pride for Team Valor with this Moltres 3DS case!
Show your pride for Team Instinct with this Zapdos 3DS case!
Leave a Comment