It's been some time since we heard anything about Nintendo's mysterious new title, Miitopia. News of the game was first introduced during the Japanese Nintendo Direct back in September. Only a title and logo were shown off with a "Coming in 2016" tagline. Besides that, we know absolutely nothing about it.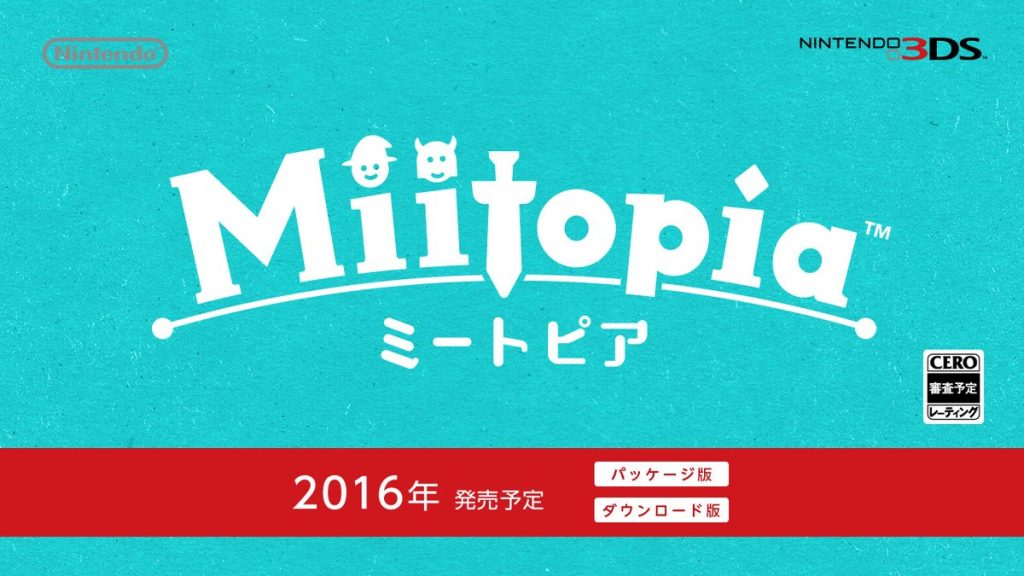 A few days ago, however, Nintendo Japan took to Twitter to announce that Miitopia will share some screen time with Animal Crossing during tomorrow morning's Direct. That got us thinking: What the heck is Miitopia? And: Will it arrive outside of Japan? We can only speculate at the moment, but judging by the logo, we have some thoughts.
Please keep in mind that the information below is speculation only.
Looking at the logo for Miitopia, we're given a few clues to what the game could be. A Mii, in what looks to be a wizard hat, stands next to what appears to be some sort of demon, or perhaps a warlock. A sword is used cleverly as the "t" in the logo as well. Find Mii is already offered among current StreetPass games, and that covers a traditional styled RPG on the 3DS – so it's also likely that this new installment will be much bigger and more elaborate in gameplay. Perhaps Miitopia is a MMORPG of sorts that'll let Mii players work together to make a perfect utopia while fighting evil side by side. With Nintendo's recent entry into Mii based social media through the mobile title Miitomo, this could be the natural progression for Mii based interactions.
Speaking of utopia, the name is an obvious play of the words Mii and utopia, which leads us to believe that creating a utopia – or some sort of world – is the purpose of the title. The idea that two characters are also placed within the logo could also mean the game is social in nature. When it comes to anything Mii related, that tends to be the case.
What do you think? Let us know in the comments below, and stay tuned to Nintendo Wire for more Miitopia coverage tomorrow morning!
Leave a Comment