During Nintendo's Financial Briefing that took place early this morning, President Tatsumi Kimishima touched base on Nintendo's mobile prospects – most notably, Super Mario Run. Kimishima confirmed that over 20 million iOS users have signed up for notifications for the title's launch. He stated that Nintendo expects the title to launch in 150 countries this December.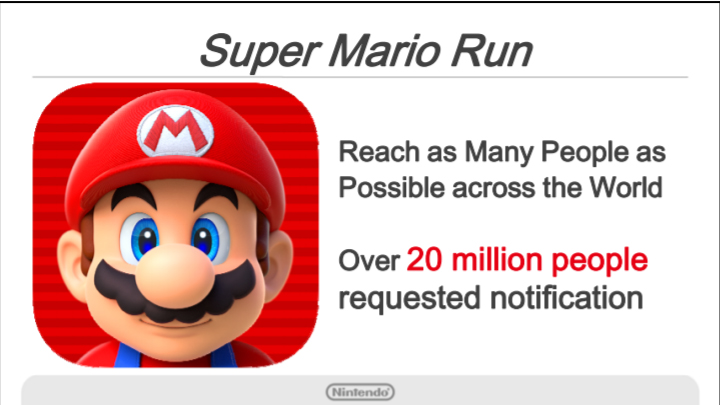 Kimishima also touched base on the Android version of Run, saying it's still in development. No launch window has been announced for Android at this time.
You can read the full statement below.
Previously, we announced that we would be releasing Super Mario Run in more than 100 countries, but we can now say that we plan to release this title in approximately 150 countries for iPhone and iPad in December. Although we have not announced the release timing yet, we are also developing an Android version. Downloading Super Mario Run will be free, as will some of the play elements. All of the game content will be enjoyable after paying a set purchase price. With our current plan, once a set purchase price is paid, consumers can repeatedly play the game without worrying about additional fees required. So, children can also play it with peace of mind. We will announce further details, including pricing, at a later date.
President Kimishima briefly mentioned Animal Crossing and Fire Emblem Mobile, reconfirming that both titles will be released by the end of March 2017. No further information was provided.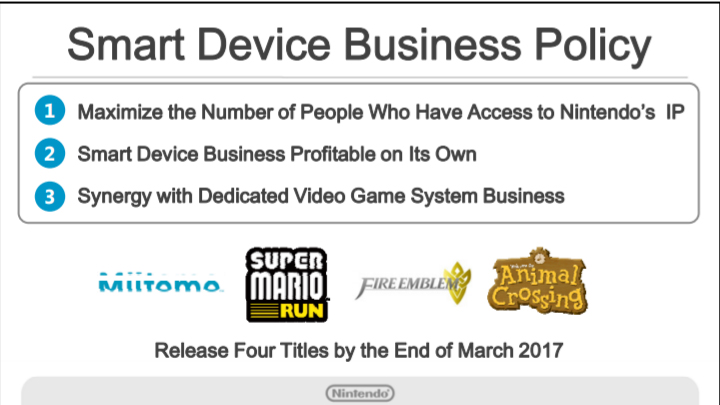 What do you think? Are you all aboard the Nintendo mobile train?
---
Leave a Comment