Toys"R"Us is having a special launch event for the final expansion of the XY series of Pokémon TCG – this expansion being, of course, Evolutions, the special re-release of the original Base Set that was released all the way back in 1999.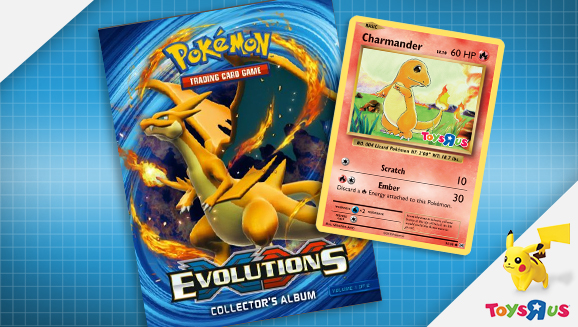 While the expansion itself doesn't release until November 2nd, you can get a glimpse of it a couple days early if you head over to participating Toys"R"Us stores on October 30th, which is just under a week from now. If you decide to make the trip, you'll be getting your hands on a special Charmander promo card – one that's identical to the original Charmander card! Additionally, you can snag the first of two volumes of a special Evolutions Collector's Album, and if you're one of the first 50 at the store, you can even get a special Pikachu figurine!
Evolutions is a special release celebrating the 20th Anniversary of Pokémon – it's definitely worth going and checking out. And for any of you more recent Pokémon fans, it's a chance to finally see what it's like to be a part of the original Pokémon craze! Make sure to head to any participating Toys"R"Us store to see what all the Pokémon fun is all about!
Leave a Comment