One of the biggest complaints that we've seen regarding Pokémon GO is the lack of anything new to do. The initial excitement wore off rather quickly due to the removal of tracking, missing Legendaries and the lack of events. It looks like Niantic is trying to remedy at least some of that with the announcement of a Halloween themed event coming to Pokémon GO from October 26th to November 1st.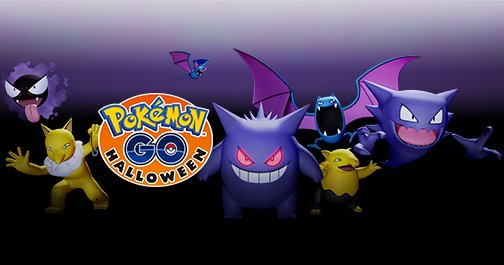 The event will give players double the candies with each Pokémon they catch and transfer to the professor while your Buddy Pokémon will provide 4x the amount of candy while you walk! Eggs will also dish out double the candy as you hatch them. It's not just about candy, though. Spooky Pokémon like Haunter, Gengar, Hypno and Zubat will be more common as you travel, so keep your eyes open! You can check out the full announcement below.
---
Halloween is here, and Pokémon GO has its own treats to give out! Starting October 26 and lasting through November 1, you can receive way more Candies than usual. Every Pokémon you catch will award six Candies—twice the normal amount. The Professor will give you two Candies instead of one for every Pokémon you transfer to him. And your Buddy Pokémon will award Candy four times faster than they usually do. Plus, you'll get twice the Candy you'd normally get when you hatch Eggs. Walk and catch all the Pokémon you can to get your fill of Candy during this special event!

Some spooky Pokémon will also be much more common leading up to Halloween. Be on the lookout for more of the following Pokémon on your trick-or-treat route:

Zubat
Golbat
Gastly
Haunter
Gengar
Drowzee
Hypno

Don't miss this fun chance to catch more Pokémon and collect more Candies in Pokémon GO leading up to a happy Halloween. For more Halloween fun, be sure to visit Pokemon.com/Halloween, where you can download Pokémon pumpkin stencils and share your festive photos using the hashtag #PokemonHalloween.

Have a happy Pokémon Halloween!
Leave a Comment