Just like last year, Nintendo's getting prepped for the holiday season in October. And hey, you won't hear any complaining from us when it comes to checking out current and upcoming products! The 2016 Holiday Gift Guide once again provides us with a comprehensive guide to games, consoles, amiibo and accessories. Here's a peek at what you'll find on the homepage: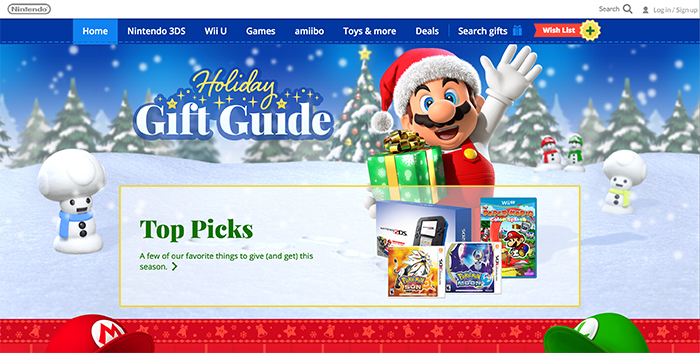 Also returning to the holiday site is the wish list feature (available in the top right corner of the page) that allows visitors to archive their very favorite products. And don't you worry– if you're not sure where to start when it comes to putting your list together, you can browse the site by choosing fun categories decorated with favorite franchise characters.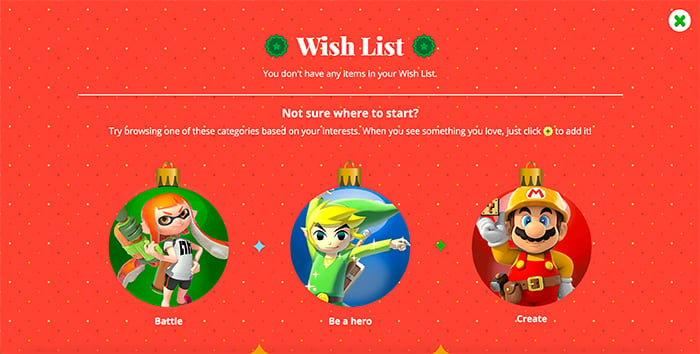 One of the most notable features on the homepage is the Top Picks section where Nintendo shares its "favorite things to get (and give) this season." You'll find games like Pokémon Sun & Moon (released November 18th), Paper Mario: Color Splash, Super Mario for the 3DS (due out December 2nd), and a whole bunch of other loved and highly anticipated games. Other products you'll find there include 3DS bundles and amiibo.
The rest of the site is broken down into the usual categories that make it easy for shoppers to get ideas for both their own wish lists and presents for friends and family. From Top Deals, to Nintendo Selects, to Nintendo Favorites (popular franchises), you'll no doubt have a fun time seeing the variety of items Nintendo has to offer this year. We highly recommend hopping over to the site to check out the beautiful and fun array of items available for the upcoming season. (After all, it's always fun to window shop!)
Leave a Comment