To celebrate the third year since the launch of the Kickstarter campaign for Shantae: Half-Genie Hero, the game's developers have provided an anniversary update with their latest progress, as well as details on some new features for the game!
The game is currently being tested for bugs and progress is being made at a steady pace. However the game has not been submitted for approval to publishers (Sony, Microsoft, and Nintendo), so an official launch date is not set at the moment.
New features that were revealed:
New Game Plus – Made for speedrunners and sequence breakers. Some kind of treat is to be expected for beating the game quickly.
Transformations – Shantae will have a total of 11 transformations, one of which is the Tinkerbat transformation.
Magical Attacks and Upgrades – Many of the most popular Shantae powers are back with upgrades (Storm Puff, Bubble Shield, Pike Ball, and Fireball). They can be upgraded through multiple stages.
Giga Wrench and Warp Dance – The Warp Dance is a new feature to Half-Genie Hero that allows you to zip around the stages within a given world with ease. Giga Wrench allows you to travel between worlds.

Expanded Art Gallery – The Scuttle Town Art Gallery will house the 50+ images created by backers. Additional artwork created by the game's concept artists, animators and friends at Inti Creates are also available in the gallery. Over 100 pieces of artwork will be available to unlock overall!
Additionally, Shantae and the Pirate's Curse is receiving a retail release for the Nintendo 3DS that includes a never-before-seen mini-game called Super Shantae Nab. The retail version is out for sale today in North America and will be coming to Europe on October 21st!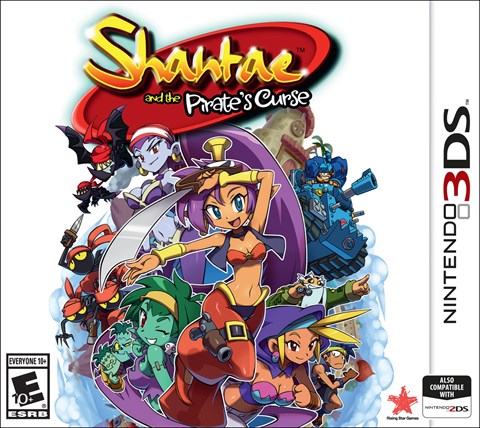 That's all for now! Make sure to check back with us for more latest updates!
Leave a Comment