Alolan Muk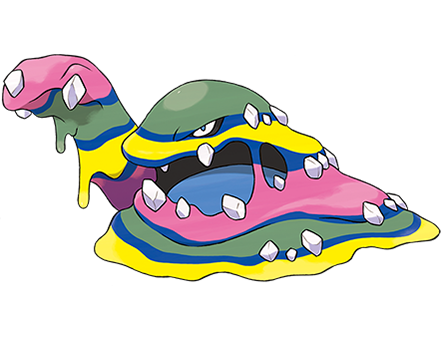 Series: Pokémon Sun & Moon
Pokedex No.: Unknown
Height: 3'03"
Weight: 114.6 lbs.
Type:

Alolan Muk eats whatever is in reach without pausing, and if it feels the sharp pangs of hunger, it runs amuck. It's thought that its voracious appetite stems from an inability to maintain its energy levels without a constant influx of toxins. Toxins have accumulated in Alolan Muk's body from its steady diet of various waste products and manufactured materials. This accumulation has brought about a chemical change, producing a new kind of toxin.

Alolan Muk has the same poisonous crystals as Alolan Grimer, but they're not limited to its mouth—they extend from all over the surface of its body. Alolan Muk uses them to attack, just like other Pokémon use their fangs or claws. And these highly toxic crystals are easily knocked loose, making them extraordinarily dangerous!

The Grimer and Muk in the Alola region produce and store their toxins within their bodies. So, unlike the Grimer and Muk in other regions, you won't detect any unpleasant aromas when you draw near one.