I'm notoriously particular when it comes to finding perfect pieces of merchandise (or any cute collectible for the matter). Even if it means searching for months or years, I'll hold off buying anything that doesn't meet certain personal criteria. From size, to facial expression, to shape and materials, every detail factors into my decision to buy a new collectible– or give a pass on the purchase altogether.
Of course this all applies to one of my latest obsessions: Rowlet, one of the three Pokémon starters announced for the new Sun & Moon 3DS game due out this November. (And come on, let's be honest: Litten and Popplio, the other two starters, don't even compare to Rowlet.)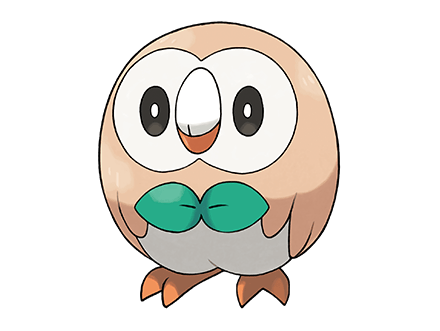 Not only is his character design wonderfully on point, but I have a rather large obsession with owls. Other than their obvious exterior beauty, everything about owls has always represented wisdom to me. When I think about it, I'm sure that's one reason why people find it so easy choosing favorite Pokémon (from all 700+ available): they all have distinct personalities and they represent different interests. Just like every person is defined by his or her individuality, every Pokémon has its very own persona. So when a new game like Sun & Moon is getting prepped for release by Nintendo, it's only natural that Pokémon fans wait at the edge of their seats for announcements regarding brand new Pokémon.
Let's jump back to earlier this year for just a moment.
The Pokémon Sun & Moon starters were officially announced to the public by Nintendo this last May. No less than a half hour after the big reveal, fan art started popping up just about everywhere online– Twitter, Facebook, Instagram, blogs, everywhere. The rest of the Nintendo Wire team and I excitedly started taking note of just about every cute sketch and digital painting we could find, and we even composed an article dedicated to showcasing a bunch of the artwork. It was obvious that all the other Pokémon fans were just as anxious to see more of the newly announced Pokémon as we were, and they weren't about to wait for Nintendo to reveal official artwork to appease their cravings. And I'll be honest; part of the appeal of loving a character so much, even when knowing nothing about it, is speculating and creating ideas and personalities with fellow fans. The whole Sun & Moon reveal day was extremely upbeat, and seeing so much creative Pokémon greatness appear out of nowhere only added to the good time.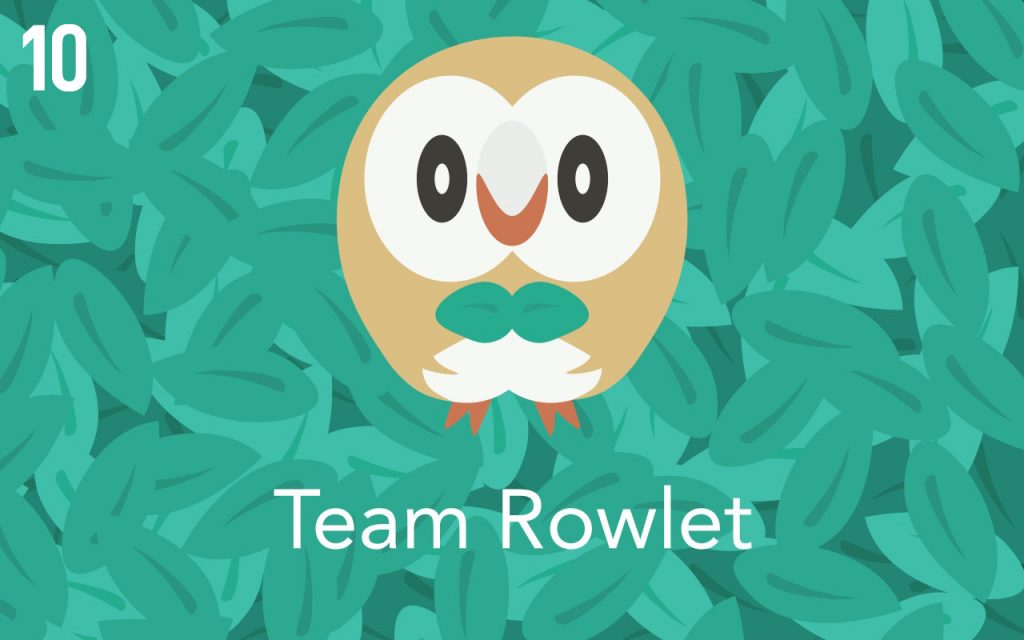 I'm constantly amazed by the talent, brilliance and speed of some of these fans. Not only were drawings being shared through communities, but physical toys started appearing within 24 hours of the starters announcement. Just as you might have already gathered, the Rowlet plush my heart so desired was one of those toys.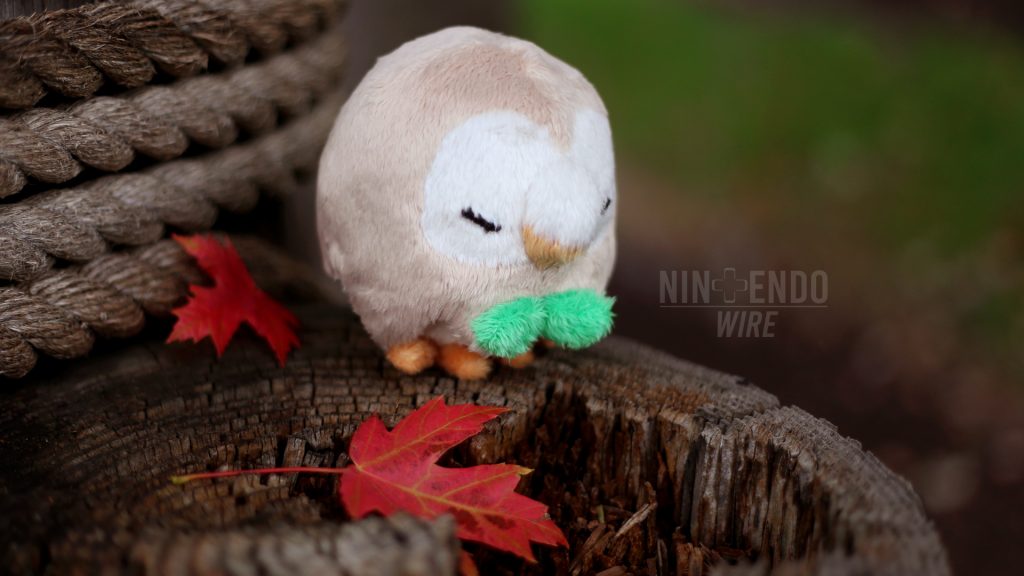 In fact, this sleeping Rowlet plush was the very first tangible piece of art I came across while browsing my daily Nintendo communities. The collector inside me couldn't look away when I first saw it. Its size, shape and sleepy facial expression was too perfect to be real, and I knew I needed it for myself. So back in May, I contacted the plush's creator, Piquipauparro, through her Etsy shop and asked for a commission. I didn't just want any old Rowlet plush; I wanted that one. While I waited for a reply, I scoured the internet for more plushes with the hope of maybe finding another one that could ease my longing for owly cuteness… to no avail. And I can honestly say that to this day, not one other Rowlet plush has caught my eye, or my heart, as much as this guy.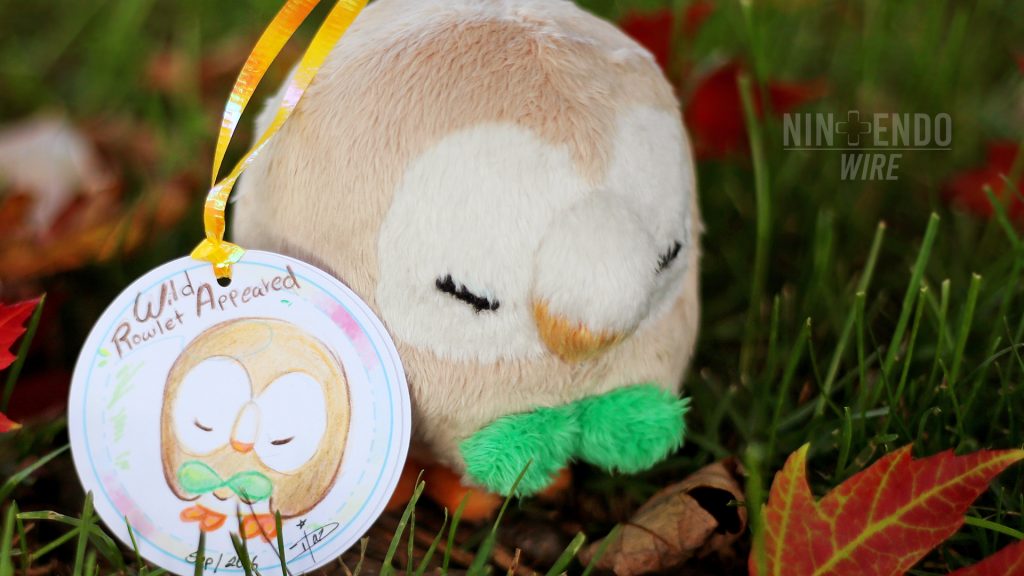 Packaged beautifully, hand-drawn and signed tag in tow, sleeping Rowlet was brought to my door just yesterday, and I couldn't have been more smitten with the plush's amazingly adorable appearance. The craftsmanship is impeccable (just as I expected after seeing Piquipauparro's promotional photos in May), and the materials used to bring him to life are rich and lush. A huge portion of my existing plush collection– that's been in the works now for over two decades– is composed of one-of-a-kind and/or handmade specialty plushes by artists I've worked with from all over the world. I'm used to high prices when it comes to this particular collection of mine, so I wasn't at all surprised or put off by the higher price tag. Rowlet may be small, but he's high in quality and craftsmanship, and I'd find it a crime to see a lower price attached to him. Every single penny was worth it. (For commission quotes, contact Piquipauparro through her Etsy shop.)
With Pokémon Sun & Moon's release being less than two months away, and Pokémon GO players still somewhat rampant, excitement is overflowing from all corners of the universe, online and offline. I'm seeing Team Rowlet, Team Litten and Team Popplio pride everywhere and I'm loving every mention of the teams. The Pokémon Center's official plush line of Sun & Moon starters and legendaries is also due out in just two days in Japan, so I can imagine the hype raising even more with all the new toys making their rounds among fans. It's a great time to be a Pokémon fan– and a collector!
Leave a Comment