From Splatoon to Mario to Zelda to Metroid, Miitomo has been a busy app when it comes to collaborations and themed items. Next on the list is everyone's favorite pink powerhouse, Kirby! Tying into the series as a whole as well as the Kirby Cafe currently running in Japan, there will be a host of new items available for (in game) purchase, via Miitomo Drop, and as presents just for logging in.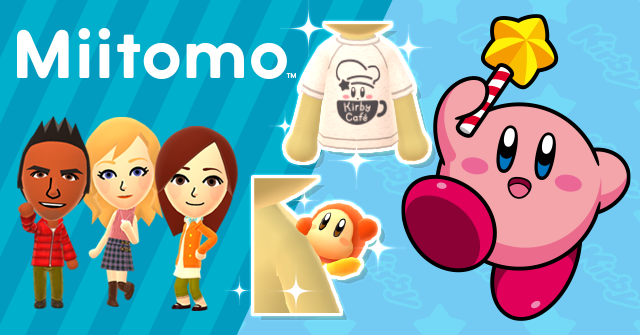 First up is a retweet event, where if 20,000 tweets using #Miitomo_Kirby_RT are put out by September 12th all users will receive a Kirby Cafe logo t-shirt for their Mii. This is almost sure to happen but just in case make sure to send one out yourself, though to be clear tweeting isn't required to receive the item. If the goal is met the item will be delivered on September 15th alongside an adorable Kirby hood. This piece of headgear places the hero of Dream Land around your entire head and might make people wonder what sort of copy ability he'd get if he finished the job…

Next are a couple collections coming to Miitomo Drop. The first is a bit more general Kirby wear with the star attraction being an on-the-shoulder Waddle Dee item. There will also be an 8-bit Kirby shirt, a Pocket Kirby sweatshirt, and Maxim Tomato sneakers. The sweatshirt in particular is too cute for words and is going to be my goal once it's available. The second collection is all themed to the Kirby Cafe, with the logo shirt, a collared shirt, a hat, and a pair of overalls available. Each of these have the Cafe's logo and other symbols both subtle and prominent making them not just great Kirby attire but stylish in general. Both Miitomo Drop collections will hit the app on September 15th as well.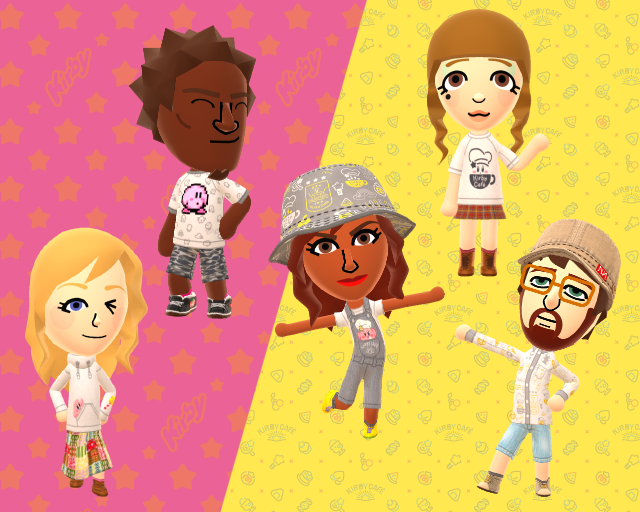 For those who frequent My Nintendo all those points could get some mileage with these next shirts. Kirby Planet Robobot has been one of my favorite games of the year so far and it will have a great looking shirt featuring the Robobot armor piloted by Kirby available soon. The next one's for HAL fans in general, with Kirby and BOXBOY's Qbby together on a white shirt. Simple yet satisfying to say the least. Finally there will be a small update to the in-app coin shop with an on the shoulder Kirby accessory. Available for in game coins you won't want to miss this one! These will all be ready and purchasable (you guessed it) September 15th.
Leave a Comment