This week in the Nintendo eShop: Axiom Verge does what Metroid can't, 3DS owners get a second helping of Picross 3D and The Legend of Zelda: Skyward Sword swings onto Wii U Virtual Consoles.
Capcom's having a monster of a sale this week. Until September 6th, rathalos and reploid hunters alike can look forward to massive discounts up to 75% off on some of their favorite Capcom series. Of particular note are 33% off both Monster Hunter Ultimate 4 and Mega Man Legacy Collection. Wait…six Mega Man games for just under ten bucks? Why are you still here reading this!?
Not to be confused with last week's release of new Nintendo Selects, a few other Nintendo titles have received permanent price drops. Yoshi's Woolly World, Mario Party 10 and Captain Toad: Treasure Tracker are all down to $29.99 while Animal Crossing: Happy Home Designer will retail for $19.99.
Finally, every Thursday in September Nintendo will be showcasing a new indie title in a series it calls Nindies Summer Jam. Best of all, each title will be given a 10% discount for those that purchase within the initial launch week! This week's lucky star is Axiom Verge: a Metroid inspired, action adventure platformer that puts Federation Force apologists to shame.
WII U DOWNLOAD SOFTWARE
Axiom Verge (Thomas Happ Games LLC, $19.99 | $17.99 until 9/8) – Fans left sour after Metroid Prime: Federation Force's massive departure from series themes of exploration and isolation might want to take note. A loving homage to classic Metroid gameplay, Axiom Verge is a 2D action-sidescroller that follows the exploits of an intrepid scientist who awakens in a mysterious, ancient alien world after a lab experiment gone haywire. Despite a somewhat exposition heavy narrative that could have benefited more from the environmental storytelling of its inspirational source material, there's a lot Axiom Verge gets right. Creative weapons, interesting abilities and a fantastic sense of progression and exploration all culminate into one of the best Metroidvania games to date. Those interested in learning more might want to check out our full Axiom Verge review, written by fellow Nintendo Wire contributor and weekly character columnist Ben Fruzzetti.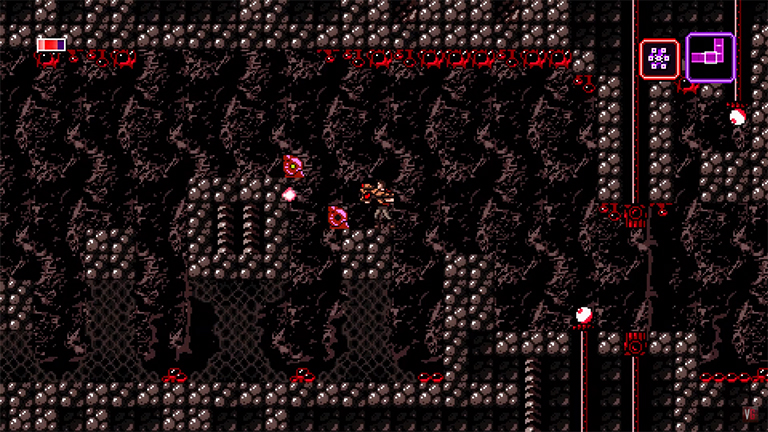 Tallowmere (Chris McFarland, $4.99) – Despite an art style that could easily be put to shame by the incomprehensible doodles of your three-year-old nephew, Tallowmere is the perfect example of why you should never judge a book by its cover. The premise is simple: endlessly navigate a blocky, 2D procedurally generated dungeon while fighting off demons and snagging valuable loot along the way. Perhaps influenced by Dark Souls, stats are raised using the souls of your fallen enemies, and foolish attempts to rush through the game with brute force tends to end in your premature demise. While it definitely isn't for everyone, those of you with a deep passion for challenging roguelikes that can get past the first few frustrating hours of gameplay will find themselves instantly hooked by its addictively dark, yet oddly charming nature. Afterall, how many games can you think of that feature kittens you can sacrifice for extra health?
Alice in Wonderland (Brave Rock Games, $5.00) – Those looking for a new way to experience Lewis Carroll's timeless tale Alice's Adventures in Wonderland look no further! The latest in edutainment games for the Wii U, Alice in Wonderland is a visual retelling of the original 1865 classic novel where players can comfortably view the unaltered story that's been discussed by scholars for generations. Unfortunately the terms "player" and "game" are used lightly here and should be met with extreme caution. I'm not even entirely sure whether or not there's a "choose your own adventure" element to gameplay. Coupled with loose animations full of text and still images, I'm afraid this really amounts to nothing more than a picture book for television screens. Not that there's anything necessarily wrong with that, but I figured for those interested you should know what you're getting yourself into.
140 (Double Fine Productions, $7.99) – 140 is a challenging minimalistic platformer featuring abstract colorful graphics set to an energetic, yet melancholic electronic soundtrack. Trust me, it's a lot less confusing than it sounds. Rhythmic awareness is key if players want to overcome its many platforming pitfalls. Super tight puzzle design and a striking audiovisual presentation come together to form a challenging platforming experience unlike anything else.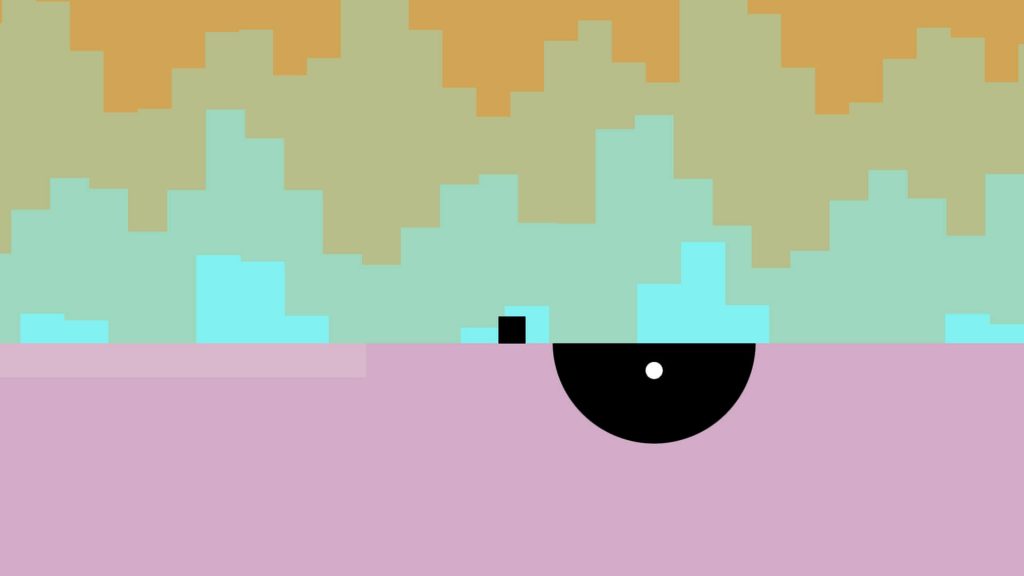 Free Balling (Skunk Software, $9.99) – Free Balling is the first in a slew of a half dozen games stinking up the eShop this morning by your foul smelling friends over at Skunk Software. The name isn't a coincidence either, as the developers themselves seem painfully aware that the games they pump out reek of hot trash. Their promotional videos seem purposely lacking in showing off gameplay, oftentimes reliant on text heavy explanations over just showing the game in action; their pricing is inconsistent with the amount of content or level of experience being provided, seemingly chosen out of a hat at random; and the games themselves consist of extremely lackluster and uninspired concepts that were never really that interesting to begin with. Take Free Balling for example. Not to be confused with a man's decision to go commando (or was that the intent? I just don't know!), you draw either blue or red lines on the GamePad to then drop balls that move along them…and that's it. Honestly, to call their games shovelware would be an insult to both shovels and wares. No wonder their official slogan, proudly posted on their website mind you, is "Stinking up the competition." Bear with me folks as we squeeze out five more of these deplorable stinkers.
Games for Toddlers (Skunk Software, $3.99) – As the title subtly suggests, Games for Toddlers consists of four sets of minigames "specifically designed for toddlers." Of course, one of the games is basically just Flappy Bird reskinned with a flying cat because, you know, cats can fly and toddlers aren't at all impressionable. I'm not quite sure what knowledge a three year old is likely to gain with some of these games, but then again I'm not a developmental psychologist so what do I know. We can all rest assured that the good folks over at Skunk Software did all the necessary research while simultaneously performing many of their own quantitative and qualitative analyses, right?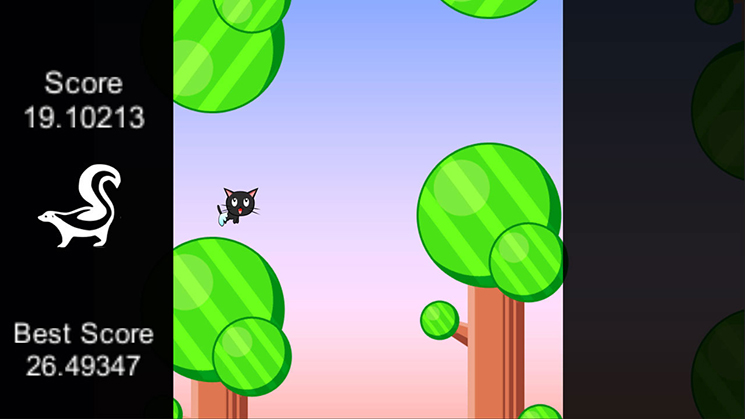 Piano Teacher (Skunk Software, $39.99) – Don't have a piano, but want to learn how to play one? Find a tutor online who does and is willing to teach you. Don't have a piano, but want to learn how not to play one? Purchase Piano Teacher from Skunk Software! Look, I'm all for fun and interactive ways video games can help teach us new practical skills and abilities, but let's not kid ourselves here. Your chances of becoming a "piano playing pro" using the touchscreen on your GamePad are about as likely as me becoming the next Jimi Hendrix by playing Guitar Hero. I haven't even talked about the absurdly ludicrous price tag, which is practically the same as just up and buying a fully functional electronic keyboard on eBay. Take it from me: If you're serious about learning a new instrument, you're much better off simply buying or renting the real thing and looking towards the wealth of knowledge available for free on YouTube.
Skunky B's Super Slots Saga #1 (Skunk Software, $14.95) – Do…Do I have to tackle this one Lauren? Yes? *sigh* OK then. It's slots. Boring old slots, though more exciting apparently thanks to there being 20 different machines to unlock. Of course, go bankrupt at any point and all your progress is erased and you get to start over from the beginning, because everyone loves having to play even more slots. The title's a bit misleading, as Skunky B is nowhere to be found in this "heart pounding slots adventure." Who is Skunky B? Does he own the machines? Am I Skunky B? Was Skunky B kidnapped by evil casino overlords and the entire purpose of the adventure is to rescue hi… actually, you know what? I've lost interest. I am curious though how they got the guy from all those Bravo commercials to do the voiceover for their promotional video.
Super Hero Math (Skunk Software, $7.99) – It's a bird, it's a plane, no, it's… mathematics edutainment software? Um, hooray? An endless runner, players fly through a city collecting coins, dodging mines, destroying missiles and capturing aliens while learning addition based math. This one actually had the potential to be somewhat intriguing if it weren't for the fact that interacting with any obstacle in your path completely pauses the game to pull up a multiple choice math problem. In this way, it fails to blend learning and gaming together in a way that's engaging, making the game aspects feel shoehorned in just to trick kids into thinking it's any fun.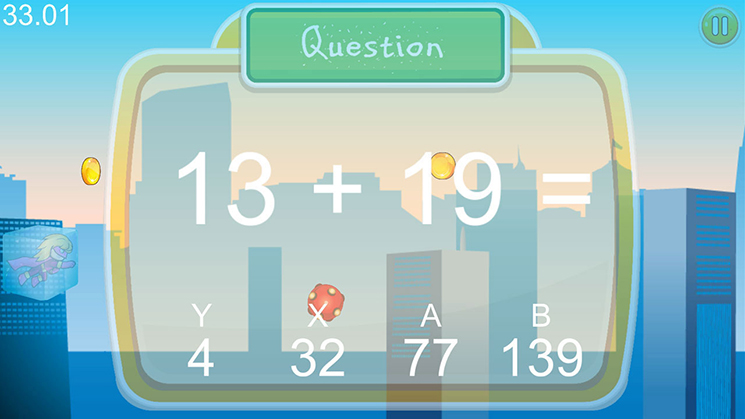 The First Skunk Bundle (Skunk Software, $24.99) – Rounding out Skunk Software's flood of flatulence is a bundle of five "full featured" video games – a term i'm not sure the developer's quite understand the meaning of – haphazardly tossed together that still manages to cost less than Piano Teacher. Specifically, players can look forward to playing all their bootleg favorites, including Resident Naughty, Spelunkiana Jones and the Temple of Don, Mildly Irritated Fowls and Zombies Eight: My neighing Boars, all in one conveniently copyright infringing package. Don't forget the "rendition of the traditional Snake game" we all grew to love on our Nokia phones back in the '90s that's not actually any different at all. It's literally classic Snake in its purest form.
PANDA LOVE (RCMADIAX, $1.49) – Once again, RCMADIAX is hell bent on making me a sad panda. Honestly, the less said about this lazy and uninspired cash grab the better. To save you both valuable time and money, watch this five minute gameplay video that coincidentally showcases the game in its entirety. On second thought, don't watch it. That's five minutes better spent elsewhere that you won't ever be getting back.
WII U DEMO
Word Logic by POWGI (Lightwood Games, Free) – Put down that Sunday paper and pick up your Wii U GamePad as the brilliant minds over at Lightwood Games have returned to fulfill all your crossword puzzle needs! While this is just a taste of what to expect, the full game features six brand new word games of logic and deduction that'll have you solving murder cases and acing local spelling bees in no time.
WII U ADD-ON CONTENT
Minecraft: Wii U Edition – Tumble Mode (Mojang, Free) – Tumble is a fast and frantic new minigame in which players destroy the very floor beneath their enemies' feet to send them plummeting to their ultimate demise. It's played out on a series of semi-randomized maps, each with several layers of differing materials and hazards to keep players on their toes. Players can also choose between two variants: one that uses snowballs or a second with shovels.
Minecraft: Wii U Edition – Battle Mode Map Pack (Mojang, $2.99) Three new arenas have arrived for Minecraft's addictively competitive Battle Mode! Purchasing this pack grants players access to the Castle, Shipyard and Invasion maps. For those that don't know, Battle Mode lets up to eight players fight each other to the death Hunger Games style. Once the battle starts, players race to the center of the arena to get weapons and loot chests to help them win the match, all while avoiding obstacles and other combatants along the way.
WII U VIRTUAL CONSOLE
The Legend of Zelda: Skyward Sword (Nintendo, $19.99) – Revealed as a surprise during this morning's Nintendo Direct, Skyward Sword finally swings onto Wii U Virtual Consoles! Originally released on the Wii back in 2011, Skyward Sword is often praised for its sprawling overworld and innovative new gameplay mechanics, and in many ways set a new standard for the Zelda series to live by. While debate about the use of motion controls remain somewhat polarizing, I myself found it a refreshing new experience that finally fulfilled on the initial promises Nintendo made regarding the Wii's full potential back in 2005.
WII U SPECIAL OFFERS AND DEALS
DuckTales Remastered ($5.99 | 60% off) until 9/6
Dungeons & Dragons: Chronicles of Mystara ($5.99 | 60% off) until 9/6
Monster Hunter 3 Ultimate ($13.60 | 66% off) until 9/6
Resident Evil: Revelations ($9.99 | 75% off) until 9/6
Angry Bunnies: Colossal Carrot Crusade ($5.99 | 33% off) until 9/25
Color Zen ($2.99 | 25% off) until 9/25
Rock 'N Racing Off Road DX ($4.99 | 37% off) until 9/22
Chubbins ($1.99 | 50% off) until 9/30
Soon Shine ($0.99 | 50% off) until 9/30
Run Run and Die ($1.99 | 50% off) until 10/6
Unepic ($4.99 | 50% off) until 10/6
FreezeME ($7.99 | 42% off) until 9/15
Test Your Mind ($0.99 | 66% off) until 9/15
STEEL LORDS ($7.50 | 50% off) until 9/28
Astral Breakers ($2.99 | 20% off) until 9/5
Emojikara: A Clever Emoji Match Game ($1.99 | 33% off) until 9/5
The Rivers of Alice: Extended Version ($3.99 | 50% off) until 9/8
Kung Fu FIGHT! ($0.99 | 50% off) until 9/5
99Moves ($0.99 | 60% off) until 9/15
Art of Balance ($6.70 | 25% off) until 9/8
Pixel Slime U ($2.00 | 33% off) until 9/28
Tap Tap Arcade ($1.25 | 37% off) until 9/28
Check Nintendo's website for the full list of deals available.
3DS RETAIL
Picross 3D Round 2 (Nintendo, $29.99) – Another surprise announcement during this morning's Nintendo Direct, more Picross fun has found its way onto North American 3DS systems! Much like its predecessor, players chip away at three-dimensional block puzzles to reveal the object hidden within. However, a new twist on the formula sees players painting blocks with different shades of color to reveal even more elaborate shapes. With more than 300 puzzles to tap through, not to mention additional ones hiding secret Nintendo characters unlocked via amiibo, there's plenty of brain tickling fun to be had. Best of all, each puzzle can be completed in three difficulty levels, so novice players unfamiliar with Picross can learn the ropes and work towards becoming block busting masters!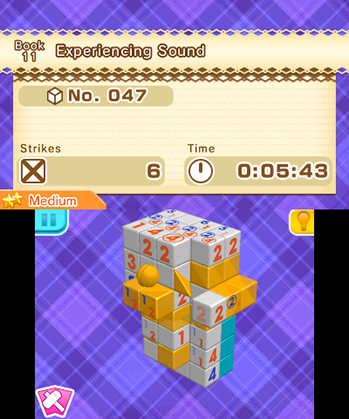 3DS DOWNLOAD SOFTWARE
New StreetPass Mii Plaza Games (Nintendo, $2.99 each | $8.99 bundle) – A bustling parade of new games and features is headed to StreetPass Mii Plaza today! Boost past the competition in Slot-Car Rivals, slay demons midair in Ninja Launcher, invest millions in Market Crashers, nourish an army in Feed Mii and gather explorers to seek out treasures in Mii Trek. This meet 'n' greet just turned up the heat! Go to StreetPass Mii Plaza and download either Slot-Car Rivals or Market Crashers for free after performing a simple StreetPass Mii Plaza software update. The rest can be purchased individually for $2.99 each or as a bundle for $8.99.
Adventure Labyrinth Story (CIRCLE Entertainment, $5.00) – Two roguelikes in the same week? That's quite the feat for what's typically considered a fairly niche genre. Regardless, Adventure Labyrinth Story is a roguelike RPG that sets players on a quest through a randomized dungeon in search of legendary treasure. As expected, each foray into its dark depths is met with a change in layout, encounterable monsters and loot made available. Most intriguing (and perhaps more so unforgiving) is that defeat comes with the loss of all your items and the complete resetting of all experience gained. Ouch. Unfortunately the game plays it a little too safe, and in an effort to borrow from the best fails to do anything special with the genre's basic formula. As a result, you're left with a rather generic, soulless experience that's lacking in both presentation and personality. That's not to say it's not worth considering, especially for genre enthusiasts on a budget looking to scratch that dungeon crawling itch, but in my humble opinion there are far better experiences out there to be had. My suggestion? Keep an eye out for the next Atlus sale. It's only a matter of time before Etrian Mystery Dungeon once again gets temporarily tossed in the bargain bin.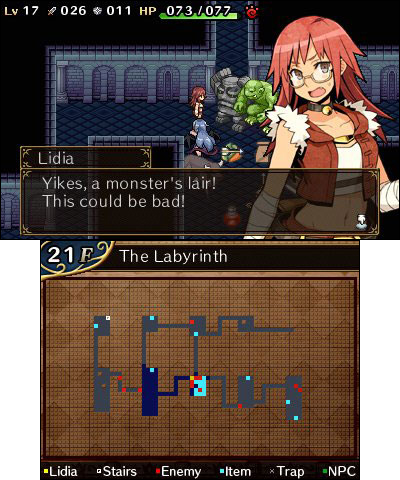 Ping Pong Trick Shot (Starsign, $1.99) – Who needs constant electronic video stimulation when there's ball in a cup? Toss the ball, catch it in the cup! Dump it out of the cup, toss it, and catch it in the cup again! In all seriousness though, Ping Pong Trick Shot puts your ball throwing skills to the test in a variety of challenges as you attempt to toss a ball…into a cup. OK, so I guess I wasn't really that far off. Unfortunately, it's not a particularly pretty game either, and only features 35 different stages to plow through. After that, you're pretty much left with some lackluster bonus modes that simply come off as extra padding.
3DS DEMO
Picross 3D Round 2 (Nintendo, Free) – Those of you not sure whether to take the Picross plunge this week are invited to try out a demo free of charge! Put your spacial awareness and logic skills to the test through a handful of brain teasing puzzles that's sure to prepare you for what's to come in the full release. Fair warning: Picross is a highly addictive series that you won't want to put down once you start.
Word Logic by POWGI (Lightwood Games, Free) – While this is the exact same demo being offered on Wii U, the full game features six brand new word games centered around the themes of logic and deduction. Personally, anything made by Lightwood Games feels better suited for the 3DS given its portability and pick-up-and-play nature. Puzzle aficionados looking to bump their IQs up a notch might want to take note and give this one a try.
3DS ADD-ON CONTENT
Hyrule Warriors Legends: Phantom Hourglass & Spirit Tracks Pack (Nintendo, $6.99) – Toon Zelda is the latest legendary hero to join the fray, summoning mighty Phantoms to aid her in battle! Additionally, this pack comes with a new Grand Travels Adventure map, Toon Link's sand wand weapon, 15 My Fairy costumes and additional character outfits. If you want Toon Zelda and the sand wand to be shared between both the 3DS and Wii U versions, be sure to purchase the Phantom Hourglass & Spirit Tracks bundle at the slightly reduced price of $9.99.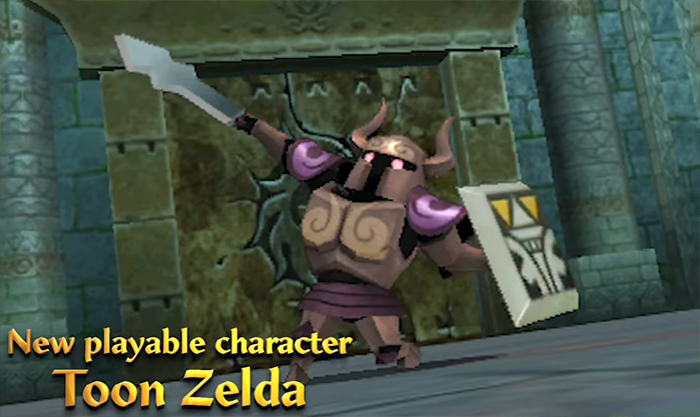 Hyrule Warriors Legends – Bonus Items (Nintendo, Free) – To celebrate the release of the third DLC pack, some bonus swag is being distributed via SpotPass as a special gift to all players of Hyrule Warriors Legends! Boot up the game today to receive a whopping 1,000,000 rupees and various food items to feed your growing army of fairies, including five delicious life tree fruits, light fruits, stamina fruits and water fruits. If like me you didn't receive your items automatically while your 3DS was in sleep mode, be sure to boot up the game and manually check for new SpotPass data in settings menu.
3DS PRE-PURCHASE
Dragon Quest VII: Fragments of the Forgotten Past (Square Enix, $39.99 | available 9/16) – In this seventh installment in the legendary RPG series, players travel to the past to save the present in a timeless quest to restore forgotten lands and battle an unknown evil. The game is completely rebuilt from the ground up for Nintendo 3DS systems, featuring updated visuals and localization that makes the entire experience feel fresh from its Playstation counterpart. Be sure to download it today so you can jump right into the action when it officially releases in just two weeks time.
Disney Magical World 2 (Nintendo, $39.99 | available 10/14) – Ever wanted to live your dream life alongside your favorite Disney characters? No longer are you limited by the vast expanses of your imagination, as Disney Magical World 2 is almost upon us! Explore six connected Disney-themed worlds and discover more than 100 Disney characters in this smile inducing life simulation game. Be sure to pre-purchase before the game's release next month to secure download codes for three free Frozen-inspired consumes to don at your leisure.
3DS SPECIAL OFFERS AND DEALS
Mega Man Legacy Collection ($9.99 | 33% off) until 9/6
Monster Hunter 3 Ultimate ($9.99 | 50% off) until 9/6
Monster Hunter 4 Ultimate ($19.99 | 33% off) until 9/6
Resident Evil: Revelations ($4.99 | 66% off) until 9/6
Resident Evil: The Mercenaries 3D ($4.99 | 66% off) until 9/6
Super Street Fighter IV 3D Edition ($4.99 | 66% off) until 9/6
Rhythm Thief & the Emperor's Treasure ($4.99 | 75% off) until 9/5
Etrian Odyssey IV: Legends of the Titan ($9.99 | 66% off) until 9/12
Conception II: Children of the Seven Stars ($9.99 | 66% off) until 9/5
Angry Bunnies ($5.99 | 33% off) until 9/25
Color Zen ($2.99 | 25% off) until 9/25
Snow Moto Racing 3D ($3.99 | 50% off) until 9/8
Fun! Fun! Minigolf TOUCH! ($2.24 | 25% off) until 9/22
AiRace Speed ($2.39 | 31% off) until 9/22
2 Fast 4 Gnomz ($2.99 | 40% off) until 9/22
The Legend of Dark Witch ($2.79 | 30% off) until 9/22
Tappingo ($1.99 | 33% off) until 9/22
The Delusions of Von Sottendorff and His Square Mind ($5.99 | 54% off) until 9/8
Toy Defense ($2.79 | 30% off) until 9/15
WAKEDAS ($1.99 | 33% off) until 9/15
Darts Up 3D ($0.99 | 33% off) until 9/15
Zombie Panic in Wonderland DX ($4.99 | 37% off) until 9/15
Carps & Dragons ($2.49 | 50% off) until 9/16
Classic Games Overload: Card & Puzzle Edition ($14.99 | 50% off) until 9/6
4 Elements ($0.99 | 83% off) until 12/29
Azada ($0.99 | 83% off) until 12/29
MY PETS ($9.99 | 70% off) until 9/9
Check Nintendo's website for the full list of deals available.
What games will you be downloading this week? Be sure to let us know in the comments!
Leave a Comment