Sad news, Shantae fans. In a message sent out to Kickstarter backers, Way Forward studios has announced that Shantae: Half-Genie Hero will be suffering a six week delay. Originally slated for release on September 27th, Way Forward believes that a delay is needed to take care of bug fixing and additional polishing. You can read the entire announcement below.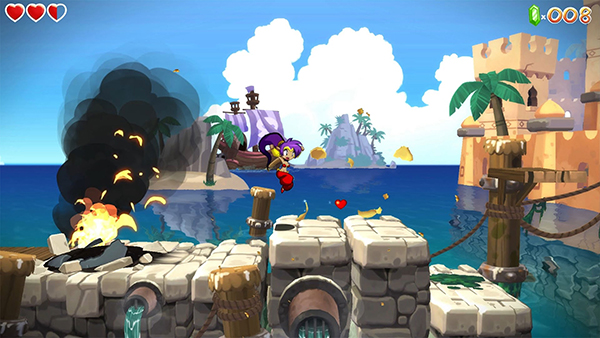 First things first – we are going to have to adjust our Target Release Date, moving it back from our 9/27 Target Release date by about 6 weeks, give or take. We know this will disappoint some of you, but we feel that it's necessary to take that extra time for bug fixing and adding additional polish. We know you want the final product to be excellent and so do we! Thanks for your patience and support as we approach the finish line!

The Game is Content Complete!

And here's the GOOD NEWS! We're VERY pleased to announce that Half-Genie Hero is now CONTENT COMPLETE!! In other words, the game's development phase is over. From now through the end, our focus is entirely on fixing BUGS. The steps from this point are all by-the-book:

We continue for several weeks of intense testing on all platforms
Once verified by our internal Quality Assurance team, it's off to Nintendo, Sony, and Microsoft (the 1st Party Publishers).
The 1st Party Publishers will test the game for compliance. In most cases, this is done for each territory.
When we get a green light from all 1st Party Publishers, we can build the digital storefronts and, in the case of retail versions, send the game to manufacturing.
Finally, we can select a Release Date that works for all groups involved. At that time our "Target Release Date" will be updated again, and will become the actual Release Date.

Thankfully WayForward has shipped well over 200 games. We've been through this process a ton of times, and are intimately familiar with the pitfalls. But pitfalls do exist. A persistent crash bug, an unexpected firmware update, rejection at any level from 1st Parties, or long waits due to the pre-holiday season… ANY combination of these things would be enough to cause a delay. If that happens, we'll turn around a quick fix, test, resubmit, and will update Backers immediately so you know exactly where things stand. Remember that any release date you see or hear is still just a "target date", or estimated release date, until we clear 1st Party Submissions, and lock down our launch day. It's going to be a busy month!
Leave a Comment