We're proud to announce that Nintendo Wire's charity event, Customs for a Cure, is returning! Join our team and guests on the afternoon of October 1st as we kick off a 24 hour livestream dedicated to raising money for St. Jude Children's Research Hospital. Simply tune into the official Nintendo Wire YouTube channel that day and get ready for the next 24 hours to be filled to the brim with gaming, tournaments, giveaways, charity auctions on eBay, special appearances from familiar faces in the Nintendo community, and so much more!
Once again, 100% of the proceeds earned during the 24 hours will go directly to the charity. St. Jude is leading the way the world understands, treats and defeats childhood cancer and other life-threatening diseases. If you aren't yet familiar with the work done over at St. Jude, check out the organization's official website to get a better idea of the time and dedication the doctors, staff and volunteers put into the battle against the diseases.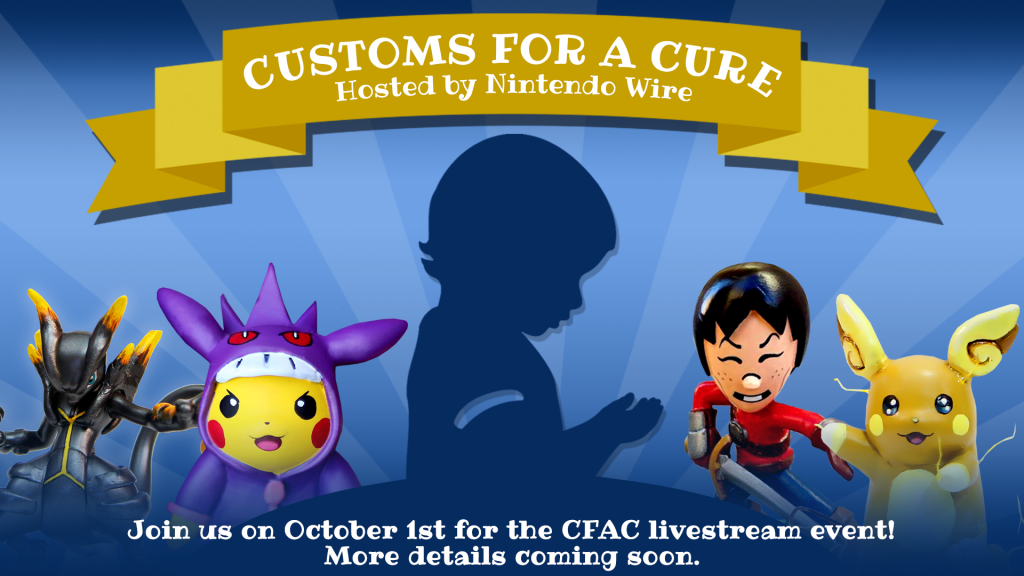 More details about Customs for a Cure – such as specific times when events are taking place – will be provided throughout the month of September. We plan to reveal some of the beautiful custom amiibo that will be auctioned off on eBay as October 1st draws closer, so you'll get a glimpse of all the fun things we have in store for the occasion. With help from you and other people in the community, we also hope to acquire Nintendo themed donations that can be used for giveaways and/or auctions to raise money for the cause. A call for donations will be made in the upcoming days.
We were thrilled with the success of last year's charity event, so we can't wait for 2016's Customs for a Cure to officially start! Many thanks to everyone who's already helped put the event in motion. Good things are coming, and we have you to thank for it. Stay tuned!
Leave a Comment