Mobile game production company DeNA, who struck a partnership with Nintendo last year, held a Q1 results briefing late last night, where they reconfirmed that upcoming mobile versions of Fire Emblem and Animal Crossing titles will be releasing this fall. While we heard about the release window back when they announced, we haven't heard much about them since, so it's good to know they're still on track.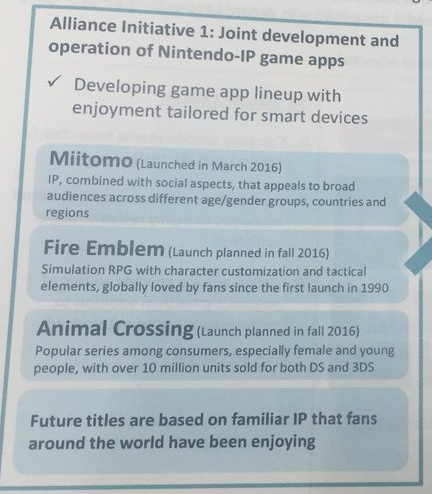 While no further details on the Fire Emblem and Animal Crossing games have been revealed, the documents at the meeting suggest that they're attempting to translate the respective game styles – SRPG and Town Simulator – into an appropriate mobile format. Said documents also reiterate the plans to have five mobile titles by the end of the fiscal year in March 2017, which likely means there are at least two more games we don't know anything about currently.
DeNA is also taking careful notes on monetization practices to "match user expectations", so it appears they'll be taking all future microtransactions under careful consideration. The Wall Street Journal did report that the apps would be free-to-play back in May, however.
We'll be sure to provide more info about FE mobile, AC mobile, and any other DeNA title as details come in. Check back in the future to learn more, including the finalized titles and hard release dates.
---
Source: Serkan Toto
Leave a Comment