Good news, 3DS fans! Nintendo of America has announced an all new standard size New 3DS bundle is coming to North America on August 26th!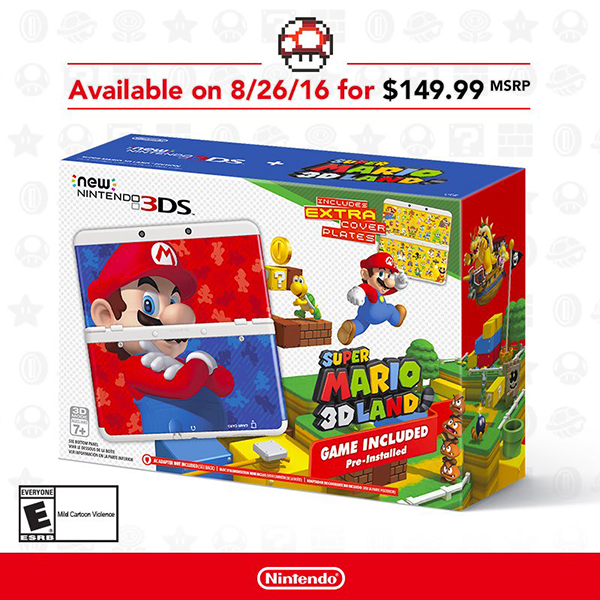 The bundle includes a white New 3DS, two interchangeable cover plates, and a pre-loaded copy of Super Mario 3D Land all for the low price of $149.99!
You can read the press release below:
Super Mario 3D Land Edition New Nintendo 3DS: Also on Aug. 26, a New Nintendo 3DS bundle that includes the system, the wildly fun Super Mario 3D Land game pre-installed and two extra interchangeable Mario-themed cover plates (one inspired by Mario and one featuring 8-bit renditions of classic Nintendo characters) will go on sale exclusively at Walmart and Target stores at a low suggested retail price of $149.99. New Nintendo 3DS is more compact than New Nintendo 3DS XL and also sports removable cover plates that let you customize the system's look. New Nintendo 3DS is one of the most versatile video game systems out there, and this price (with an included game!) really can't be beat. The suggested retail price is $50 less than the suggested retail price of any New Nintendo 3DS bundle previously offered. For more information about New Nintendo 3DS, visit http://www.nintendo.com/3ds/.
Leave a Comment