Poké Ride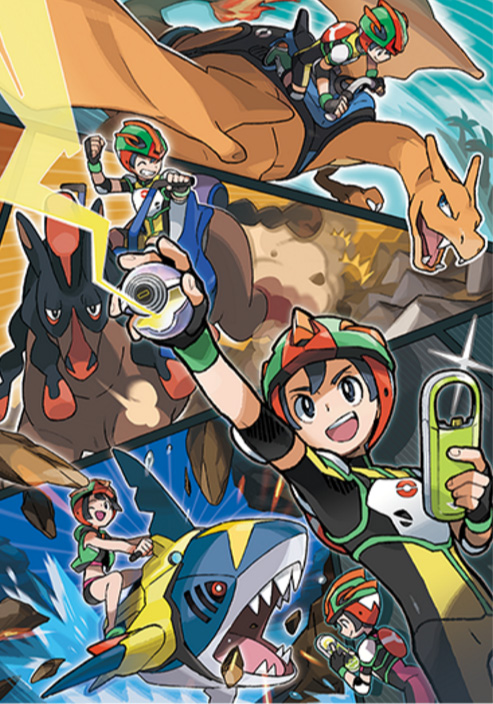 One aspect of the culture in the Alola region is something known as Poké Ride, in which certain Pokémon help people get to places they wouldn't be able to reach by using human strength alone. These Pokémon don't join your team, but you can call on them anytime to receive their help. This practice is typical of the way of life in Alola, where humans and Pokémon are so closely bound together.
Z-Moves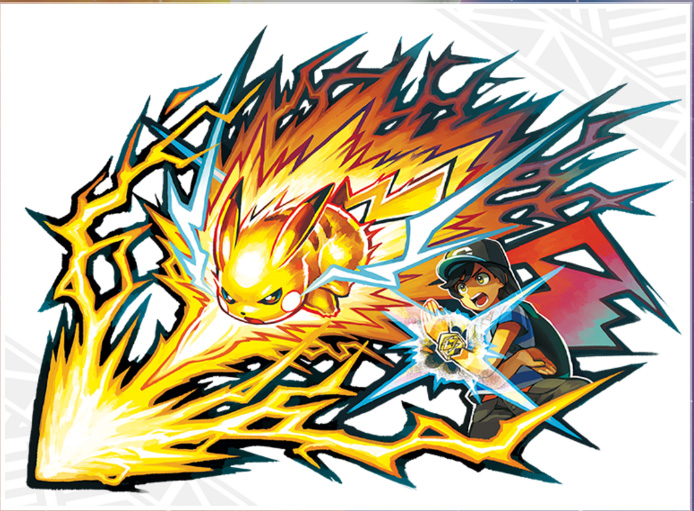 These incredibly powerful moves can only be performed once per battle, and require a special stone to work. Sound familiar? Each Pokémon Type has its own corresponding Z-Move, which can only be used if the attacking Pokémon has learned an attack that matches the type of the Z-Move, and is holding the Z-Crystal associated with the move's type. Those aren't the only requirements though, as the trainer must have the matching Z-Crystal set into his or her Z-Ring in order to use the move. To perform the Z-Move, your trainer makes a special pose depending on the type of the move, which allows them to resonate with your Pokémon. Once performed, the powerful move will fill the entire screen and show just how strong your Pokémon can truly be.
Z-Ring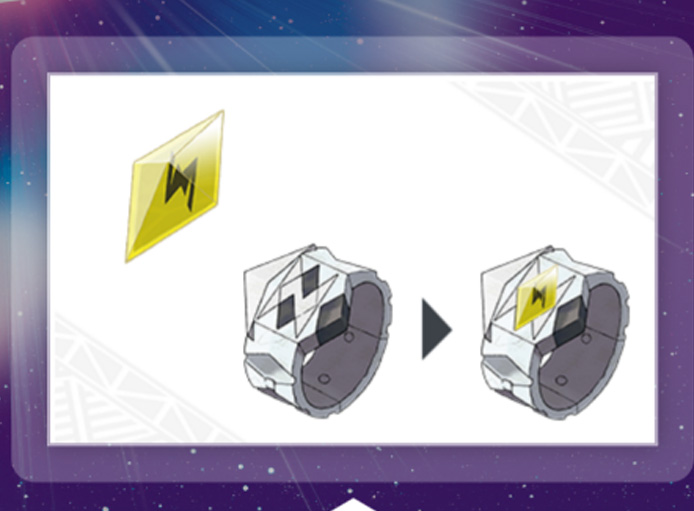 The Z-Ring fits on a Trainer's arm, and Z-Crystals are set into it. If a Pokémon holds the same variety of Z-Crystal, the two will be able to resonate with one another. Crystals that correspond to each Pokémon type have been found in the Alola region.
Tomy International will also be making a special Z-Ring accessory, launching alongside Pokémon Sun and Moon. This ring will be made to interact with your 3DS, lighting up, vibrating, and playing sounds each time you perform a Z-Move in battle. Expect more info regarding this new Z-Ring from Tomy International as we move closer to the release of Pokémon Sun and Moon, we'll be sure to cover it right here on Nintendo Wire!
Fomantis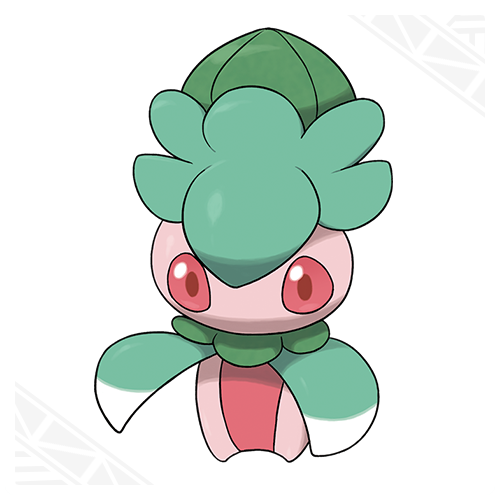 Fomantis is nocturnal, and it performs photosynthesis while it sleeps during the day by spreading out its leaves in all directions. Because of the danger of staying in the same location two days in a row, Fomantis begins its search for the next day's spot as soon as the sun sets.
For Fomantis, photosynthesis is not just a source of energy — it's a necessity to achieve the strength and brilliant coloration of its evolved form. Photosynthesis is precious to Fomantis, and it will fiercely attack those who get in the way of that process.
Fomantis excel at long-range attacks like Razor Leaf and Solar Beam. Solar Beam is indeed a powerful move, but since it uses up the energy that the Pokémon has stored through photosynthesis, Fomantis rarely uses it.
Lurantis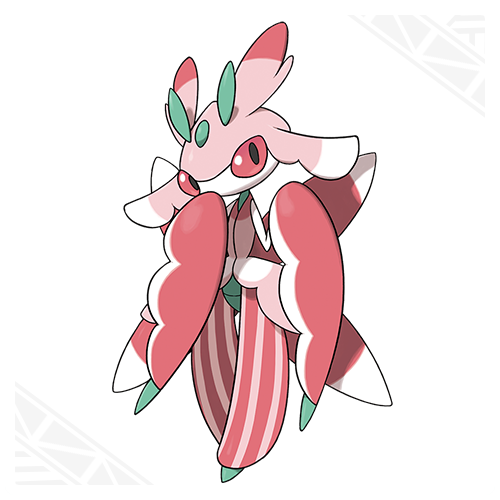 Lurantis draws opponents near to itself with its flowerlike appearance and aroma – and then it takes them down. It's said to be the most gorgeous of all Grass-type Pokémon, due to its brilliant coloration and elegant moves. Lurantis' appearance is maintained through detailed grooming. It will trust a trainer who does a good job of caring for it, but it will apparently have a difficult time growing closer to a lazy trainer.
Lurantis can learn Solar Blade, a move that releases a blade-shaped beam to mince up its foes. The blade is so sharp it is said it can slice a rock in half! Solar Blade is a move that no Pokémon has been able to learn before. With Solar Blade, Lurantis absorbs energy from the sun on the first move and then unleashes a powerful attack on the second turn. Lurantis is the Totem Pokémon of Lush Jungle, the site of an Akala Island trial. It will overwhelm trial-goers with the powerful combos it unleashes with the Pokémon allies it calls.
Gumshoos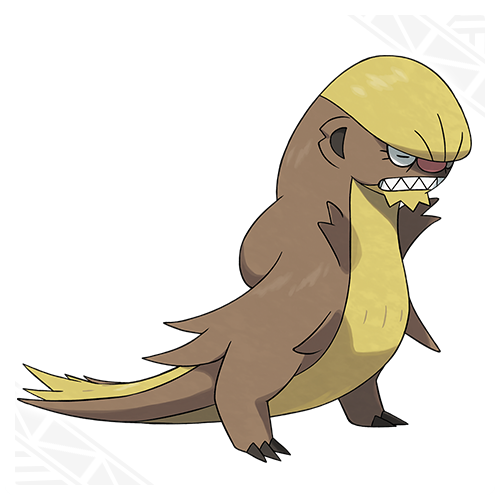 Gumshoos's method of targeting prey is the exact opposite of Yungoos's strategy. While Yungoos prowls around, Gumshoos stakes out its prey's usual routes and waits patiently for it to come by.
Gumshoos has a tenacious personality, which is why it targets one prey for so long without wavering. But when the sun goes down, it runs low on stamina, falling asleep right on the spot. Gumshoos can withstand a great deal of hunger. It's able to stay perfectly still while waiting for its prey, keeping watch without eating a thing.
Minior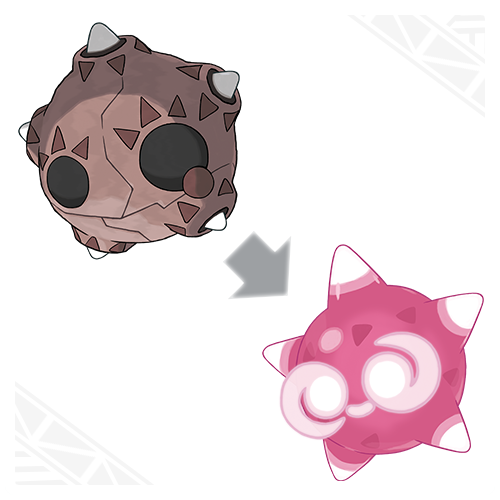 Minior are formed in the stratosphere and live by absorbing the detritus around them. When they've consumed a large quantity of particles, their bodies become heavy, and they fall toward the planet's surface. Minior has a hard and heavy outer shell with a core inside it. The Meteor Pokémon seems to be made in such a way that if its shell breaks, it becomes lighter and can deal out quick attacks.
When its shell breaks, the core in its center is revealed. You won't know what color will appear until this happens!
Minior has the new Shields Down Ability, which no other Pokémon has had before. With the Shields Down Ability, it will have excellent defensive capabilities as long as its shell is intact. It will also be protected from status conditions. But when its HP drops below half, its shell will break, and it will change to a form better suited to attacking.
Mudbray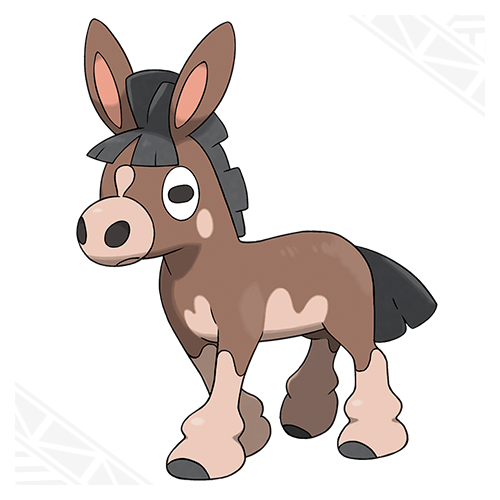 Mudbray could once be found all over the world, but it was over-hunted and ended up on the verge of extinction. It's said that the Alola region is the only place in the world where Mudbray can still be found in the wild.
Mudbray boasts superhuman strength – a surprise, considering its small body. Mudbray can carry loads up to 50 times its own weight on its back or dragging behind it.
Mudbray loves playing in the mud. It's easy to live in harmony with this Pokémon, as long as you provide an environment where it can play in the mud. If it can't frolic in the mire, however, Mudbray will become stressed and may stop listening to orders.
Oricorio
Oricorio changes its form by sipping the nectar of certain flowers. Since it has four different forms – the same as the number of islands in Alola – it would seem that different Oricorio live on each of the islands.
Alolan Sandshrew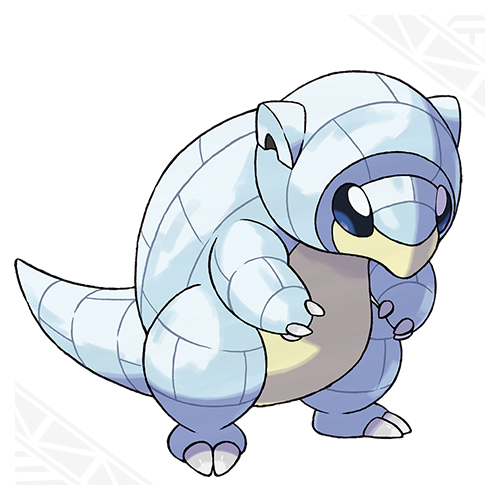 Sandshrew have historically lived in desert areas. But the frequent eruptions of nearby volcanoes drove the Sandshrew to abandon the desert and migrate to snowy mountains, where they took on this form.
Sandshrew's body changed to adapt to the harsh environment of the snowy mountains. The Alolan Sandshrew has a shell of ice covering its skin, which is like hard steel. It excels defensively, but it lacks flexibility and can't curl its body into a ball like a Ground-type Sandshrew can.
Its heavy weight makes the Alolan Sandshrew slower than a normal Sandshrew, but the claws on its hands and feet allow it to move across ice without slipping. When it wants to move quickly, it uses its stomach to slide across the ice like a curling rock.
Alolan Sandslash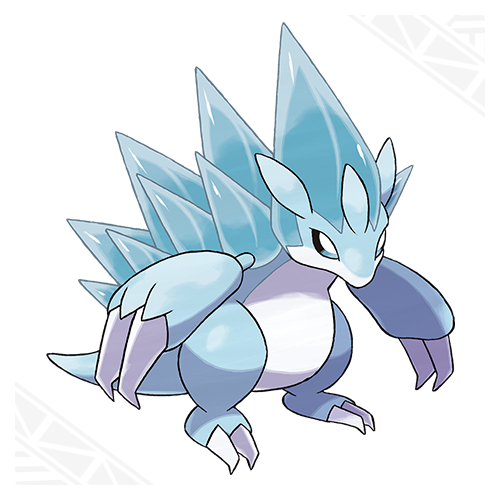 The Alolan Sandshrew of the snowy mountains evolve into Alolan Sandslash with spiny backs that are covered in ice. Thanks to their icy coating, these spines are large and sharp. Alolan Sandslash hide themselves in the snow when strong enemies appear, leaving only their needles exposed and ready for business.
The weight of the ice that covers its body makes these Alolan Sandslash heavier than normal Sandslash, and this causes them to be slower. Yet in snow fields and on ice, they move by creating a path with their claws, and so they're able to move with swiftness.
The sprays of snow kicked up by Alolan Sandslash's movements are so beautiful that many photographers head for the snowy peaks to capture the moment. However, Sandslash live deep in the mountains, and there is great danger of becoming stranded, so it's forbidden to climb the mountains without permission.
Alolan Vulpix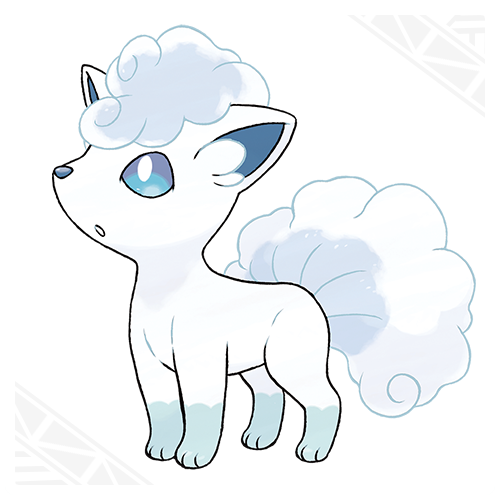 It is said that Vulpix came to the Alola region together with humans, but the Fox Pokémon moved to the snowy mountain peaks to avoid the normal habitats of other Pokémon, and thus it ended up taking on this form.
These Alolan Vulpix live on high mountains that remain covered in snow year-round. They live in small packs of two to five individuals, helping one another survive.
Alolan Vulpix can freeze anything solid by expelling breath at a temperature of −58 degrees Fahrenheit (−50° C) from its mouth. It doesn't fare well in the heat, but when the temperature gets too high, it produces ice from its tail to lower the surrounding temperature.
Alolan Ninetales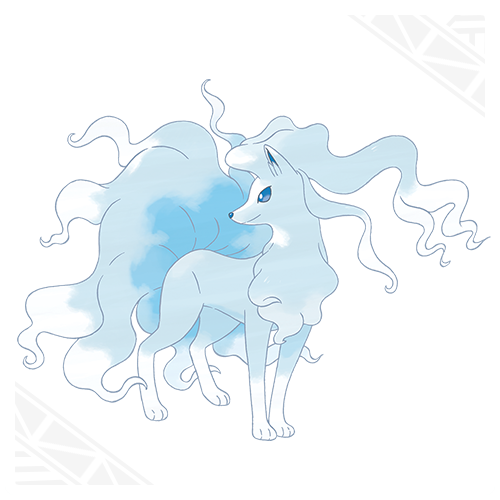 Alolan Ninetales live on a snowy peak that is revered in the Alola region as a holy mountain. They are treated as sacred emissaries, and people meet them with awe and fear. This Pokémon's personality is extremely gentle, and at times it has helped humans who seem to be in distress. However, it shows no mercy at all to anyone or anything that dares to damage its territory!
The Alolan Ninetales is able to produce ice crystals from the fur that covers its body. It can use these ice crystals to block attacks, or it can form balls of ice with them, which it fires like bullets at opponents. The power of these ice missiles is great enough to pulverize rock!
Alolan Exeggutor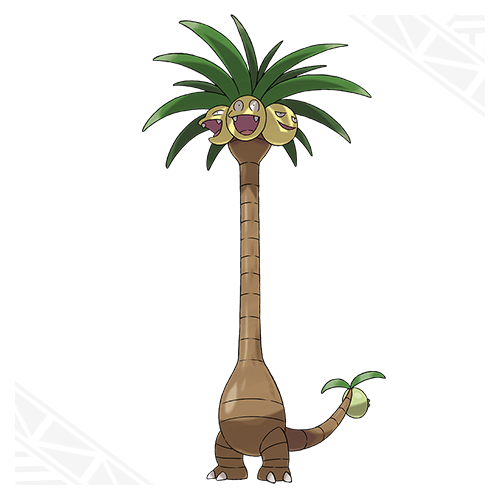 The environment of the Alola region, where strong sunlight pours down all year round, brought about this change in Exeggutor's form. The people of Alola boast that the Alolan Exeggutor is the true form of Exeggutor.
Unlike other Exeggutor, the Alolan Exeggutor has a fourth head—on its tail! This fourth head controls the tail independently and can take on opponents to the rear that can't be reached by the main heads' attacks.
This Pokémon excels at whipping its long neck like a lash to attack with its hard heads. But that neck can sometimes become a weakness…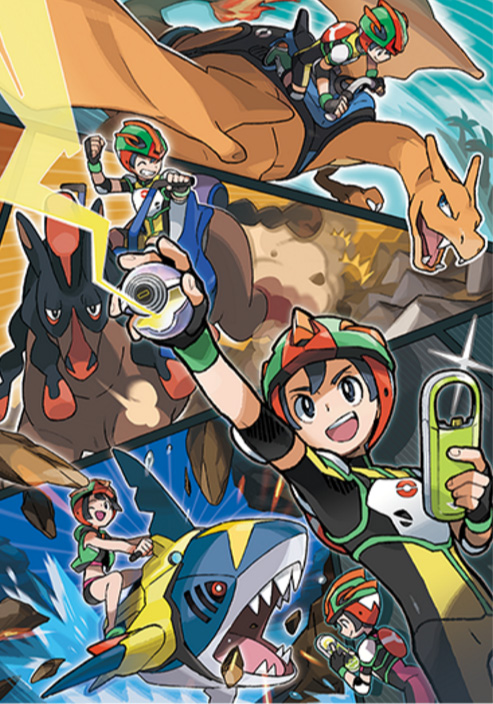 Leave a Comment