UPDATE: The Solgaleo and Lunala figures will also be available via the Nintendo UK store, as well as GAME. You can choose between a standard copy or the steelbook case.
Here's a better look at the upcoming pre-order bonuses, too: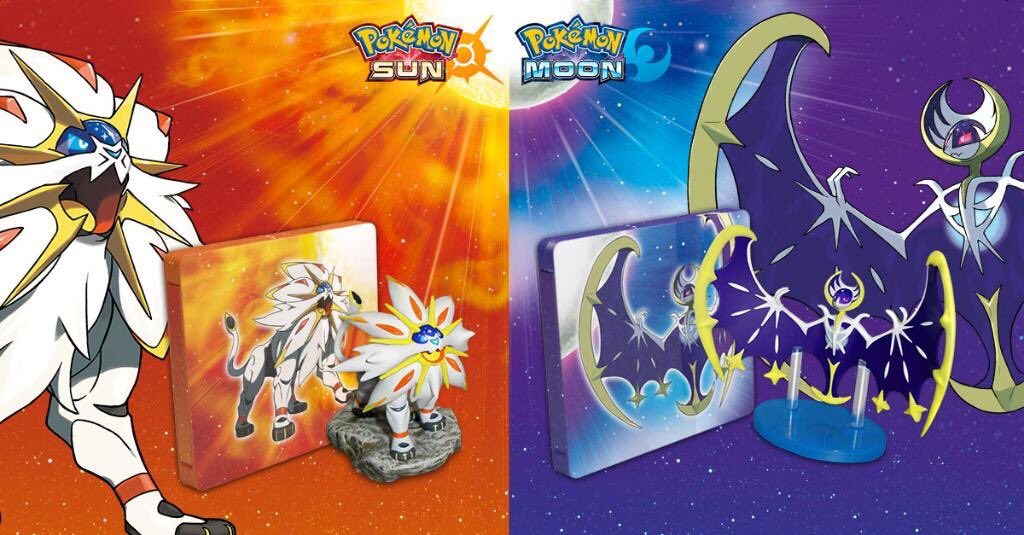 ---
It may not feel like it, but we're rapidly approaching the November release of Pokémon Sun and Moon for the Nintendo 3DS. To get fans on board ASAP retailers across Europe and Australia have begun announcing their pre-order plans, and some are more exciting than others.
For starters, GAME stores in the UK and Spain are offering figures of Solgaleo and Lunala with preorders for Sun and Moon respectively. A similar bonus was offered back when HeartGold and SoulSilver were released.
Serebii Update: GAME UK to provide Solgaleo & Lunala figures with preorders of Sun & Moon https://t.co/oV6DIIA7Ub pic.twitter.com/osweyOOlvW

— Serebii.net (@SerebiiNet) July 15, 2016
A few other Spanish retailers are instead offering different editions of the Pokémon Adventures manga. These include El Corte Inglés, FNAC and Media Markt. Finally a set of pins will be available at de Center, Canal Ocio, Toys 'R' Us, GameShop, xtralife.es, tutiendadevideojuegos.com and zonavideojuego.com.
Fans who pre-order at EB Games in Australia will also get the pins, as well as a poster.
Thanks go to Serebii.net for the details.
Leave a Comment