With the launch of five new Splatoon amiibo today, it seems that Nintendo is trying to give Splatoon a second push of popularity. However, Nintendo U.K. is taking it a step further with the Summer of Splat, a newly announced series of events in which players of various skill levels will be put to the test against each other. Available for sign-up now, the event will be divided into the Squid Kid League (younger players, Turf War only), Inkling League (casual players, Turf War only), and Octo League (open to everyone, all game modes).
Additionally, every weekend, the best teams playing can earn a place in The Splatoon Fan Fest, which will take place at London's Gfinity Arena on August 27th, and will consist of a day of challenges for fans to compete in.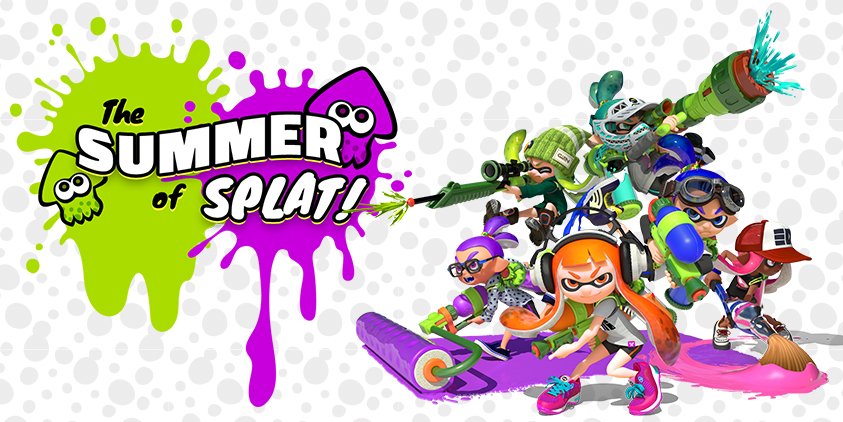 You can also earn your place in The Splatoon Fan Fest by submitting Splatoon-inspired cosplay or artwork on the official Splatoon Facebook page, starting July 11th. Every week for four weeks, five of the best entries will be selected and shown off on the Facebook page, as well as earn the artist a spot in the Fan Fest!
Lastly, the Fan Fest will be a place where fans can get exclusive merch, and even artwork created directly by Splatoon's Art Director, Seita Inoue.
Head of Marketing at Gfinity, Sam Van Tilburgh, is quoted as saying:
"We are delighted to be working with Nintendo on The Great British Splat-Off, giving players of all ages and levels an opportunity to experience the wonderful world of competitive gaming. We'll be putting on a fantastic live event at the Gfinity Arena & Studios in London bringing together fans and players alike!"
There's no word yet on whether or not anything like this will be coming to the U.S., but for now, anyone in the U.K. can sign up. And if you can't make it, or want to see it from another country, Nintendo U.K. will be streaming it from its official Twitch channel!
Leave a Comment