If there's one thing Pokémon fans know, it's that feeling that you just gotta catch 'em all – and Nintendo is very aware of that. A grand total of three sets of Pokémon merchandise, primarily plushes, will be hitting store shelves in Japan within the next two weeks. That's not all though, as we've also got a look at the first plushes for Sun and Moon, well ahead of their November 18th release. Let's go down the line and take a look at what's coming to Pokémon Centers soon!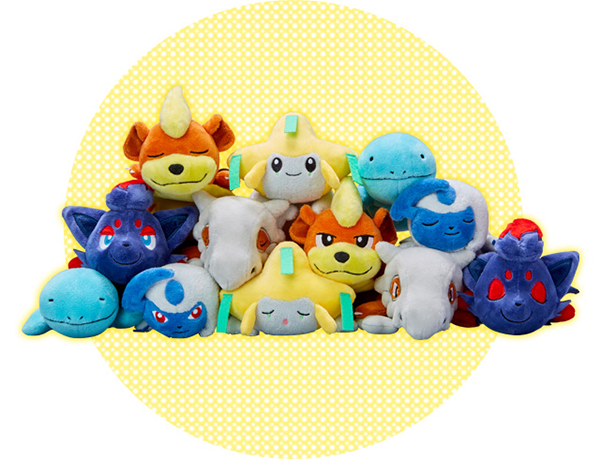 First up are the always adorable Kuttari Cuties. These small stackables are on their sixth wave of Pokémon, and this batch in particular is pretty impressive to me. With the likes of Quagsire, Growlithe and Zorua joining the series, alongside a trio of personal favorites of mine in the form of Absol, Cubone, and the always appreciated Jirachi, it'll be tough to resist these. And as always, they come in two varieties each: asleep and awake. While there's no word on when these will join, older Kuttari are currently available on the U.S. Pokémon Center website at the standard price of $9.99 each. They'll be in Pokémon Centers across Japan starting July 16th.
Next up is the second line of Mega-Evolution costumed Pikachu goods. Coming in the form of plushes, plush keychains and mini figurines, these are sure to delight fans of the yellow mouse and the represented evolutions. This time around, it's Mega Lopunny, Mawile, Ampharos, Diancie, Gardevoir, Gallade and Rayquaza to choose from as you desperately try to avoid choosing all seven. It's hard to resist Gardevoir, though the Ampharos based figurine is also tugging at my heartstrings and wallet. These will all be out on July 23rd in Japan, though there's no word on if they will reach the U.S. Pokémon Center site.
Also out on the 23rd in Japan will be four plushes kicking off a new, patterned line. Pikachu, Bulbasaur, Charmander, and Squirtle will all feature an understated, yet still distinct and eye-catching, pattern on them in certain places, as well as a slightly more cutely-styled facial design.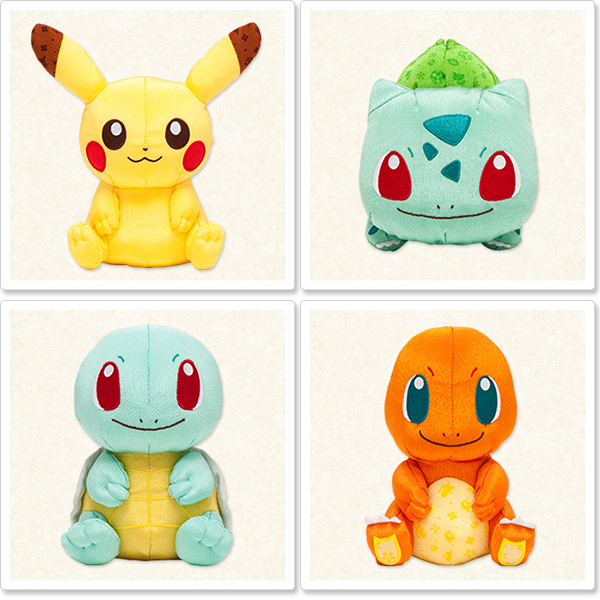 Speaking of cute, six small beanbag styled plushes will be coming out as well. The four aforementioned starters will be joined by Snorlax and Mew to round out a set. These look most like TsumTsum, though time will tell if this style will grow the way Disney's own tiny plushes have. Again, there's (sadly) no word on a potential American release or pricing for these.
Last but not least, the first Rowlet, Litten and Popplio plushes have made their debut! While the wait is still long, the trio of Alola starters look spectacular as plushes. I've made my personal bias towards Rowlet apparent, yet I can't help but appreciate how great all three appear.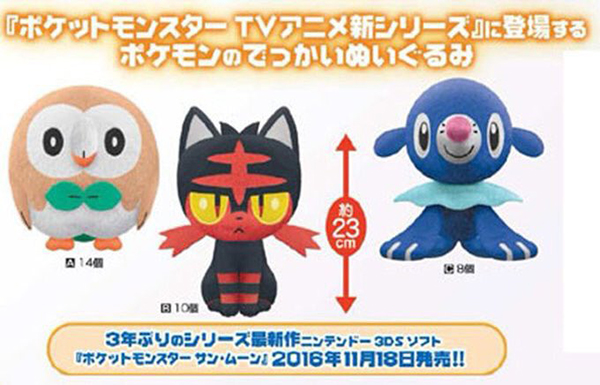 They'll be available the same day as the Sun and Moon games: November 18th. While this only pertains to the Japanese release again, it's much more likely that these or similar plushes of the starters will make their way stateside sometime near the worldwide launch of the games, so you'll have a real-life companion to take with you as you start your seventh generation Pokémon adventure!
---
Many thanks to Pokéshopper for the information and pictures.
Leave a Comment