The official Pokémon Sun and Moon page has been updated with new information about the Koala and Dog-like Pokémon that we saw last month in a leaked issue of CoroCoro.
Rockruff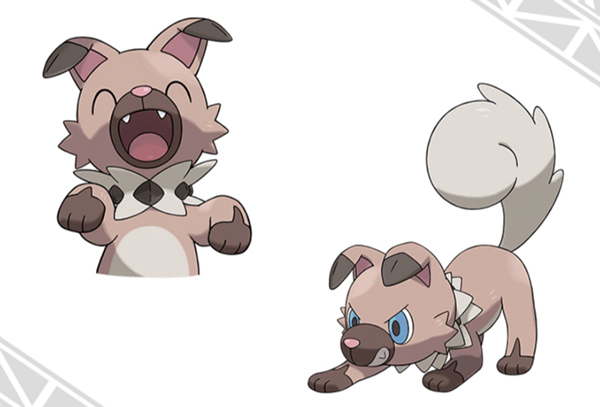 Rockruff has an excellent sense of smell, and once it has smelled an odor, it doesn't forget it! There are tales of these Pokémon getting separated from their Trainers, then using the faintest traces of their scent to track them for days until they are reunited!

Rockruff is a sociable Pokémon, but as it grows, its disposition gets wilder. If it begins to howl when the sun goes down, that is proof that it's close to evolving. It's said that it leaves its Trainer's side to evolve and returns again when fully evolved.

Rockruff stands bravely in battle, even when it's taking damage. Although an opponent may be stronger than Rockruff, the Puppy Pokémon is so persistent, it keeps going until it outlasts its foe and gets the win!

Bite is a good move for Rockruff. It deals damage by biting an opponent with its sharp teeth. This may make the target flinch.

Rockruff greets others by rubbing the rocks around their necks against the other. This grating greeting is an expression of fondness, but a trainer may find that love hurts.
Komala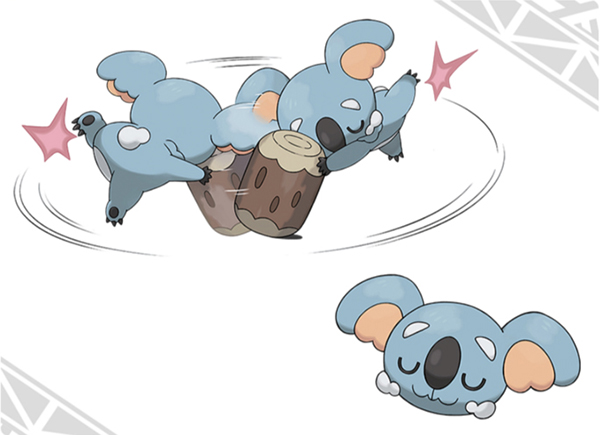 No one has ever seen a Komala awake. It eats, travels, and even battles while sound asleep! Its saliva can be used as medicine for the sick or sleepless, according to ancient people. They say if you take a small amount of the saliva remaining after it eats leaves, water the saliva down, and drink it, you'll be able to sleep well.

Komala clings to a log pillow that its parents have given to it. Once it has grasped this log, it almost never releases it. If it does lose hold of its log, the Pokémon will be unable to sleep well and will thrash about wildly. Apparently it will sometimes cling to the arm of a Trainer it trusts.

Komala has the Comatose Ability, a new Ability that no other Pokémon has ever had until now. This Ability keeps it perpetually in a drowsing state, which prevents it from getting any other status conditions.

The ever-sleeping Komala's expression sometimes changes, as if it has awareness of its surroundings and the talking of people nearby. But it appears that these changes in expression are actually just a result of the dreams it's experiencing.
Leave a Comment