All good things must come to an end, right? That statement certainly seems to be supported by the news of our very last Splatfest. The final Splatfest will be taking place a little over a year after the first Splatfest began. This is a bit surprising, as we hadn't seen anything that would be hinting at this dramatic announcement leading up to it. The subject of this final face-off? Callie vs Marie. The full announcement from the Squid Research Lab can be read below:
We've had 15 inkredible Splatfests so far! While the good times in Inkopolis will continue to roll on, the next Splatfest will be… drumroll, please… the final Splatfest.

Time and time again, we've heard you pledge allegiance not to your favorite team choice, but to your favorite Squid Sister. Now, it's time to show your support in the Squid Sisters Showdown! The theme is: Are you Team Callie or Team Marie?

The showdown begins at 2 AM PT on Friday, July 22, until 2 AM PT on Sunday, July 24. This will be the last Splatfest extravaganza, and we'd like everyone to have a blast!

The last Splatfest will be taking place (almost) at the same time in all regions. However the matchups will be different – the players in Japan will be matched up with those in Japan, and the players in North America and Europe will be matched up with each other. The Top 100 Players will also be tallied and announced separately for Japan region and for North America and Europe regions. Though the results will be collected from all regions, they will be combined together and announced at the same time.

In-game announcement and voting will start at 7 PM PT on Monday, July 4. Until then, please prepare yourself for the hardest decision you'll make in your lifetime by doing some soul searching, going on a walkabout, meditating or just reading Squid Sisters fan fiction.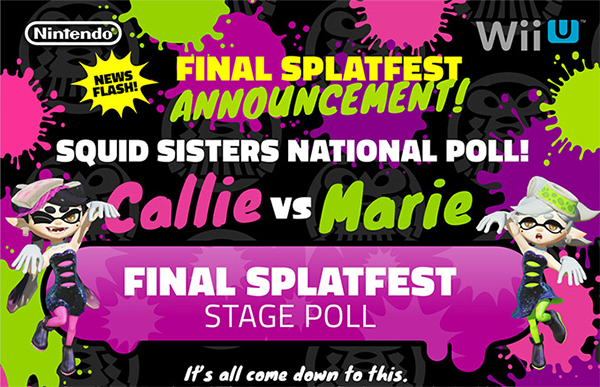 Who will you choose? What does this final Splatfest mean for Splatoon going forward? Will we no longer be able to collect Super Sea Snails or play on nighttime versions of our favorite stages? And what about that catchy Splatfest music? Only time will tell.
Are you happy or sad that the Splatfests are coming to a close? Please let us know over on Twitter, Facebook, or in the comments section!
Leave a Comment