Today Nintendo officially announced that Dragon Quest VII: Fragments of the Forgotten will be available in North America on September 16th! Nintendo also showcased the game during their Treehouse livestream, outlining various details regarding its story, gameplay and localization.
You play as a 17 year old son of a fisherman designed to be a relatable, humble kid. You begin your quest on the small isolated island of Estard, collecting ancient tablets in order to revive lost continents and save the world from a mysterious dark force.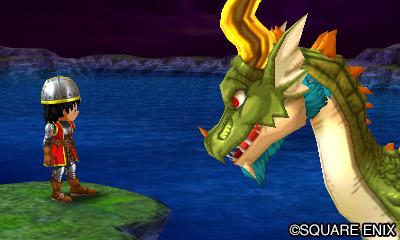 A remake of the original Playstation classic back in 2000, the 3DS version features enhanced graphics, streamlined gameplay, and completely new mechanics to give it a more modern and fresh feel. Most significant are the traveler's tablets, which let players revisit remixed versions of earlier dungeons and share them through StreetPass: a concept heavily inspired by Dragon Quest IX's grottoes.
Players will have 54 vocations to choose from that can be freely switched between at any time, each sporting their own unique look. A few basic jobs are available from the start with more being made available as the adventure progresses. Mixing and matching abilities between them allows for a wide range of unique party formations and battle strategies. Of particular note is the Monster Masher vocation, needed to persuade enemies to join your team and help build up your Haven. Speaking of monsters, there's a whopping 450+ available to battle and recruit! A new hint system was also mentioned to help players remember where they are in the story should they step away from the game for longer periods of time.
Some interesting tidbits regarding the game's development and localization were also highlighted during the stream. The Dragon Quest series is currently celebrating its 30 year anniversary in Japan, and it was noted that core members of the team haven't changed at all during that time. Also, the reason for developing the game for 3DS systems was in large part due to its episodic, pick-up-and-play story structure. While there were originally no plans to release Dragon Quest VII for western audiences due to the immense volume of text needing translation (over 70,000 pages worth!), fan demand through letters and petitions is what ultimately pushed them to localization.
Get pumped by checking out the E3 trailer below:
Leave a Comment