Tune in to our livestream on Twitch right now! Either watch it in the box below or browse to our official Twitch page.
Watch live video from AmiiboNews on www.twitch.tv
You can directly donate to St. Jude by clicking the image below!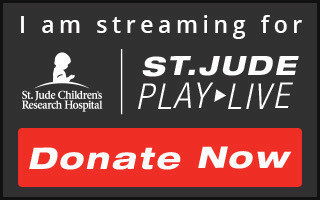 The itinerary for next 24 hours is available below. Please note that the hourly blocks are subject to change.
| | |
| --- | --- |
| Time | Activity |
| | |
| 5:00 PM | Introduction/Kickoff |
| 6:00 PM | Splatoon |
| 7:00 PM | Jason & Lauren Pizza Hour |
| 8:00 PM | Super Smash Bros. |
| 9:00 PM | Splatoon |
| 10:00 PM | Mario Kart 8 |
| 11:00 PM | Winner's Choice |
| 12:00 AM | Retro Hour |
| 1:00 AM | Bad Game Retro Hour |
| 2:00 AM | Super Mario Bros. Speed Run (Jason) |
| 3:00 AM | Super Mario Bros. Speed Run (Jason) |
| 4:00 AM | Super Mario Bros. Speed Run (Jason) |
| 5:00 AM | TBA |
| 6:00 AM | TBA |
| 7:00 AM | Winner's Choice |
| 8:00 AM | Winner's Choice |
| 9:00 AM | TBA |
| 10:00 AM | Yoshi's Woolly World |
| 11:00 AM | Super Mario Bros. 3 Speed Run (Abdallah) |
| 12:00 PM | Play with Fans |
| 1:00 PM | eBay Auctions/MK8 Tournament |
| 2:00 PM | eBay Auctions/MK8 Tournament |
| 3:00 PM | Worldwide Amiibo Tournament |
| 4:00 PM | Worldwide Amiibo Tournament |
| 5:00 PM | Closing/Thank Yous/Yoshi's Woolly World |
Leave a Comment